It has certainly been new beginnings for some this season and round 18 certainly delivered as the clubs received their fair share of surprises.
Some desperately looking to survive relegation whereas others are eager on claiming some silverware, we chose another team who stood out this week, find out who make the cut!
Coach – Danny Ward
No doubt about it, London's Danny Ward earns the position once again following his side's very surprisingly comfortable win against Catalan Dragons down in France.
Elsewhere, newbies earnt bragging rights against their former clubs but Ward's London really do not know when to quit in their fight for survival and rightfully so.
Everyone wrote them off in January but now, London are literally a converted a try away from escaping rock bottom after they recorded a mesmerising win in France and they have Ward's leadership to thank.
Another exciting fight to avoid relegation looks on the cards in what could be the most dramatic end to a Super League, thanks to London and their heroics.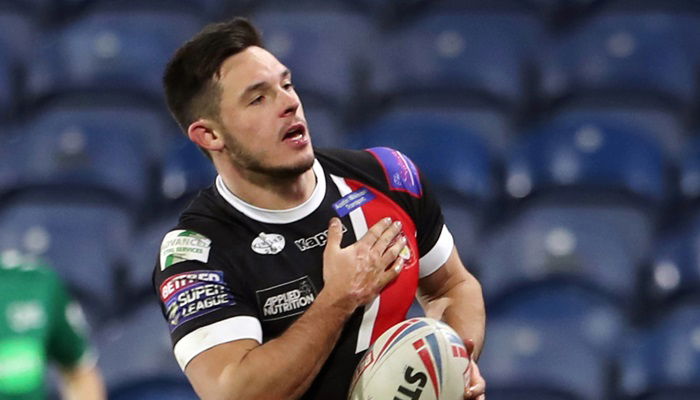 Full-back – Niall Evalds
On to the players and returning to the team is Salford's hat-trick hero Niall Evalds.
The 25-year-old also provided a try assist on top of his three, plus he recorded 123 metres from 13 carries in a superb display.
As well as himself, he helped Salford to a crucial win, not only to avoid relegation but also a possible play-off push in what are interesting times for the Red Devils.
Wingers – Tom Makinson & Rhys Williams
On the wing sees two internationals in St Helens' Tom Makinson and London's Rhys Williams.
Makinson displayed yet again why he is worthy of the golden boot accolade as he starred in St Helens' comfortable dispatch of the Huddersfield Giants.
Not only bagging a hat-trick of tries for himself but also a staggering 161 metres from 19 carries just saw him prove too devastating for the Giants on Friday.
Similar superlatives befell Williams in his side's outstanding win in France, well and truly avenging their humiliation in the English capital over Easter.
Williams bagged two tries, managed eight tackle busts and 176 metres from 20 carries.
Going by such efforts, the Great Britain selection process is looking even more difficult but all the more reason why supporters should be excited for this autumn as well as now.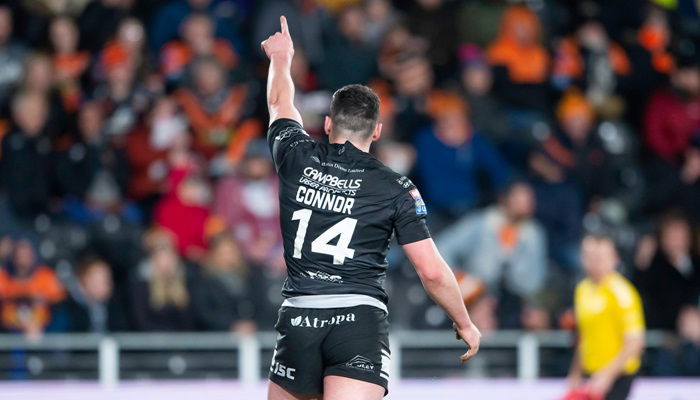 Centres – Jake Connor & Mark Percival
Two England internationals secure the centre positions in Jake Connor and Mark Percival.
Love or loathe him as much as marmite, Jake Connor produced a sensational display as he helped Hull overturn a half-time deficit to stun Castleford last Thursday.
Three try assists, nine tackles, three busts and 81 metres from eight carries really saw Connor at his best as the Airlie Birds emerged as serious contenders for silverware in 2019.
As for Percival, he was another top performer as the Saints eased past Huddersfield to enlarge their gap at the top of the table.
His contribution saw him provide a try assist, complete 21 tackles, four busts and up to 93 metres as he and the Saints remain the team to beat in their conquest to regain their Super League crown.
Stand-off – Albert Kelly
At stand-off is former Man of Steel contender and Hull FC fan favourite Albert Kelly.
The Australian made history at Castleford by scoring a career first hat-trick of tries, securing a man of the match performance in the process.
He also completed 19 tackles, three busts, put in three attacking kicks and managed 116 metres from 12 carries as he and Hull remain hot contenders for a strong run-in come the business end.
Scrum-half – Jackson Hastings
Rounding things off in the backs is a current Man of Steel contender in Salford star signing Jackson Hastings.
The 23-year-old was at the forefront in Salford's emphatic home win over Wakefield that took them up to sixth place.
The Australian assisted in two tries, managed seven tackle busts and up to 153 metres from 20 carries, a superb all-round individual effort, something you expect from a leader in both the scrap to avoid relegation and a push for the play-offs.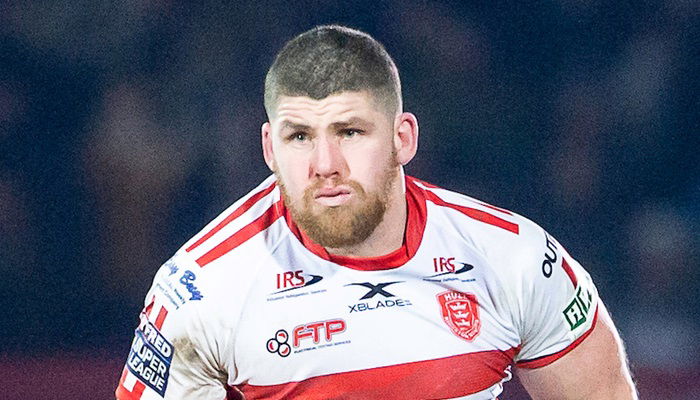 Props – Mitch Garbutt & Eddie Battye
The front row can be viewed as 'odd' as Hull KR's Mitch Garbutt and London's Eddie Battye are chosen.
Basement boys? Well this week, they have more than earnt their plaudits as both their clubs recorded unbelievable wins over Warrington and Catalan respectively.
Garbutt has arguably been KR's best capture this signing and Saturday was no different as he completed 22 tackles, four busts and 179 metres from 19 carries.
As for 'sandwich boy' Battye, he completed 23 tackles as well as 174 metres from 24 carries as he helped London remain dominant throughout against the Dragons.
Hooker – Danny Houghton
Back on to men of steel and 2016 winner finally secures a place in the team in 2019.
Houghton led by example in Hull's impressive away win at Castleford, completing a staggering 58 tackles, three busts and 103 metres from just seven carries kept the Airlie Birds ticking in attack and tight in defence.
Superb stuff from the unsung hero, though he may wait forever for an international appearance, Houghton remains an important cog in the Black and White machine as they strive back towards greatness.
Second-row – Zeb Taia & Josh Jones
The second-row sees a familiar combination in St Helens' Zeb Taia and Salford's Josh Jones.
Taia proved to be a reliable asset for the Saints yet again in their easy win over Huddersfield, yet again, proving there's still life in this 'old dog' yet.
From completing 21 tackles to amassing 112 metres, Taia helped the Saints tick, providing plenty of support in both attack and defence throughout.
As for Jones, the Hull bound player notched an impressive 158 metres, six tackle busts and 22 tackles in his sides comprehensive win over Wakefield.
No doubt impressing his future club but also his current employers as he looks set for a glorious 'exit' come the end of the season.
Loose-forward – Trent Merrin
Finally, crediting a loser may seem controversial but Trent Merrin of Leeds Rhinos remains at loose-forward and here's why.
Merrin was a stand-out player in the entire fixture between Leeds and Wigan as he never stopped trying.
He not only scored a try but completed 42 tackles and amassed 124 metres from 20 carries, not bad for a 'has been' as some have dubbed him.
Maybe worrying times for his club but she he remain in the side, Leeds should stand a good chance of survival.