Wakefield Trinity took on the Wigan Warriors yesterday in one of the most surprising results of the 2022 Super League season so far.
Willie Poching's men ended up with a 30-12 victory and were full deserving of every minute.
There was, however, an incident during the game that was talked about by Wigan boss Matt Peet after the game and that was the yellow card awarded to Warriors forward Patrick Mago just after half-time.
Mago and another Wigan player tackled Wakefield's Corey Hall with the Trinity fans appearing to see something untoward happen at their end.
Hall stayed down and referee Marcus Griffiths – after appearing reluctant initially – called for a penalty to Wakefield and ten minutes in the sinbin for Mago.
However, despite being cited, the hulking Wigan forward has not received a ban.
The Minutes of the Disciplinary Match Review Panel states: "Footage inconclusive as to whether any pressure applied. Opponent loses feet and player and teammates fall over the top of the tackle."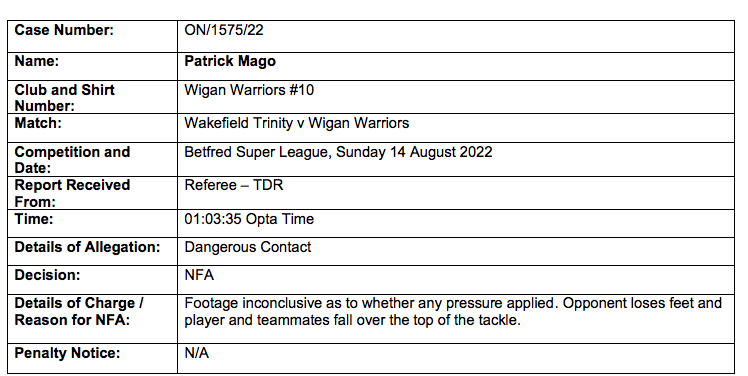 Matt Peet felt after the game that it wouldn't have been penalised had Corey Hall not stayed down.
"If you look where our camera was I couldn't see anything back," Peet said.
"I felt like it wouldn't have got penalised if the player had not have stayed down. It felt like a reactive one as I don't think there was going to be a penalty, but it wasn't the be all and end all."
And, Peet has been justified with no ban forthcoming for Mago, though Mike Cooper has been given a one-mach suspension for a late tackle which is where "a defending player makes contact with an opponent after the ball has been released by an opponent in a vulnerable position which causes flexion to the head, neck or spinal column on an attacking player, which poses an unacceptable risk of injury to that player."
Cooper will miss Wigan's home against Toulouse on Friday night.