Ahead of Thursday's derby clash between Wigan Warriors and St Helens live on Sky Sports, I have decided to continue my recent trend of choosing a combined XIII between the sides.
1. Tommy Makinson (St Helens)
With Escare injured I decided to slot Makinson in at full-back. He's been great at the back for Saints, no more so than against Hull FC when he made 222 metres and scored the try of the season so far. With Jonny Lomax heading for the exit, for me Makinson deserves the no.1 spot ahead of any potential arrival.
2. Regan Grace (St Helens)
The lightening quick youngster has made a name for himself since Makinson got moved to full-back. Even in the Good Friday defeat to Wigan, Grace looked superb as he made a nuisance of himself and tore through Wigan's defence at times. He's managed eight clean-breaks and five tries in his short spell in the Saints side so far.
3. Mark Percival (St Helens)
Percival has performed better than both centres England used against Samoa this season, yet was left kicking his heels sat in the stands for that game. He's been the bedrock of all that Saints have done well; scoring eight tries, making six assists and kicking goals consistently in what has been a difficult season at times for the Red Vee.
4. Joe Burgess (Wigan Warriors)
In the centres for Wigan because of injuries to Gelling and Gildart, it is testament to Burgess that he makes this combined team out of position. He's playing very well and deserves a lot of credit for a flowing attack without any of the Warriors first choice back line available – or at least in the right positions. 'Budgie' has scored eight tries and made three assists.
5. Liam Marshall (Wigan Warriors)
For me Marshall has been one of the top three wingers in the competition this season. He's come from nowhere and taken Super League by storm; scoring four tries on debut and has since continued that form with a hat-trick against Warrington at Magic Weekend. To date, Marshall has made 19 clean-breaks, 1271 metres and scored 13 tries.
6. Theo Fages (St Helens)
The Frenchman has been fantastic in a Saints team that has struggled for most of the season. He's marshalled his troops when other leaders within the side have struggled, profiting from it with some exceptional play at times. His overall game sees him contribute to the entire team with five tries, six assists and nine clean-breaks.
7. George Williams (Wigan Warriors)
I've covered the England playmaker before in a recent combined team, and yet again he has to feature. He's exceptionally quick and his ability to create something out of nothing makes him indispensable for the Warriors. That ability to create is evident in the stats: 16 assists and 9 clean-breaks tells you all you need to know about Williams as a player.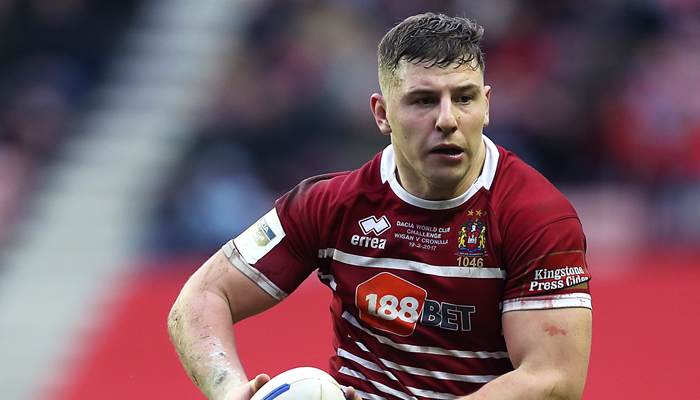 8. Alex Walmsley (St Helens)
In the top three props in the Super League alongside Cuthbertson and Hill. Walmsley has done incredibly well this season and it's amazing to think he was overlooked by Wayne Bennett for England recently. He's the lead metre maker in Super League with 1846 and is his club's top try scorer with six! He bagged a brace against Hull FC at Magic Weekend, when he was at his absolute best.
9. Sam Powell (Wigan Warriors)
Powell makes the team ahead of his return from injury. He's the lead tackler for Wigan with 404 and makes the side based on his contribution in difficult circumstances for Shaun Wane's men. He was a bit-part player until the injury to regular hooker Micky McIlorum meant he had to step up and take charge of a solid pack; he's done that, and deserves upmost credit for it.
10. Frank-Paul Nuuausala (Wigan Warriors)
The wrecking ball had to feature as the leading prop for the Warriors. If this side ever formed, then the starting combination of two explosive props in Walmsley and FPN would probably see the same effects the Bulls pack of 2003 had – utter devastation. He's a no-nonsense prop that smashes first and asks questions later, which is perfect for Shaun Wane's philosophy that he instils in his team.
11. Liam Farrell (Wigan Warriors)
The England international second-rower is easily one of the best in recent times to put on the Cherry and White jersey. I liken him to Leeds Rhinos' Stevie Ward – a player with masses of potential and talent who goes under the radar. 'Ginger Pearl' has made 324 tackles and 1576 metres for a cause that's seen him take a bigger leadership role within a group fractured by injuries.
12. Louie McCarthy-Scarsbrook (St Helens)
The passionate Londoner has been a mainstay of the Saints pack for several years and rarely puts in a poor display. His performance against Hull FC at Magic Weekend typified the notion that he's so much better when confidence is high and those around him are playing well. People ask questions of LMS and his leadership qualities when times have been hard for Saints, but it's clear he loves the club and gives everything for the shirt, much like former Saints stalwart James Graham.
13. Sean O'Loughlin (Wigan Warriors)
The man that makes all the difference for Wigan. When he doesn't play, they struggled to perform to any standard fitting of the shirt, let alone win. He's the best leader in the country and tips the scale in the Warriors' favour whenever he's allowed to take charge. He was the reason Wigan got something out of their Magic Weekend game against Warrington, producing a pin-point kick for Burgess to catch and score.