The World Cup is fast turning into a soap opera that mated with a zombie flick. Boozing Bravehearts booted back to Britain, wondrous war cries, gorgeous gospel singing and a player accused of going the gobble! Chunks of controversial points to chew on but let's focus on the positives and the amazing theatre of the Samoan and Tongan cultural challenges sent chills down my spine. It was the highlight of the World Cup and one of the best sporting moments of the year. Fiji's emotional gospel singing comes a close second, but letting the team down was the dude who mangled the 'Star Spangled Banner'. Seriously did they yank an American tourist out of the nearest pub? I thought it was Enrico Palazzo for a second.
It is the last round of Pool matches before things get super serious with the knockout stages. The feast of fantastic international rugby league begins again in the nation's capital of Canberra.
Fiji v Italy
Fiji take on the much improved Italians and the Bati will win Pool D unless the Azzurri can stick the Stiletto's in. Maths wasn't my strong point at school but I think Italy need to win by 46 points to progress, which may seem outlandish but they did defeat the USA by that margin last Sunday. Unfortunately for Italy, there is so much talent dripping in this Fiji side that this unlikely scenario won't happen. Mick Potter has the Fijians playing well-structured attacking footy. Vili the Kid, Viliame Kikau is absolutely kicking butt and he is a major strike weapon on the edge. Jarryd Hayne at five-eighth is playing a great team role, which is not always associated with him. He is not overplaying his hand and dishing out perfectly timed passes to just about the best backline in the Cup. Hayne's opposite, Terry Campese is finally getting onto the field for what will probably be his international swan song at his old stomping ground where he carved up for the Canberra Raiders. James Tedesco has shifted back to fullback but if Campo struggles Teddy will be ready to fill in as he was simply marvellous against the USA in the halves. It was great to see the Italians show some fight on the field rather than off it and they'll need to band together to stop the Uate Party, Akuila has been killing it. This match will be a whole lotta fun as the Italians need to score plenty of points. Expect an entertaining try fest but Fiji via their flying flankers will flash home. Fiji will be singing from start to finish, that's the gospel according to Jock.
Fiji by 10                   
Tonga v New Zealand
Jason Taumalolo's defection from New Zealand to Tonga left a bitter taste in the Kiwi camp and was all the focus pre-tournament. The time for talking is done, let's get ready to rumble!! It is a massive game as the winner tops Pool B and avoids Australia until the final, if the Roos make it. The Kiwis have been on fire, their extravagant ball movement has been breath taking, but Tonga are a step up from the belittled Bravehearts, it's like going from S to XXXL! New Zealand need to combat the power of the Tongan forwards before unloading the hot potato offloading that's been a feature of their play. If Marty Taupau goes kapow and dominates in the middle it spells trouble for Tonga. Shaun Johnson has been in sensational form and along with the hot stepper Roger Tuivasa-Sheck and the returning try scoring ace Jordan Rapana, the Kiwis have the attacking weapons to torment Tonga. Kodi Nikorima has regained the number 6 jersey from Te Maire Martin as his more structured game complements Johnson. Tonga's halves were viewed as their weakness but Tui Lolohea and Ata Hingano's control has impressed. Hingano in particular was superb in subduing Samoa and he is a major key to success if he continues to raise his game. Tonga's obvious forte is their powerful forwards. Taumalolo and Sio Siua Taukeiaho have been immense and if they can get across the advantage line they could deliver a TKO. The major concern for Tonga has been their fading second stanza's which, in stark contrast, has been the Kiwis strength they've been finishing like Rekindled at this week's Melbourne Cup. We'll find out Saturday if Tonga are the real deal champion stayer or just a good galloper with promise. If you're a gambler get on Tonga but I'm playing it safe and backing the home side.
New Zealand by 7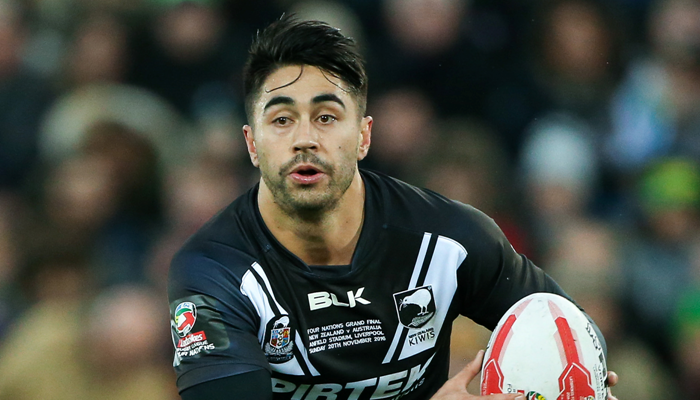 Samoa v Scotland
This winner take-all match has been soured by the sozzled Scots who now need to slay Samoa with a weakened and demoralised side. The 68 point Kiwi caning was embarrassing for a proud Scottish team who are better than that. With skipper Danny Brough flying home, assuming he was allowed on the flight, Danny Addy is back in the halves with a barrel of responsibility thrust upon him. The Samoans have a huge pack and it's up to the Scottish forwards to stand up and meet the challenge or they can kiss goodbye their quarter final hopes. Luke Douglas has been handed the captaincy and he and fellow prop Ben Kavanagh need to take Samoa on if the Scots are to spring an upset. Junior Paulo and Josh Papalii will take some stopping, they ripped in against the might of Tonga. That forward power will decide this match and the remaining quarter final spot from Pool B if the Scots wilt in the intensity of the Samoans and the Cairns heat. Fa'amanu Brown steps into the halves replacing Ben Roberts and if he can control play unleashing the star studded back line, Samoa will run riot with Joseph Leilua featuring heavily on the highlights reel. Scotland it's time to hit the eject button on what's been a calamitous campaign. Put the cork back in the bottle Jock, Samoa will smack down the Scots to the canvas and join New Zealand and Tonga in the knockout phase of the tournament.
Samoa by 34
Australia v Lebanon
The Cedars are on the verge of an inspiring and surprising place in the quarter finals. They have earned respect through their passionate performances. The drums have been beating and rightly so but the Kangaroos are their toughest assignment yet. Brad Fittler's fighters need to stay in the contest and compete for the full 80 as they cannot let the score line blow out just in case the French achieve Mission Impossible against England. Australia are in cruise mode as they give their squad a run before playing with the big boys in the quarters. James Maloney and Ben Hunt get their first taste of World Cup action in this tournament and will try to enjoy every moment as it may their last. The man to watch for mine is Manly's brilliant young tyro Tom Trbojevic. Tom Turbo's versatility got him the nod over James Tedesco in this squad and he gets his opportunity in the centres to stake his claim for a permanent place. Josh Dugan has played well but there's something special about Trbojevic and if he hits the afterburners he'll leave the Lebanese choking on the fumes in his wake. Lebanon impressed against England and will give their band of dancing and drumming fans plenty to groove to. Robbie Farah will hope the Kangaroos have been in a good paddock this week as he won't want his arm treated like a chicken kebab this week. Michael Lichaa gets his first start at hooker and he along with Mitchell Moses are the keys to the Cedars getting across the stripe and keeping the Kangaroos within reach. Moses will be pumped to put his skills in the shop window for Mal Meninga to witness as he plays the team he would love to earn selection for one day. I know that sounds weird but that's international rugby league's elastic eligibility, don't fight it just go with it. Josh Mansour is the reverse and the man who's represented the Cedars in the past will now try to rub their faces in the Allianz Stadium turf. On that, this match should be played in western Sydney. RLWC organisers give yourselves an uppercut. Australia are gearing up for the big picture and will frame this match in the context of a good hit out building towards December 2 at Suncorp.
Australia by 28
USA v Papua New Guinea
You have to feel for the USA as they enter the furnace of Port Moresby to face Kumul carnage. The American's lack of league depth has been exposed but even as they struggle to get over the line they have competed hard and their effort is exemplary. The Hawks couldn't handle the pace and power of Italy and it doesn't get any easier against the skill and strength of PNG. The Kumuls play a high octane, risk for reward style with offloads aplenty which is entertaining to watch but a car crash in slow motion if the passes don't stick. They dodged a bullet last week in their error-riddled display against the Irish which has gained them passage through to the knockout phase barring a major catastrophe here. The Kumuls have thrown a couple of names onto the team sheet for this walk in the park that is a stroll down memory lane. Lam and Meninga are back baby!! Well Lachlan Lam, Adrian's son and Moses Meninga, no relation to Big Mal but will be just as fearful a sight to the Americans as Mal was in terrorising all who stupidly stood in his path. Garry Lo is the man to watch and whenever he charges with the ball the stands shake. The crowd favourite is built like a brick outhouse but unfortunately been blessed with the hands of a Burgess brother. If Lo can hang onto the ball, behold his output he'll score a bucket load. The Kumuls were frenetic and sloppy last start and they'll be seeking a composed performance. If they relax and complete their sets they'll rack up a cricket score and induce a 51st state into America, one called panic.
Papua New Guinea by 40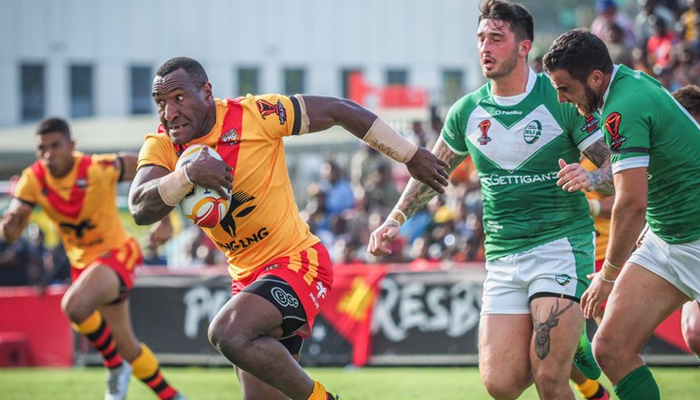 Ireland v Wales
Rugby league travels to the golden west and the first game of this double header in Perth sees the plucky Irish take on a woeful Wales. The Welsh Dragons lack of fire has been a big disappointment, some of their defence against Fiji last week was a dreadful revolving door. It was paper thin and the one on one misses were mortifying. In saying that, trying to lay a hand hand on Akuila Uate, let alone drive a shoulder into him, is harder than persuading Kim Jong-Un to smoke the peace pipe with Donald Trump. Wales will be looking to end a tough tournament with some pride and push the impressive Irish who were gallant in the defeat in Port Moresby that cost them a spot in the quarters. Louie McCarthy-Scarsbrook was a fingertip away from grabbing that game and it was their high error rate that cost them victory. Irish custodian Scott Grix will just be pleased he isn't facing the Kumuls Garry Lo again this week as he wakes up every morning in a cold sweat staring at the two big boot marks Big Garry left as his trademark calling card on Grix's chest. Mark Aston will want his men to up their completion rate and if they do they'll chalk up another win. The Wolfhounds pack has been brilliant led by hitman Kyle Amor, while LMS was magnificent against PNG and the major threat the Welsh need to throttle to have any hope of causing a bumper boilover. Mickey McIlorum and Liam Finn will again run the show and it should be Irish eyes smiling as they finish an excellent World Cup on a high.
Ireland by 20
France v England
The final pool game sees a battle between old foes England and France. The French need a miracle or they'll depart our shores Les Miserables. Theo Fages is the man France need to go off like a frog in a sock if they're any hope but it's the French forwards who must stand up or this will end up another French farce. The backrow Benjamin's Garcia and Jullien have put on plenty of shots but the Kangaroos were too big and the English aren't any smaller. The English pack is powerful and has size, the bench is huge. Alex Walmsley impressed in his debut and he'll add impact off the pine. Thomas Burgess monstered the Lebanese and his runaway try was sensational, the cheering in the stands from his brothers was brilliant. The last time Tom ran that fast was when Sam chased him down the street 20 years ago after Tom called him Tiny! Mike McMeekin finally gets his chance, replacing Chris Heighington and about time too. Heighington's best is past him, he must be just about due his pension! McMeekin may be the X factor England are seeking to take that next step when the big guns match up, he has skill and a good offload in him and it's the English attack that has been clunky and requires spit and polish. Gareth Widdop has shifted to fullback and this may be the answer to the stilted offence. The fullback role is crucial to the way Wayne Bennett likes his teams to play, Jonny Lomax was struggling and Stefan Ratchford didn't knock it out of the park against the part timers of Lebanon. Widdop's wizardry from the back could be the masterstroke from the master coach. Kevin Brown and Mark Percival get their chance to savour some action and they should enjoy it as the English will be too classy for the French. In great news Jermaine McGillvary escaped suspension for allegedly biting Robbie Farah. If he'd been found guilty it would have severely hampered England's World Cup chances as he's been their most threatening attacking weapon but let's face it, Wayne Bennett could play on the flanks against this French team and England would walk it in. Reckon the old square Wayne would nab a couple of meat pies too and his post try celebrations would light up Perth's Rectangular Stadium. Moonwalk followed by a dab? Nah Nutbush is more Wayne's style.
England by 34
Enjoy the footy and remember gamble responsibly. The surest bet of the week is being rugby league the drama will continue on and off the field. Another biting allegation to digest – have tournament organisers scrounged on food, the players are starving! Three Scottish players, captain Danny Brough, Johnny Walker, with a name like that it was bound to happen one day and the last players name escapes me, but I think it was Glen Fiddich, were so drunk they were not only refused boarding of a plane out of New Zealand but booted out of the World Cup! Talk about Brough justice!  Fair go, I'd be driven to drink too having to wear those tartan print shorts in public. That pattern should be covering your Nan's dining table not worn by rugged men on a rugby league field. If there's an Uncle you don't like get online quick smart. Christmas is around the corner, you can fill his stocking with a pair of those naff buggers.
Cheers,
Jock
*Pictures: NRL Photos and SWpix.xom