Barba was no better than Grix
Scott Grix's blunder on Thursday night to give St Helens the win will be the moment that catches all the headlines this week. To be honest, though, I wasn't impressed by either fullback. Grix went missing for most of the night, while Ben Barba is yet to convince fans that he's worth the money.
Despite his mistake, I actually thought Grix played better than his opposite number. He wasn't involved in Trinity's attack too much but was pretty solid in defence, which is more than can be said for Barba. I lost count of the amount of high balls he squandered and while he's electric in attack, defence should be priority for a fullback. Saints might even be better off moving him into the halves and keep Lomax in the number one spot, as it would take the defensive weight off the Aussie superstar's shoulders. I seriously hope he ups his game because on his day, he can make or break a match.
Watts should feel hard done by
The Hull v Wigan game on Friday could have been so much different if Liam Watts had stayed on the pitch. The Black and Whites eventually lost the game 30-22 but played with 12 men for almost threequarters of the game, after Watts was dismissed for leading with the elbow.
I thought it was a really harsh call. His elbow collided with McIlorum's head, but it was caused by the Wigan hooker ducking into the tackle as opposed to Watts actually lifting his forearm. For me, Roberts Hicks made the decision because of the severity of McIlorum's injury, instead of the tackle itself, which isn't right. I guess the only consolation for Lee Radford was the spirit his side showed. They fought back from 20-6 down and only lost the game in the last four minutes. Teams have proved before that efforts like that can win you a league title.
KR get promoted…
Well done Hull KR. After spending a season out of the top flight, the men from East Hull finally confirmed their return to Super League with a sensational 12-6 win over Widnes. It wasn't the prettiest of games but Ryan Shaw's determined full length effort 10 minutes from time proved just enough to secure the game.
I'm sure I speak for everyone when I say it's great to have Rovers back in Super League, not least because of the Hull derby. The games are usually sensational displays, while the atmosphere of the crowd is electric from start to finish. There was a huge void at Magic Weekend without its usual 'poster game' featuring, so I can't wait for it to return in 2018.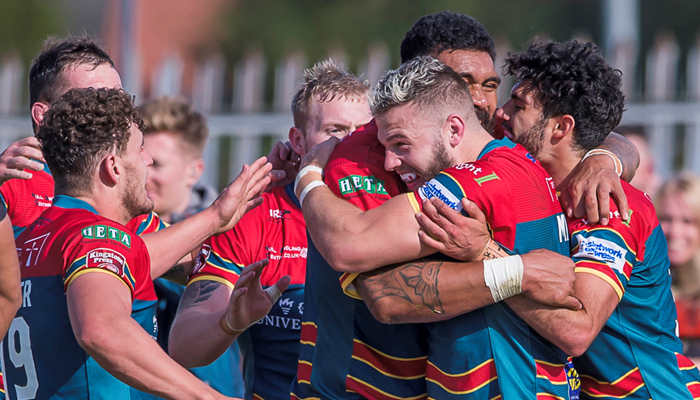 …so someone's getting relegated
The Robins' win throws up the obvious question: who's going down? With the Million Pound Game looming, it's Widnes, Leigh and Catalans who are in danger of relegation.
As far as I'm concerned, it will be a swift return to the Championship for Leigh. Widnes are good enough to avoid the MPG while Catalans are too strong a side, especially if they get a home tie. Of course nothing is ever predictable when it comes to the decider and I could be proved completely wrong, but this is where the Qualifiers start to get really interesting.
All change at Warrington
The weekend ended with the news that Warrington coach Tony Smith would be leaving at the end of the season. It's a sad finish for Smith, who leaves the British game after 16 glorious years that included winning the Super League twice with Leeds as well as two Challenge Cup triumphs with the Wolves. After a poor performance this year, resulting in his side fighting for survival in the Qualifiers, it's time for a change at the Halliwell Jones and Smith returns to Australia with everyone's best wishes.
It was Peta Hiku's departure, however, that annoyed me more. Though he hasn't left in as controversial circumstances, Hiku joins the likes of Chris Sandow and James Segeyaro in simply using Super League as a stepping stone back to the NRL. It's becoming too often that out-of-form players come over to get their careers back on track, signing lengthy contracts before leaving two minutes later due to "family reasons". It's time that these mediocre Aussies and Kiwis start taking our competition more seriously, as opposed to just a six-month holiday.