It is the week of the biggest derby in Rugby League as Wigan prepare to be (not so) welcoming to fierce rival St. Helens. Throughout the Super League era, both sides have produced and signed some top level players that stick in everyone's memories, even today.
Here I'm going to break down the best thirteen players in Super League history to have played for either Wigan or St. Helens.
Full Back – Paul Wellens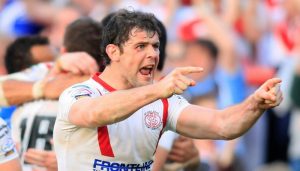 It doesn't start easily, with both sides having produced high quality full-backs that competed fiercely for England and Great Britain's number 1 jerseys, in the late 90's/early 00's. Probably the two best full-backs the country ever produced.
Paul Wellens just slips past Kris Radlinski on the basis that he spent more in Super League, and that is the only thing I can think of to split the two.
Wellens was known for his smart defensive play as well have having quick feet and a prowess to be in the right place at the right time. Playing on until 2015, he has cemented himself into St. Helens folklore.
Wing – Jason Robinson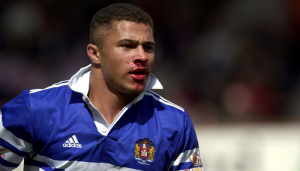 Billy Whizz became a Wigan favourite from minute one in 1992, with his lightning quick speed and bullying running style, he was almost impossible to stop in an era that Wigan's outside backs were incomparable.
Robinson only competed in the first five seasons of Super League, but created enough special moments for him to make it into any Super League based combined XIII.
Tries for fun, including the famous try at the first ever Grand Final, Robinson proved how good he was after a switch in codes brought him even more success with a World Cup win in 2003.
Centre – Jamie Lyon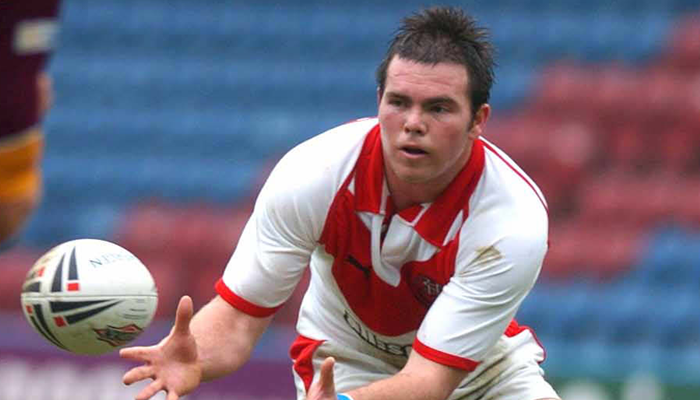 Having only spent two years with the Saints, Lyon proved you don't have to be there a long time to be remembered.
THE nightmare for Wigan fans of my age, some of our first clear memories are that of a – not so or so depending on your loyalties – fondly remembered Challenge cup game where Lyon featured.
Lyon was devilish with ball in hand and deadly from the kicking tee. He received the Man of Steel award in 2005 and won almost everything there is to win in his short spell, in England.
Centre – George Carmont
Samoan international Carmont, proved his worth as a Warrior with the left edge of Wigan between 2008-2013 being as prolific as any partnership we've seen in Super League.
Carmont didn't take long to settle into life in Wigan and was named in the 2008 Super League Dream Team.
Wigan's success was to come and Carmont was a vital part of the side that brought Wigan back from the dead, winning Super League in 2010 and the Challenge Cup in 2011, Carmont also scored two tries in vain in the 2011 World Club Challenge.
Wing – Pat Richards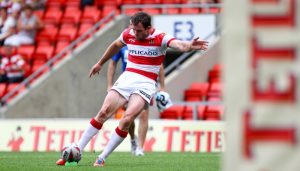 I'm well aware of the plethora of choices for the Wing spot, but Carmont at Centre and Richards on the wing is as good as any duo you will ever see.
Richards joined Wigan in 2006 and one year later played in the fixture he is probably most remembered for by Wigan fans. Down by 24 with 25 minutes left Wigan turned over Bradford in a play-off eliminator, including 4 kicks and a vital drop-goal from Richards.
Richards was awarded Man of Steel in 2010 and became the first Australian-born player to hit 1000 points for Wigan.
Stand Off – Trent Barrett
Barrett, much like Lyon, spent a short time in England but proved vital to the go forward of the Wigan side. Wigan were stuck in a rot after disappointing seasons in 2005 and 2006, they had to find a way out, cue the signing of Barrett.
An Origin and International representative, Barrett proved his quick thinking and kicking quality were as good as anybody around and led Wigan to victory in a must win derby in 2007, that secured play-off rugby for the first time in 3 years.
Barrett was named players' player of the year in 2007 but was just pipped to the post for Man of Steel award.
Scrum Half – Sean Long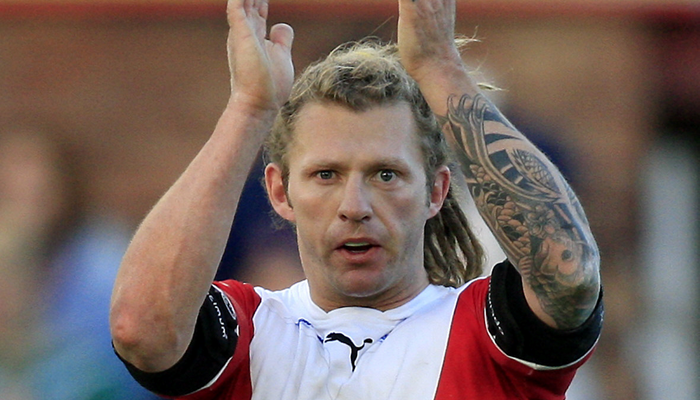 The mere mention of Sean Long gets you two completely different reactions on opposite sides of Billinge Hill.
Wigan born Long decided to leave his hometown club in 1997 to join Widnes for all of nine matches before, you guessed it, a not so shocking move to St. Helens took place.
Long is one of, if not the, most successful out and out number 7 in Super League history with numerous individual honours including the Man of Steel award. Kicking game that directed the Saints around the park and a great Rugby brain meant St. Helens' success was heavily rested on Long.
Long was also a part of the, now famous, "Wide to West" with a cross field kick to eventually return to his hands before tipping on to West and the rest is history.
Prop – Terry O'Connor
Tez is one of the well known figures of rugby league and is fondly remembered as one of the great props of the Super League era.
Amassing over 300 games for the Cherry and white outfit, O'Connor's hard hitting and no nonsense running will never be forgotten and has inspired young props throughout the Super League.
O'Connor was part of a glory era that won every trophy at Wigan and that included a Super League title in 1998.
Hooker – Kieran Cunningham
There are three obvious candidates for this role. Terry Newton, James Roby but my pick is Kieran Cunningham.
Immortalised at his hometown club Cunningham is one of the memorable players from years gone by with his scurry from the play the ball and dives from the line forever imprinted in our memories.
Cunningham had a glittering career including six appearances in the Super League Dream Team but a fairytale ending was swotted but rivals Wigan in 2010.
Prop – James Graham
One of only two players in this thirteen that are still playing today. Graham is up there with the greatest ever props, not just in Super League but globally after making a massive impact in his time in the NRL.
Graham started his Saints career in 2003 but it was the late 00's that really made his name noticed. A big runner, he never says no to holding his hand up for his side, and an offload game that has become his trademark.
Graham's time at St. Helens included Super League, Challenge Cup and World Club Challenge success, which is why Canterbury came along to snap up the prop forward. Graham is still going strong at the age of 32 for both club and country.
Second Row – Andy Farrell (C)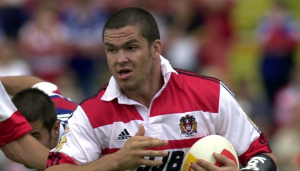 Farrell is a name never far from glory in both Rugby codes, but this Farrell is, in some people's minds, the greatest player ever captain a side. Which is why he is not only in this side but he captains it.
A predominant loose forward, but spent a lot of time in the back row also, it would've been impossible to leave this name out. He led his hometown team out of the tunnel at age 21, in 1996, and also became Great Britain's youngest ever captain in the same year.
Farrell was another cross code dual international and his not so friendly encounter with another member of this team in 2004 will be forever remembered in one of the biggest moments in one of the greatest derby matches of all time. He won a plethora of individual honours including Man of Steel in the inaugural Super League season, and Golden boot for best player in the world in 2004. However, no personal honour higher than being inducted into the Order of the British Empire in 2003.
Second Row – Paul Sculthorpe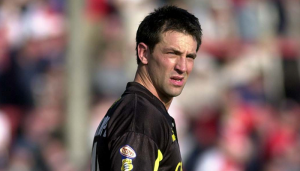 This probably came as no surprise with the previous clue, Sculthorpe being the 2nd player involved in the famous 2004 Good Friday captain showdown.
Sculthorpe joined St. Helens in 1997 and instantly become a hero on the terraces of Knowsley Road, in 1999 St. Helens won the Super League Grand Final with Sculthorpe a major player for the Saints.
Sculthorpe joined a prestigious group of people to hit both 100 tries and 100 goals in his time at St. Helens and his silverware tally is proof alone that this tall towering figure needed to join this combined XIII. He won the Man of Steel award in 2002 and 2003 being the only player to retain the award, became a Member of the British Empire and lifted a plethora of titles including, Super League, Challenge Cup and the World Club Challenge. Enemies on the field, forever remembered in their retirement, Farrell Vs Sculthorpe is one of the biggest clashes of captains the game has ever witnessed.
Loose Forward – Sean O'Loughlin
Graham was the first of two in this side to still be playing the game, Sean O'Loughlin is the second, and the only man to still be playing for either Wigan or St. Helens.
England and Wigan's captain has been through every emotion possible during his time with the Warriors, being a youngster in the 2002 campaign, during which Wigan won the Challenge cup, he became captain in 2006 where Wigan for long periods sat bottom of the table and now has lifted many trophies with his hometown side.
Loose Forward became a position O'Loughlin defined with his running like a prop, defence like a hooker and hands of a half back, he became increasingly impossible to deal with. He has lifted every trophy as Wigan captain and also lifted the Baskerville Shield as England captain. Now he sets his sights on another Super League success story in his 17th season at Wigan.