The World Club Challenge, on paper, is actually a great concept. The idea that the best of Super League plays the cream of the NRL crop should be something that is celebrated across both hemispheres.
Unfortunately, that just isn't the case. Whilst English sides seemed determined to make the concept work, the same cannot be said of their Australian counterparts.
Though the World Club Challenge was sporadically held between 1976 and 1997, it wasn't until the turn of the century that the head-to-head became a regular fixture.
And, whilst Super League triumphed consecutively between 2004 and 2008, the trophy has only returned once to UK shores in the past eight years. That growing gulf in class between Super League and the NRL is only going to accelerate as the latter's salary cap hits almost £6m and the former struggles to keep above £2m.
Apathy is the name of the game for clubs Down Under; State of Origin simply takes precedence and rightly so. As Origin continues to grow in popularity and stature, the World Club Challenge is fading ever-increasingly into the background.
Just look at the 2017 World Cup; only one game in Australia sold out and that was only because the stadium held just over 13,000 fans. For Australians, anything except the NRL and State of Origin cannot hold its weight. This is a feeling that, inevitably, transcends down to the management and playing roster of clubs also.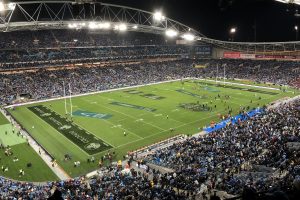 The 2018 World Club Challenge, for example, saw Melbourne refuse to travel to the UK to play.  Therefore, the Super League champions from 2017 – Leeds – effectively had no other option but to make the trip to the southern hemisphere for what was only the second time since 1997.
Despite the concept returning to UK shores, that stubbornness by the Storm proved where the power lay in the Super League-NRL tussle. But, then again, there should be no tussle involved at all.
The two hemispheres should be working together to make the World Club Challenge work, but instead it feels rather one-sided. Such a relationship will never prosper and the whole idea just seems rather stagnant. Can it really go any further? Can NRL clubs be inspired into a change of heart?
Maybe it's time for Super League to focus more on its domestic competition and bringing an England-Exiles or Yorkshire-Lancashire notion back into play rather than trying to convince the NRL that the World Club Challenge still has legs.
Of course, the England-Exiles experiment is rumoured to be heading back to the calendar in 2021 so it will be interesting to see how that would go again.
But, as the Super League-NRL clash continues to rear its head at the beginning of each season, the ever-increasing yawns can be heard from Australia. That is holding the World Club Challenge back and it's something that currently makes the concept irreparable.