Welcome to Round 9 of Rosco's team of the week. Each week I'll be giving you the low down of who's who of each round.
It's been another massive week this week in the NRL. The player trading roundabout is in full swing and the rep round has caused a lot of headaches. In between all of this there has been some great footy played.
Full-back: First cab off the rank this week for Rosco's Team of the Week (RTOW) is the no.1 from the Gold Coast, the Hayne Plane himself. There has been so much said about Jarryd Hayne over the last few weeks, is he going to sign that contract with the Coast? Is he going back to Parramatta? Is he arguing with team-mates? Etc etc. Does any of this even matter when he delivers a performance like he did against the hapless Knights? The Hayne Plane has certainly given News South Wales coach Laurie Daley something to think about in the coming weeks if he maintains this form. Hayne ran for just over 100 metres with 13 runs, 2 tackle breaks and 4 line breaks, as well as crossing the white line twice. Running an eye over the performance of Queensland Origin possible full-backs, Hayne would have the chocolates over both Billy Slater and Darius Boyd this week. Hopefully the Titans come to terms with Hayne and he continues to deliver the goods for a Coast team sure to be knocking on the door of the top eight.
Winger: There has been some solid displays this week from the wingers in the NRL. The winger that gets the nod this week though, is Aquila Uate. Uate, who was once one of the Knights favourite adopted sons, seemingly fell from grace spectacularly. Given a new lease of life at the Sea Eagles, the flying Fijian has not only found a home on Sydney's North Shore, but has slotted in quite comfortably outside Dylan Walker. I have spoken a lot about the Raiders Leilua-Rapana combination, but there is no doubt that the Silvertails have a just as talented combination on their hands. A four-try haul from Uate and a return to the form we know he can produce, must have had Fijian selectors looking to try and include him in the team to take on Tonga this coming weekend. If Dylan Walker keeps splitting defensive lines at will, expect to see Uate troubling scorers on a more regular basis.
Centre: My centre of the week is Dylan Walker. If his red-hot form continues, he will be a walk up start in the Blues Origin team. On his performance on the weekend, there is no doubt Australian selectors would have had him written down in their black books as a possibility for the upcoming test. Walker showed his versatility by delivering multiple offloads, kicking goals and running for a total of 149 metres. If the Sea Eagles are going to be a threat come finals time they will need to have all of their guns firing, and with the way they played against Souths, the Eagles would have a few teams looking at the draw to see when they are going to have to face up to Trent Barrett's team. Across the paddock there are so many quality players, and this week there was none better than Dylan Walker.
Half-back: The selection for half of the week was a genuine tough selection, with so many great performances across the round. The half backs were putting on some dominant performances with Daly Cherry-Evans reminding Queensland coach Mal Meninga that he wouldn't look out of place in Origin Camp, or Chad Townsend guiding the Sharks around the paddock in a tight win over the Tigers. Getting a call up in to ROTW this week though is young gun Ash Taylor from the Titans. Ash put in another solid display combining with whoever he finds lining up with him in the halves. Taylor seems to have tweaked the way he plays, so instead of changing his style of play, he now plays his own game regardless whether he finds Kane Elgey, Tyrone Roberts or Hayne partnering him in the halves. The Titans number 7 was in everything, kicking goals, a couple try assists and offloads as well. If Taylor stays fit and the Titans forwards pave the way for him, the young man who possesses an astute footy brain, Titans fan will be cheering come finals time.
Prop: In Townsville, the Parramatta forwards took on the Cowboys young pack missing Matt Scott and Jake Granville, which showed. Injuries have been unkind to the Cowboys, but that does not take anything away from an aggressive Parramatta forward pack led by Tim Mannah. He is my pick for Prop this week. Week in week out, Mannah is one of those guys that goes about his business with minimum fuss and carries himself well, no matter the situation. In tough times, that is what you want to see from your captain… a cool head. Mannah's forwards rallied around the big bookend with the likes of Beau Scott and back rower come five-eighth Ken Edwards giving strong performances.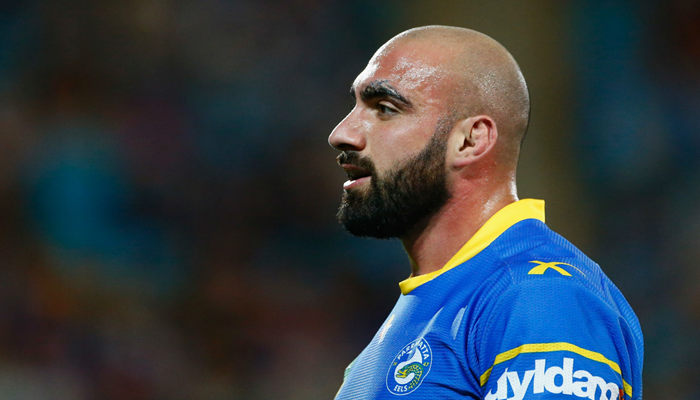 Hooker: Looking for a number 9 this week, I witnessed a tough game fought between the Warriors and the Roosters. With only one point separating the two teams, it was a tradesman like performance from the little kiwi hooker Issac Luke. Luke was a mainstay of the Rabbits pack when they won the Grand Final, and the calling from home and family took Luke back across the ditch. The New Zealand test rake has it all, he can dish out punishing defence or can steal metres around the ruck with a clever running game. The other string to his bow is that the clever little hooker can kick in general play to take the pressure off his halves or kick goals when needed. In a game that could have gone either way, Luke was still able to run for just under 100 metres with some tackle busting runs and also had a try assist. Chur!
Second Row/Lock: Finally this week, I have gone for a back rower that defies age and puts out mammoth stats each week; Sharks captain Paul Gallen. It is hard to dispute that week in week out the man they call Gal has a massive motor that allows him to put himself in the middle of the tough stuff and keep on going (something I think Sonny Bill will find out later this year). This week was no different, Gal had 19 runs for 182 metres, not bad for an afternoon's work. The other stat that caught my eye was he made 34 tackles in the game against Ivan Cleary's men but did not miss. I am looking forward to see him run out for City in what is the last game of its kind, and I am sure that he will justify Brad Fittler's selection with another solid performance.
Shout Out: Bulldogs team assistant Sean White provided us with a moment that reminds us all what is the true fabric of Rugby League. In a week where more players have announced they are changing clubs, Sean, who has been around the Canterbury club for 30 years, gave the departing Josh Reynolds a hug on the sideline as he was icing his hamstring. Players may change clubs and there is frustrating for fans, but generally there is more to it than meets the eye, at the core of it though, we love the game for what it gives us and this week, Sean gave us a reminder of that.
Enjoy the rep round, and make sure you catch one of the games I always look forward to between the Jillaroos and the Silver Ferns. I wanted to make special mention of this game as I think the girls put on an amazing show and really play the game with the true spirit of Rugby League. C'mon the Jillaroos!
Selections are purely my own based on a range of stats. I would love your feedback and contributions so please comment below.