Columnist JACK CONLON brings you the biggest rumours and gossip from the world of rugby league over the past week.
Wakefield to tempt back ex-winger
With Tom Johnstone out for the season with an ACL injury, Wakefield Trinity are reportedly considering offering a contract to former player Mason Caton-Brown. The 25-year-old is still without a club after being left out of the Toronto squad for the 2019 season.
Reports suggested Caton-Brown was weighing up a code-switch in the aim of representing England in Rugby Sevens World Cup, however, he could be tempted back to League and West Yorkshire, especially if he is guaranteed regular first team action.
Furner to meet with referees
Leeds Rhinos coach is set to have another meeting with Head of Referees Steve Ganson, after expressing his anger at some of the decisions given in his side's 18-16 loss to London Broncos on Friday night.
Furner previously met with Ganson after the Rhinos' loss to St Helens, claiming he required further clarification on some of the rules used in Super League compared to the NRL. He reiterated that he would "go through the right channels" on Friday when discussing some of the calls given London's way, particularly outlining how they "slowed down" the ruck.
Broncos to keep Davis
London Broncos forward Matt Davis has admitted he is happy to stay in the capital, League Express are reporting. The 22-year-old returned to his former club on loan from Warrington earlier this month and has been one of the capital-side's standout players.
His initial one-month deal is due to expire in a fortnight but Davis, London and parent-club Warrington are all keen to extend it. The deal benefits all parties, with Davis picking up Super League experience whilst also being a big asset to the Broncos side.
Sheens to sign new contract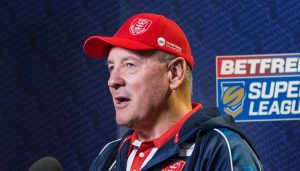 Tim Sheens is set to extend his contract at Hull KR, according to League Express. His current contract is due to run out at the end of this season, after he initially agreed a three-year deal with the Robins at the start of 2017.
However, Chairman Neil Hudgell is reportedly keen on keeping Sheens on as head coach, and is in talks to extend his stay in East Hull from 2020 onwards.
Smithies set for call-up
Wigan coach Adrian Lam is considering a first team call up for young forward Morgan Smithies. With Liam Farrell out injured and Joe Greenwood facing a ban for his shoulder charge on Blake Austin, the 18-year-old could be in the picture to make his debut after impressing in the Warriors' Academy. He was also one of the standout players for the England Academy during their historic wins over the Australian Schoolboys in the winter.
Meanwhile, the Warriors have released a statement saying they are looking to contact Shaun Edwards about his future contractual arrangements. Wigan legend Edwards was due to take over as head coach from 2020 but recently made comments suggesting that may not happen.