The weekend saw some great action in the Betfred Super League, however some of it was unfortunately very nasty and dangerous.
I'm particularly talking about the games between Catalans Dragons and Hull FC, and St. Helens and Warrington Wolves, which saw some very ugly, dangerous attacks to the heads of players, which only brought minimal action from the men in the middle and now the disciplinary committee.
I personally think that match officials really need to start taking a much harder line on incidents which result in players receiving a dangerous blow on the head.
It also seems that the disciplinary committee maybe has a problem with acting appropriately, although I would very much like to see the process they go through to decide how long a player is banned for. Having said that I do believe they have a very broken system which needs updating very soon.
Let's get to the nitty gritty, Catalans' Fijian international Brayden Williame received a yellow card for his blatant attack on Hull FC's returning star Jake Connor, was this enough? Obviously some will agree with me, others won't, that Williame was very fortunate to only receive a yellow card, I believe it should have been a straight red card.
My reasons for believing it should have been a red card lies in the way he attacked Connor. Looking at the incident, Connor receives the ball, and almost instantly passes it. As he does this yes Williame is already moving towards him, but what happened next was frankly a disgusting attempt to cause a serious head injury!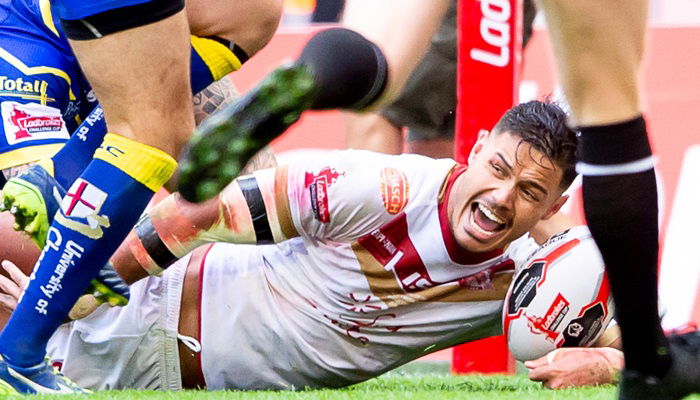 Watching it back, slowing it down, it's very obvious that Williame jumps at Connor, he does not raise his arms at any point, which would then constitute trying to make a tackle, he isn't looking at the ball, his full focus is on Jake Connor, and using his shoulder to slam into the Hull half-back's head.
Referee Chris Kendall took advice at the time and, with some very angry Hull FC supporters venting their feelings about the injury to the then prostrate Connor, brandished a yellow card which, strangely enough neither Williame nor Dragons captain Remi Casty tried to argue with, personally I believe they thought that the centre had got away with it, he shouldn't have been coming back on the pitch, and they both knew it.
The other incident I want to discuss from this weekend involved Tom Lineham and Regan Grace, when the Welsh winger raced the length of the pitch to score for St. Helens, which to me looked even worse than the Williame attack. In that case, the self-proclaimed Flying Pig chased after the Saints man, but what makes it more disturbing, is that Grace had grounded the ball to score the try, it was only then that Lineham's instinctive reaction was to look like he was throwing a punch, connecting shoulder with head, drawing blood from Grace, who initially jumped up to celebrate his try, but then subsequently received treatment with an inevitable strapping round his head to stem the blood-flow.
At the time it also caused an understandably angry reaction from St. Helens players, which soon escalated into both sides coming to blows, before Lineham was subsequently put on report, at a time when he definitely should have received a red card.
There are no doubt many more instances of these kind of incidents that can be referred to in recent times, and the reason I'm writing this article is because I believe it is becoming far too frequent and needs stamping out, and the way to get rid of it starts with our match officials, and is aided and abetted by the disciplinary committee.
With Williame and Lineham receiving a paltry 1 match ban each, that has just added insult to injury, the other problem is that neither Catalans nor Warrington have actually been punished suitably, and a 1 match ban is nowhere near enough to put players off, I would have said 5-8 matches for such incidents would have been far more appropriate.
People will say it suits the subsequent opponents against the Dragons and the Wolves, because they won't have those players available for their next game, however it just means they will be replaced by other players who train with those teams all the time anyway, meaning it has little or no effect on their team.
The teams that should have benefited are Hull FC and St. Helens, and the best they got was Hull FC having a numerical advantage for 10 minutes, not the 65 minutes it should have been. Yes both of them may have won, and both players carried on playing, but that doesn't excuse the actions of Lineham and Williame, which on another day could have resulted in much more serious injuries.
The problem is this is becoming far too frequent in the game, I only hope lessons are learned and applied before somebody becomes a victim of a career-ending injury as a result.
In a time when we are being told that player welfare is of paramount importance, I think it's time that referees used the full power available to them, particularly if they have the benefit of video technology to refer to. If a player is capable of such an action once, he is capable of doing it again, and there can be no place in our game for that.