It's always interesting to see how players interact on social media and what their personalities are like away from the field when they are in their own private bubble.
Well, last weekend, former Castleford Tigers forward Jacques O'Neill – who now has over 1.3 million Instagram followers following his stint in ITV2's Love Island – returned to the Jungle after his three-month hiatus.
Treated as a celebrity as he walked around the place he used to play at, O'Neill was signing autographs and meeting his former teammates.
The 23-year-old then posted on social media: "Honestly felt amazing being back at the jungle Friday night.. Seeing all the boys & the fans, it's literally the best I've felt since getting out of the villa. Thank you so much to everyone who give me the warm welcome I received, it's appreciated so much!"
View this post on Instagram
It's fair to say the love that O'Neill managed to rack up on that post was something never seen before in the rugby league world, but the top comment came from current Castleford halfback Danny Richardson.
Richardson, who himself has just signed a new deal at the Jungle, called on O'Neill to return, saying: "Time to get the boots back on then."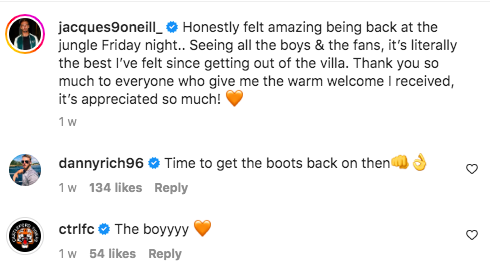 It would be sensational if O'Neill did return to the club where he made his name, but of course in the new world that he has currently entered, it is perhaps unlikely that he will ever return.
With the 23-year-old well on course to becoming millionaire with a number of deals lined up, it seems a far cry away from the town of Castleford.
O'Neill has been incredibly active on social media recently, accruing millions of followers and thousands of likes on every Instagram post – something that could make him as much as £10,000 a post!