RL invades the Nou Camp
? Les @DragonsOfficiel affronteront Wigan au Camp Nou le 18 mai 2019 en Super League de rugby à XIII ! Plus d'infos ? https://t.co/RIxrthAYoo

— FC Barcelona (@fcbarcelona_fra) December 1, 2018
The news that a Super League game will be played at the Nou Camp next season is absolutely amazing. Catalans will play Wigan there in May and you've got to give credit to the Dragons. They've managed to build up good connections with FC Barcelona and are now benefitting from it.
The task for both clubs now is to promote the hell out of the game. We've waited a long time for a big break like this so it's essential we get as much out of it as possible. A good crowd, TV coverage and local interest should be the main aims, with particular focus on the latter. Getting FC Barcelona themselves on board with the promotion would be a big boost, especially is they can persuade even half of their domestic fanbase to buy tickets. Some sort of cheaper deal for members would be ideal.
England up to second in the world
It's official – we're catching up to the Aussies! The updated world rankings were released on Monday and saw England move above New Zealand into second after our triumph over the Kiwis in the Autumn Test Series. There were plenty of other movements, with the Emerging Nations World Championships and World Cup Qualifiers shuffling around the rest of the teams.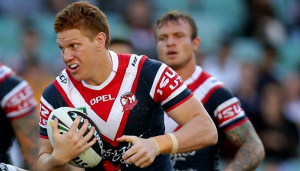 Jamaica moved into the top 14 after qualifying for the 2021 World Cup, while Poland (23rd) and Turkey (31st) are both included for the first time in their history. One big negative I noticed was the position of the Cook Islands. Despite the fact they were a World Cup side just five years ago, their current ranking is 43rd which is bewildering, as they could potentially have one of the strongest sides in the world. Dylan Napa (above), Joseph Manu, Jordan Rapana and Josh Papalii are just a handful of eligible players. If they could mirror Tonga's effort and get players like that in, they could easily compete at the highest level.
Sammut moves north
I doubt we'll see a more surprising transfer this off-season than Jarrod Sammut going to Wigan. It's a bizarre move that no one, including Sammut, was expecting and it will be interesting to see how he gets on.
It could be an absolute masterstroke by Adrian Lam. Wigan's halves were pretty settled last season but any injuries could seriously knock them back, especially if Josh Woods is set to join Leigh on loan. Sammut provides some good competition and has the unpredictability and energy to match George Williams. His style certainly suits the Warriors' style of play, so I predict he will be one of the best pieces of business done this off-season.
Nines to preview World Cup
The details for next year's World Cup Nines tournament were announced last week and it sounds like a superb concept. 12 men's and four women's sides will play a total of 28 games over one weekend at the new Western Sydney Stadium in Parramatta in a competition similar to that of the former NRL Auckland Nines, which were highly successful.

Nines itself is an exciting format that promotes the best of attacking rugby league. We're guaranteed some quality tries and individual pieces of skill from some of the world's best players. The likes of Tom Makinson, Tom Johnstone and George Williams will all suit the playing style to a tee, while there should be plenty of international rookies looking to make a name for themselves. The makeup of the 16 nations is yet to be decided, but regardless of who is chosen, it's shaping up to be a sensational competition.
NRL trial 20/40
NRL coaches are reportedly considering to trial proposed a 20/40 rule. The rule would be played in exactly the same way the current 40/20 rule is, just with different field margins.
I can't see there being much interest in it. Such a rule would effectively punish good defence and could even see rugby league slip into rugby union habits. The kicking game in union makes for a very stop-start game with the ball constantly going out of play, which is the last thing we want.