Here we go again! As I write this, the RFL and certain clubs are, yet again, foolishly letting the game and young emerging talent down, all in the name of giving a few overseas dinosaurs one last payday before they draw their pension.
A few months ago Ralph Rimmer, the new CEO of the Rugby Football League, stated that 11 current Super League clubs had expressed a desire to run a full Reserves League in 2019, with Gary Hetherington at Leeds Rhinos the only dissenting voice, saying that teams should continue with the utterly shambolic Dual Registration format, which has embarrassed the game for many years!
New Super League CEO Robert Elstone also went so far as to say that maybe teams should have to run a reserve team, to be allowed in Super League, making it compulsory for teams to run one, it was glorious, it was the kick up the backside that Super League needed, even more than anything else, however it didn't last long!
Recently it has come to our attention, that only eight clubs had said they will run a reserve team in 2019, with only Hull FC and Wigan Warriors from Super League willing to enter a team in it, then came the bombshell from Kris Radlinski, that Wigan were now reviewing their position about it.
In the meantime, Hull FC have confirmed that they are still committed to the Reserves League, while Wigan are again threatening to only let their reserves play against other Super League opposition, something they did in 2016 and 2017 as well, but without Warrington Wolves and St. Helens providing opposition, surely such an idea should be unthinkable now, shouldn't it?
The current thinking now seems to be, a Reserves League will be arranged for 2020, what a bloody insult to our intelligence!
Looking at the running farce, it doesn't exactly take Einstein to work out what will happen! When it comes to 2020, it will no doubt be the same excuses, like 'We can't afford it' or 'Dual Registration is the best way to go', it happened before, it will happen again!
Certain teams ran reserves, Wigan would only play against Hull FC, Warrington Wolves and St. Helens reserves, they refused to play the likes of South Wales Ironmen, Halifax and Keighley Cougars reserves, because they weren't a good enough standard, to play against the next breed of Wigan supermen!
As a media intern for Hull FC in 2016 and 2017, reporting regularly on Hull FC reserves games, I can tell you that certainly Halifax reserves regularly gave Hull FC reserves a better, more competitive game, than the Warriors reserves did at times, I saw Hull FC reserves beat them both, at home and on the road, there were standout matches, like a four point win for the young Black & Whites against Halifax at Hull Ionians ground, another being a thumping 30+ point victory for Hull against the Warriors reserves at the Wigan training ground.
Wigan need to understand, you cannot afford to pick and choose who your reserves will or will not play against, at the moment there just aren't enough reserves teams, and the whole of Super League need to understand, that a reserves league is an absolute necessity, if the game is ever going to grow, produce new talent and stop having to rely on expensive second rate Australians and Kiwis, with the occasional bit of quality, in the form of a player who has done something stupid down under, and therefore is sent to whichever Super League club who can afford a huge wage, to serve his punishment, before returning to the NRL.
There has been a bit of a shift in recent times, with the likes of Warrington signing Blake Austin, Leeds signing Trent Merrin and Konrad Hurrell etc, genuinely big name signings, who will improve the Super League competition, however consider this, what sort of influence could players like these, have on our young talent?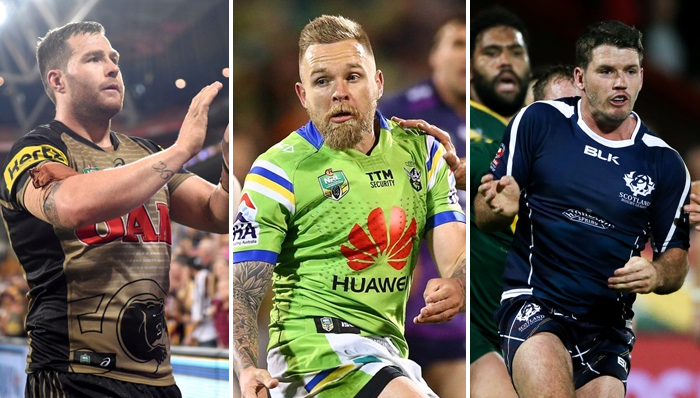 The damage to the British game is there for all to see at the moment, one of my colleagues has told me that 'A generation of players, are being let down' by this current system.
The other consideration also has to be, while a team are spending big in ailing overseas former stars, how many young British players could they have on their books, for the collective sum they are paying one overseas player, who could then replace said ageing star, when he is inevitably struck down by injury due to his age?
The RFL and the clubs have to understand, a competitive Reserves League will breed better player development, it will give injured stars a better platform to develop match fitness when returning from injury, it will give young players the chance to test themselves against established Super League, maybe even international standard players, on a regular basis, proving themselves good enough, to then play against those same players a few weeks later in Super League or Challenge Cup!
In my previous articles about having a reserves competition, I named players who played in reserves teams in 2016 and 2017, who then went on those same years to play in showpiece games at Wembley and Old Trafford, including the likes of Declan Patton, Tom Lineham, Steve Michaels, Josh Griffin, Gareth Ellis, Brad Dwyer the list goes on, I can also name current England international Jake Connor as a player who played in the reserves as recently as 2017!
We have the players to develop, there is absolutely no doubting that, we now need a good solid platform, beyond the academy set-up, to allow them to develop further and really flourish, before they are lost to the game.