Where did the last five weeks go? It seems like yesterday that England took on the Aussies in Melbourne to get the 2017 Rugby League World Cup up and running. And now it's all over and we have a four-year wait until the next one.
It had just about everything you could ask for in a tournament. Highs and lows, goods and bads, rights and wrongs. The emergence of a possible new super-power in the game and PLENTY of what any competition needs …….controversy!
The opener was what you'd expect – a couple of cagy performances from the two teams that were favourites to progress all the way to the final. England were positive in defeat, losing by a margin that flattered Australia, due to an unlucky interception try that came off the back of waves of pressure from our boys. A good start, with lots to build on.
If the inaugural match was a tense, nervous, game of chess, the game the day after was anything but. To Port Moresby for Papua New Guinea v Wales.
Wow! The poor Welsh did not know what had hit them. They were literally steamrolled in every area of the pitch – comprehensively flattened in front of an enthusiastic home crowd. Whatever mindset Mr. Bennett had instilled in the England players the day before in Melbourne, PNG coach Michael Marum was having none of that for his team. Nothing subtle and conservative here. Pure brute strength and aggression. It was cruel to watch. Without a doubt PNG's recent success in the Queensland Cup with the Hunters team, has transferred over to their national team's ethos.
As impressive as PNG were, their exploits have been massively overshadowed by the emergence of Tonga on the world stage. Just looking at their squad would tell you that this team was going to be something special. And they were. Tremendous forward power backed up by creative and fierce backs. Without the numbers on their backs you had a job to tell who was who at times. You get the sense that they knew they were going to go far in this competition well before it even started. The defections from the NZ and Australia squads tell that story. Their win over New Zealand was almost a formality and the pinnacle of their exploits culminated in the memorable semi-final against England.  The 18-point revival, all less than eight minutes from the end of that match had me and plenty of other England fans almost crying like babies. But we hung on. Just.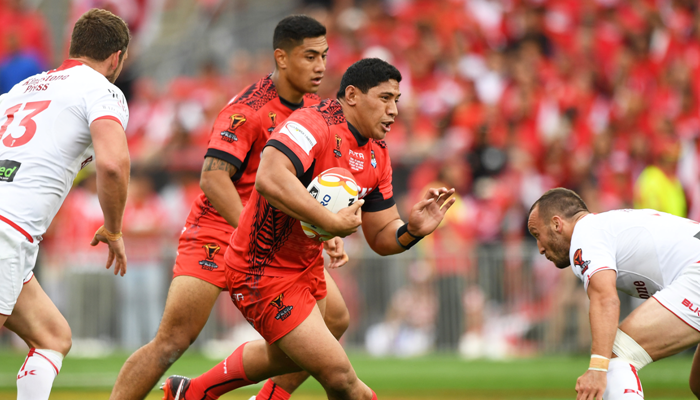 Another team that impressed was Ireland. They weren't fancied going into the competition but were far and above the best European team in the tournament, after England. With a front row of Amor, McIlorum and  McCarthy-Scarsbrook, we really shouldn't have been surprised. The fact that they won two of their three matches but did not progress from their group left a bit of a bad taste in the mouth. They were victims of the pool set up and seeding. Perhaps that could be looked at differently for the next World Cup.
Scotland and Wales had a very poor tournament and the less said about New Zealand the better. Clearly something was far from right in that camp.
Other emerging nations performed at the level you would expect, Fiji getting a strange 4-2 win over The Kiwis.  Strange in the sense that NZ should have beaten them every day of the week and further proof that all was not well with the squad.
The World Cup was not without its trials and tribulations and served up more than its fair share of controversy, outrage and recriminations. Without dwelling on one particular point, off-field we had some of the Scotland team's   shenanigans. Imagine not being allowed to fly for being too drunk… in Australia! Eloi Pelissier getting kicked out of the French squad and sent home. Tongan and Samoan supporters scrapping in the streets. Tongan supporters protesting in the streets. We had Sydney dwellers bemoaning (quite rightly) the lack of games played in their city, with quarter full stadiums elsewhere. And a real bone of contention, non-neutral referees officiating games throughout the competition.
Not perfect by any stretch of the imagination.
But ultimately, it was actions on the pitch that this World Cup will be remembered for. There were some memorable games and some of the crowds were magnificent. The sea of 30,000 red and white flags in the stadium in Auckland for the England v Tonga game will stay with me forever.
And then we get to the final.
Only Rugby League fans will have revelled in such a low scoring match. For a sport that thrives on it's a reputation as a fast, free-flowing, try-scoring spectacle, it surprises many people that a tough, defensive, war of attrition type game can be as equally entertaining. But there it is. We know the game and we know what we like.
Not the result we wanted, obviously, but that was one hell of a performance from the England boys. It really could have gone either way. And consider this. The points difference between us and the Aussies over two matches was +20 to them. I'm convinced that gone forever are the days when they'd have put 20 on us just in a first-half alone. Despite criticism of Bennett's squad selection and tactics, his boys played to a standard yesterday that gave their counterparts one massive scare. The Kangaroos will not be swaggering into the arena next time they play us.
From what I have seen there is so much to build on. The gap is narrowing and with the right structure, belief and commitment we can be so much stronger in four years time than we are today. We have got to get clubs on board with improving the national game. There are no excuses now for not capitalising on their performance from this World Cup.
Cheers lads. Safe journey home.