It's an Ashes battle to decide the World Cup! Australia hit the afterburners wiping the floor with a fatigued Fiji entering the Final white hot favourites to lift the trophy against the Old Enemy. England survived a Tongan miracle scraping in by the hand of Elliott Whitehead. Was it a strip or was it a loose carry by Andrew Fifita? Fish 'n chip wrapper now, Matt Cecchin called it as he saw it. Who'd be a referee? Damned if they do, damned if they don't. All I know is I bet Ben Thaler is glad it wasn't referred to him upstairs!!! It is England's first World Cup Final appearance in 22 years and they fully deserve a place in the decider. The two best defensive sides meet so expect a dour contest.
Australia v England
Australia and England top and tail what's been a magnificent Rugby League World Cup at the cauldron that is Suncorp Stadium. They topped this World Cup with a tight match that ended with a flattering 18-4 win to the Kangaroos and will tail this tournament with a replica style. This will be a grind. This will be the Battle of Brisbane. England's objective is to find the keys to unlock the resolute Roos defence who have given up only three tries in the entire tournament. England need at least a couple of four pointers to forge a famous victory. Everyone expects the Kangaroos to walk this in and thrash England, I don't but the odds are stacked against the English. Australia had a cruisy run to the final and barely broke a sweat flicking Fiji like a flea whereas England toiled long and hard in toppling Tonga.
Josh Hodgson's ACL injury has dealt a hammer blow to England's chances. The hooker was tearing Tonga apart and England will miss his playmaking, clever bursts from dummy half and astute kicking. It puts a spanner in the works of the master coach Wayne Bennett's game plan. Never fear the cagey old fella will have plans B and C ready to unleash. Bennett is always two steps ahead of the game and needs to be at his age as he usually forgets plan A. Bennett is revelling in the underdog status, saying his men are not much of a chance but they'll turn up anyway, knowing all the pressure is on his opposite Mal Meninga and the Kangaroos as they are expected to prevail. Make no mistake Australia are beatable and England can create history but they must believe they can KO the Kangaroos or there is no point taking to the field. After 73 minutes of the Tongan semi-final I had England a huge chance of knocking the Aussies off but has that chaotic final seven minutes of mayhem dented their confidence? The 'Wall of White' crumbled and that is a major concern because if they don't play out the full 80 minutes the Kangaroos will pounce.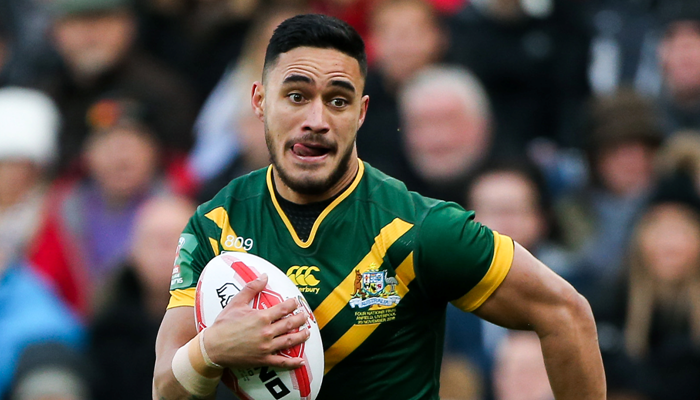 Valentine Holmes has grabbed all the headlines with a freakish 11 tries in two matches and if he continues the sequence this week will be in 7th Heaven but there's more chance of Matt Cecchin feasting with the King of Tonga this Saturday night than Holmes bagging a hatful! Though Cecchin will be free as Gerard Sutton is officiating in the middle. Holmes remarkable efforts highlight Australia heavily favours their left side attack and brings the match ups on that edge of the field firmly into the spotlight. Australia have Josh Dugan inside Holmes and their battle with England's in-form duo Kallum Watkins and Jermaine McGillvary will be pivotal to the outcome. Both combinations are in excellent attacking form. McGillvary has scored in every match and racking up huge numbers as the Huddersfield Giant makes gargantuan gains for fun. It's the defensive decisions of each edge that must be spot on as if either makes a misread it could spell disaster. Dugan and Holmes can be flaky in defence, England scored via McGillvary in the opener and England will look to exploit this area they will see as a weak link in the formidable Aussie armour.
The fullbacks for both sides contain the champion qualities that could carve this contest up. Gareth Widdop put on a masterclass last week and holds England's fortunes in his magical hands and feet. Widdop's linking with the English artillery on the left is their pathway to points yet Widdop with his slick hands, sharp mind and sensational running game can damage the Kangaroos all on his own. For England to win, Widdop needs to play a blinder. The green and gold God at the back, Billy Slater, gives his opposition heart palpitations when he hits gaps or sweeps around the back at full tilt. The reborn Billy the Kid's innate combination with Cooper Cronk and Cameron Smith is the ace in the Kangaroo pack. The English ruck will be on red alert all game for Slater scything through and England need to show good line speed to cut down the time and space of Cronk and sidekick Michael Morgan. Sam Burgess will welcome both Aussies halves to the Suncorp turf at every opportunity i.e. Get in their face and flatten them!
The backs grab all the glory but England's best chance of winning is to throw the Aussies off their game via their big men through violence aka 'controlled aggression'! Slammin' Sam Burgess' mission if he chooses to accept it is to unleash Hell… with discipline. David Klemmer will reply in kind. Penalties are coach killers and fatal to Final winning fantasies. Both packs play power games but that has limitations facing great defensive walls and this is where James Graham's ball playing adds an extra sting to England's attack. League's largest halfback, Graham can turn balls inside and out and England will need all his variety to break down Australia, if Graham has the energy reserves. The amount of juice left in the English tank is worrying the needle is hovering just above empty. England tired badly against Tonga, they were treading water, no I digress, downright drowning as the Tongans threw wave after wave at them.
The benches both hold players who will have an impact except England who have gone for Chris Heighington, a fourth forward, instead of George Williams who could cover both hooker and the halves. Bennett rarely pulls the wrong rein but I think he's erred here. Heighington the old warhorse is about due his pension card and the knackery! Overly defensive Wayne – bugger the silver, go for gold!!! Australia have an injury concern with Aaron Woods which means Reagan Campbell-Gillard may play big minutes, while for England Alex Walmsley has been superb and demands more game time. Wayne Bennett must squeeze every ounce out of Walmsley as the big Saint dents the defence every single time he runs and Luke Gale will appreciate the extra precious moment of time he gets to kick, run and think. Every micro-second counts! Gale's kicking game was on point against Tonga and needs to pin the Aussies down and build pressure because you know Cronk and Morgan will. The Kangaroos set the standard that England must not only meet but exceed to get a result.
The ruck is the crucial area and this is where the game will be won and lost and the loss of Hodgson hurts England. James Roby is an excellent player but his impact will be lessened now he's starting and not adding spark off the interchange. England are a far better side with both Hodgson and Roby in the 17. In Cameron Smith, Australia hold the best and most influential player on the park. He was so good last week Valentine Homes six tries wasn't deemed enough to take the man of the match award off the Kangaroos skipper! Smith will set the tone and pace of the game running regularly, Australia will want a fast game when they have the ball. This is where Smith rules, he plays the game by remote control, fast forward for the Aussies in attack and presses pause when wrestling England in the ruck. Smith has been chalking up milestones this season with ridiculous regularity and he will want to add World Cup winning captain to the list. Smith along with Cronk and Slater are legends of the game and are desperate to leave a lasting legacy.
Everything points to an Australian win. They are fresher, haven't had to travel, haven't lost key players, have proven match winners in the vital positions and most importantly have more points in them. England are a very good side and have faith in the style Wayne Bennett wants them to play. They have been primed to peak on this night ever since Bennett took the reins. It is time to deliver. England will challenge the Kangaroos with and without the ball, they defend their goal line gallantly and scramble stoutly but so do the Kangaroos. England to win need to play the match of their lives, get the rub of the green and hope Australia have an off night. That is always a chance but when it comes down to the wire Australia have the composure in the clutch moments, that extra touch of class and will lift the Paul Barriere Trophy.
Australia by 8
Enjoy the footy and remember gamble responsibly. So Ole Jock predicts after five weeks of great footy we end up with the result most people expected but if the Aussies win was this World Cup a waste of time? Perish the thought. Look at the magnificent sights, sounds, passion, pride and brilliant footy displayed so majestically by Tonga and the other Pacific Island nations especially Fiji. Not to mention the fantastic performances of Lebanon, Papua New Guinea and Ireland. The gap between tiers is tightening. International rugby league has changed course for bigger and better things as long as the NRL and Super League get on board and combined with the RLIF take advantage. And if England do upset the Aussies what chance a Knighthood for the coach? Sir Wayne Bennett has a wonderful ring to it! The chit chat between Wayne, Lizzie and Phil at the ceremony would be enlightening, oh to be a fly on the wall. You can guarantee the Duke would be good value.
Cheers,
Jock