Papua New Guinea have been one of the World Cup's most talked-about nations, with their unique style catching many an eye. So with England next up to challenge the Kumuls in the quarter-finals, I take a look at some of their key players…
Nene McDonald
McDonald has all the attributes to be a World Class threequarter. A strong, powerful centre by trade, the 23-year-old's athletic frame lends itself well to the Kumuls' explosive attack. He can hit lines hard but also holds the ball up well, often drawing in the opposition winger to release Justin Olam on his outside.
Well over half of PNG's tries have come down their right edge, which is no coincidence with McDonald there. His teammates know how much of a threat he poses, so will regularly utilise his flank as an attacking option. With McDonald as his opposite number, John Bateman will have to really close him down and bully him out of the game to ensure he isn't regularly trampled over.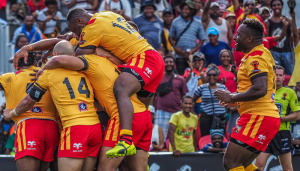 Rhyse Martin
Martin was the first real undiscovered gem to emerge at this World Cup, after his man-of-the-match performance against Wales in round one. The 24-year-old is quite a deceptive player, as his build doesn't match his skillset. He's bulky and a real handful to bring to ground, yet has the hands and feet of a halfback, almost acting like an extra playmaker down the right side.
Martin's actually on the books at Canterbury Bulldogs, but plays most of his rugby for their reserve side in the Intrust Super Premiership. After such a strong World Cup, however, he'll certainly be fancying his chances at an NRL shot in 2018 and a big performance against England would certainly help him stake a claim.
Ase and Watson Boas
So I'm cheating a bit, but you literally can't pick one and not the other. Their styles virtually mirror each other, with the only real difference being the side of the field they play on. While they don't possess the finishing skills of other halfbacks, they keep things ticking in the Kumuls side, constantly creating passing and offloading options to catch the opposition off-guard.
PNG's unique playing style at this World Cup has owed a lot to the work of their halfbacks, so expect the Boas's to have a similar sort of impact on Sunday. Plenty of people say that brotherly-telepathy is a myth, but I think these two are an exception.
James Segeyaro
Segeyaro tormented USA last week, constantly ripping holes in their defence. Though not the most popular player among the British (particularly West Yorkshire) audience, there's no doubting his talents. His running game matches his passing ability while his defence is solid, so he'll be vital if PNG stand any chance of grabbing a win.
His rotation with fellow hookers Paul Aiton and Kurt Baptiste has worked wonders and really aided Michael Marum with the ball-handling side of the game, whilst also taking pressure away from the less experienced Boas brothers.
David Mead
Finally, we come to the captain. Mead brings experience, leadership, speed and agility to the side and is a real calming influence at fullback. He's PNG's joint top try-scorer, with four in three games, and has been involved in countless others, linking into the line to offer an extra option.
The England defence will need to slide quickly to shut Mead down as he will literally pop up out of nowhere round the back and often create overlaps outwide. It is key that we mark him out of the game.
Credit: NRL Photos