Anzac Day is the most special of days in Australia and New Zealand. The players stand as one during the ceremony and I am standing and applauding the football the four sides produced. The tradition and honour of playing on this day brings the best out of the players and we witnessed two absolute cracking games. The Roosters pipped the Dragons while the Storm lifted to finish off the wilting Warriors. The Anzac Round was topped and tailed with golden point games on Friday in Canberra then Anzac Day in front of a full house in Sydney. A brilliant round of NRL, the inspired players gave it all in their tribute to the men and women who gave everything for our freedom.
The Anzac Furphy Water Cart – Five Talking Points
Roosters Salute
The Roosters may have won the game but both teams went home winners in my book. Once again both sides turned on another Anzac Day bottler. It was a bruising affair, the occasion and conditions turned this into trench warfare. It was tough and took its toll. Luck went the Roosters way in many respects with the Dragons losing playmaker Gareth Widdop for half the game when leading, Josh Dugan for an HIA assessment at a critical junction and Mitchell Pearce scored with a re-grip of the ball I don't think he knew much about. The Boys from Bondi will be pleased not only in gaining the two points but in also displaying a much-improved attitude adjustment in defence, they were hit hard and returned the favour in spades.
Widdop Woes
The Dragons and England's worst fears were realised when Gareth Widdop twisted his knee desperately trying to get out of his own in-goal. Widdop eventually hobbled off and with him went the Dragons hopes. Leading 6-0 it was a huge turning point in the match but full credit to the Dragons, they didn't give in, how could you on a day like this. They gallantly battled on brilliantly without Widdop to force the game into golden point via Nene MacDonald's sliding forehead try – he'll have grass burn for a month and Josh Dugan's last minute conversion. Widdop has a knee strain that you would expect will keep him out for at least the next Dragons game and most probably the England Samoa Test match. Red V fans will be crossing their fingers scans tomorrow bring good news as a long period out for Widdop could take the puff out of what's been a magical start to the season for the Dragons.
Pearce Plucks Dragons
Roosters halfback Mitchell Pearce won the game, the Anzac Medal and may have played himself back into a NSW Origin jersey. Cue social media trolling and cheering in Queensland. Pearce had a magnificent match and was influential on the result. He scored the try that Roosters fans thought had won the game with trademark hard hole running and subsequent remarkable juggling act will land Pearce a job with the Moscow Circus when his league days are at an end. Mitchell then pierced a hole in Dragon hearts potting the golden point field goal. Not a successful field goal kicker, Pearce finally slotted one not only slaying the Dragons but his inner field goal demon, only one monster left to confront and conquer – Origin.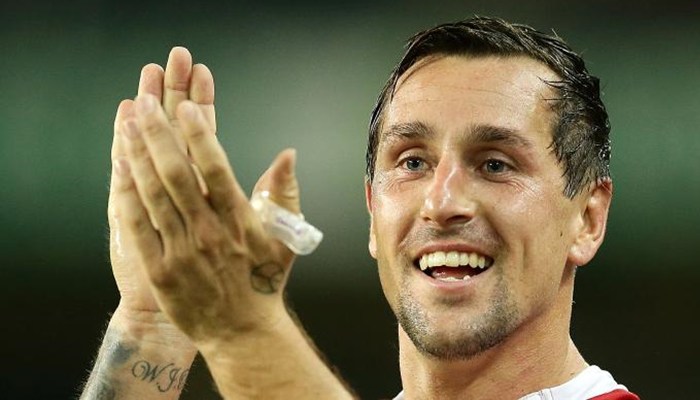 Full Nelson
In an absorbing contest in Melbourne, the Storm and Warriors went toe to toe until Nelson Asofa-Solomona grabbed the game by the scruff of the neck and shook it! The tallest player in the NRL, Asofa-Solomona is a man mountain, surrounded by his own atmosphere, he is a gigantic human being you can barely see him when it's low cloud. He dragged players making massive metres, flicked passes with deft skill and brought the X factor you'd like all bench players to bring onto the paddock. Asofa-Solomona's challenge is to make this form the norm. Do that and it won't be the last time we see a column with Nelson's name in it.
Johnson Talent Drain
Shaun Johnson is a former golden boot winner and has more talent in his little pinky than most in the NRL but he has to start delivering consistently. Kieran Foran's entry to the Warriors has taken some pressure off but Johnson's last play options can be haphazard and leave a lot to be desired. He let the Storm off the hook on multiple occasions with ordinary kicks and poor options. Maybe we expect too much from Johnson, but he is such a joy to watch in full flight I hope he regains his world's best tag again. There are glimpses and if Johnson can get back to his best, with the talent surrounding him, the Warriors can challenge this season. They pushed the Storm and got close but near enough just doesn't cut it in the NRL.
Two remarkable games of football were a memorable end to a memorable round as the sun goes down on another unforgettable Anzac Day.
Lest we forget.
Cheers,
Jock