Yesterday, Luke Gale was handed a red card for a bad tackle on Jonny Lomax which saw Gale's studs hit Lomax on the leg.
Referee Chris Kendall sent off Gale for the incident which made things go from bad to worse for Hull FC.
Now Gale has responded to claims that it was a deliberate action.
Gale tweeted: "Deliberate? I thought I could trap the ball with my foot, I missed and slightly caught his leg on his follow through. No malice in it what so ever I apologised to Johnny straight away."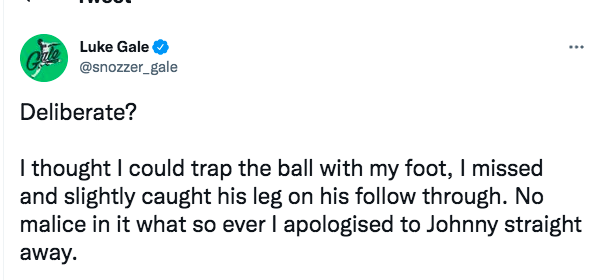 FC had already been shown a yellow card after Connor Wynne had been adjudged to have tipped Jack Welsby on his head.
Seeing red! 🟥 @HullFCOfficial skipper Luke Gale is sent off.#C4League | #SuperLeague pic.twitter.com/TC0c0Ozbga

— Channel 4 Sport (@C4Sport) February 19, 2022
Hull were already 14-0 down by the time Gale showed his studs up on Lomax as he went for a kick.
The St Helens halfback, credit to him, didn't make a meal of the tackle, but it looked like a painful swipe.
Hull had produced a tremendous tribute to hero Johnny Whiteley MBE, with Lizzie Jones MBE performing a brilliant tribute with Abide With Me as fans flocked to the MKM Stadium in atrocious weather.
Gale will have to wait for the decision of the RFL's Disciplinary Match Review Panel which will meet tomorrow to discuss all of the weekend's incidents.