SHOCK HORROR! Players actually swear on the pitch! At each other and, as evidenced on television, they swear at match officials as well. We all know they do, due to the amount of times that television commentators have to apologise to watching audiences, for anything inappropriate we may have heard on the player mic or the referee's mic!
Now it seems the RFL might be taking a stand, or are they setting a dangerous precedent by banning England international Jake Connor for one such incident in a pre-season kick about that didn't mean anything (yes I'm sure it meant a bit to Jonny Lomax personally, but there were no Super League points, or Challenge Cup progression at stake) which seems, shall we say strange to say the least.
Since the original decision, and now since his appeal was turned down, it's fair to say that there has been quite a reaction on social media. Several names have been banded around, as players of a certain reputation, are said to be almost an endangered species this season if they continue with their foul-mouthed antics of previous years!
Names like Sam Tomkins, Chris Hill, Danny McGuire, Sean O'Loughlin and Remi Casty, among a few others, have all been referred to in posts just seen by me personally and I bet anybody reading this can add several more names to the list.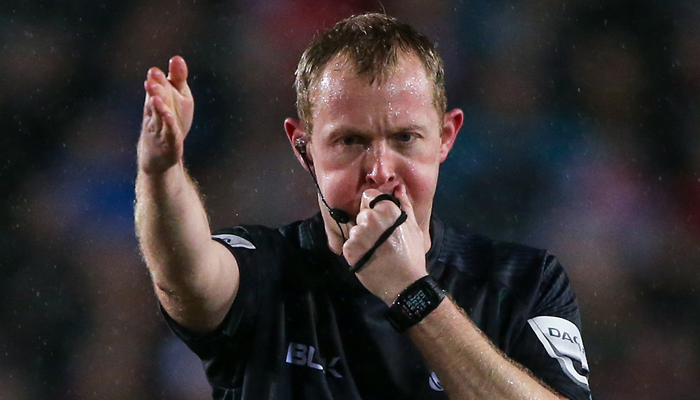 The fact of the matter is, swearing is an accepted part of what happens on the pitch. I swear at work myself, as I'm sure most others do, when something goes wrong! But why the reaction to this particular incident, are the RFL disciplinary not right to protect the match officials? Yes of course they're right to protect them, but these are not little schoolboys, they are grown adults, working in an adult environment and no matter how taboo swearing might be to the powers that be, we all know it happens, with monotonous regularity, every week on every pitch, it's a fact of life.
By banning a player for swearing, the RFL are definitely setting a precedent, one which could damage the game horrendously! I know myself that Jake Connor has a particular reputation as a pantomime villain on the pitch, but having met and interviewed him, I also know he's a very engaging character and very passionate about his rugby, as well as being an extremely talented player.
As supporters, we all love to see a player's passion and commitment on the pitch! We know that tempers get frayed, we know swearing is a by-product of that spirit, before players shake hands at the end of the game and all is forgotten. If you're going to ban players for swearing how much of that passion is being taken out of the game, in one single move? You also have to wonder, how careful do players have to be if they're arguing with a match official at either side of a pitch, within earshot of opposing fans?
With such a high profile case like this, at the start of a new season, which is starting under the banner of 'New Beginnings' (a launch which Jake Connor featured in very prominently) with the media interest attracted towards the case as well, we know that everybody, not just Hull FC supporters, are going to be watching developments like a hawk to see if anybody else with a similar reputation will also be banned for swearing!