What a finale the Betfred Super League put on as the regular rounds of action drew to a close in flamboyant style.
London Broncos are the team making way next season for the competition's newest club but they did not go down without a spectacular fight, taking the race for survival right down to the wire, thus demonstrating why the current structure should remain!
Everyone involved in the fight at both ends of the table are thanks to heroics of those on the field, obviously, but only 13, along with a boss, could be chosen for the final selection of Super League Team of the Week!
Coach – Richard Agar
Some may argue but Leeds' Richard Agar is chosen and with good reason.
Agar's side ran out comfortable winners over Warrington Wolves at Emerald Headingley stadium on Friday, giving their loyal supporters something to cheer on what has been a disappointing season.
But there was nothing disappointing about their win on Friday as Agar provided the leadership off the field necessary for such a win over the reigning Challenge Cup holders.
He could soon be celebrating a permanent job role with the club, perhaps the next man to take them to great things in years to come?!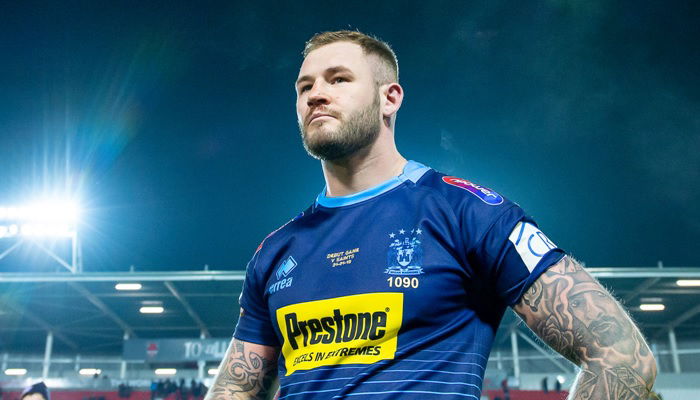 Full-back – Zak Hardaker
The controversial yet skilful Zak Hardaker is named at full-back as he helped Wigan secure second place with a heavy win over play-off rivals Castleford Tigers.
There's no denying his talent, despite his dark past, and on Thursday saw him produce 'top dollar' as he helped dismantle one of his old clubs.
He scored a try, provided a try assist, managed five tackle busts, put in two attacking kicks and amassed 111 metres from 15 carries in a complete performance, demonstrating how crucial he is to the Wigan side as they attempt to defend their Super League title.
Wingers – Louis Senior & Tom Makinson
On the win sees Huddersfield youngster Louis Senior joined by golden boot and Dream Team player Tom Makinson.
Both were an obvious choice, Senior bagging a total of four tries as Huddersfield edged Catalans at the John Smith's stadium to secure their Super League status.
Not only that, he was heavily involved throughout, managing five tackle busts and up to 132 metres from 12 carries helped give the Giants the edge they needed to return for another year.
As for Makinson, well worthy of his international status amongst other things, was on top form in Saints third win over Hull FC this season.
He bagged a hat-trick of tries in the encounter, helping him finish as top try scorer as well as five busts and 174 metres from 18 carries for good measure.
Centres – Liam Sutcliffe & Kane Linnett
At centre sees an all-Yorkshire club contingent in Leeds Rhinos' Liam Sutcliffe and Hull Kingston Rovers' Kane Linnett.
Sutcliffe has faced scrutiny from the Leeds faithful this season but, with a point to prove, succeeded as he was key in his side's win over Warrington on Friday.
He scored a try, provided an assist, completed 20 tackles, three busts and managed 103 metres from 14 carries, proving he can be a reliable asset for the Rhinos after all perhaps?!
As for Linnett, though on the losing side, helped the Robins put in a highly respectable performance at Salford and by fortune, helped them to survival ultimately.
Linnett's contribution saw him bag a try, four busts and a staggering 195 metres from 19 carries, keeping Salford busy all night, forcing them to seal a win very late in golden point extra time.
Stand-off – Robert Lui
Loanee Robert Lui is named at stand-off as he was arguably the main man in Leeds' win against Warrington.
Lui scored a try, managed six busts, put in five attacking kicks and amassed 137 metres from 18 carries that really kept the visitors occupied.
He even completed 14 tackles to help restrict the Wolves to just four points scored in the entire contest, ending the Rhinos' season on a high note, with possibly a lot more to look forward to in 2020?!
Scrum-half – Theo Fages
Now arguably one of the competition's most underrated players as St Helens' Theo Fages is selected.
Perhaps overshadowed by Dream Team player Jackson Hastings, but there was no denying Fages this week as he was superb in attack against Hull FC for the league leaders!
Having provided two try assists, completing 15 tackles, eight tackle busts and four attacking kicks and of course 54 metres from 14 carries, he was here, there and everywhere at the KCOM stadium.
Simply sensational, making history in the process, as the Saints look for their first title in five years.
Props – George Griffin & Paul Clough
A bizarre selection? Two players who have not been as fortunate to appear here often but Salford's George Griffin and Huddersfield's Paul Clough are finally selected.
Griffin produced a strong effort in Salford's edgy win over KR to help the Red Devils secure third place, their greatest ever Super League standing!
A staggering 49 tackles completed was enough to restrict their visitors' attack before five busts and 140 metres from 20 carries ultimately help win the forward battle in what was a tense and exciting clash!
As for Clough, he contributed in the pack as the Giants narrow defeated Catalans Dragons to escape relegation.
His 38 tackles and 115 metres from 18 carries are what you expect from a competent prop but considering how the lead changed throughout, the battle in the pack mattered and arguably, Clough led the way, deserving of his selection.
Hooker – Matt Parcell
Surprised?! Another 'loser' as Matt Parcell lines up at hooker for the final week.
It could have come at a price and rather controversial considering his recent suspension outing, but make no mistake, he worked overtime in helping the Robins towards survival.
An outstanding 60 tackles restricted Salford's options in attack as well as 53 metres from ten carries was also superb.
It may not have gotten them the win but it certainly improves Parcell's profile as a player with much to offer heading into 2020.
Second-row – Josh Jones & Kelepi Tanginoa
The back row sees Dream Team player Josh Jones and Wakefield's Kelepi Tanginoa chosen.
Jones celebrated his selection in style as he edged out future arch-rivals Hull Kingston Rovers, easily impressing his new club next season.
The 26-year-old completed 27 tackles as well as eight busts and 165 metres 22 carries, which was enough to overwhelm the visitors, another demonstration of his deserved end of year selection!
As for Tanginoa, his record of wins with Wakefield may be far from perfect, but his personal performances have been superb for Trinity.
Against London, he also completed 27 tackles on top of three busts and 175 metres from 18 carries, which was enough to help Trinity towards survival, something they have been the very specialists of over the years, despite all their critics.
Loose-forward – Jamie Jones-Buchanan
Last but not least, this old boy finally gets a spot is the retiring veteran Jamie Jones-Buchanan.
The timeless Jones-Buchanan produced one last top performance in Leeds' home win over Warrington, even slotting home a conversion to crown off a wonderful night and glamourous career.
The 38-year-old also provided a try assist, completed 38 tackles and managed 74 metres from 11 carries as he said farewell to the Leeds faithful and moves on to the next chapter in his life!