On what promises to be an exhilarating and enthralling encounter, defending champions Wigan Warriors host high-flying underdogs Salford Red Devils in an 80 minutes of do-or-die at the DW stadium. The winners will take on League Leaders Shield winners St Helens in the prestigious Grand Final at Old Trafford next Saturday. The stakes simply could not be higher as the two Greater Manchester clubs collide for a fourth time this season, battling it out to stay alive in 2019.
The Warriors have been typically ruthless and efficient during the business end of the campaign, going into the Semi-Final on Friday night having won thirteen out of their last fifteen games. Local rivals St Helens, who have already booked their place at Old Trafford, are the only side to have got the better of Adrian Lam's men since Wigan's 14-26 defeat at the Magic Weekend to the Warrington Wolves way back in May. In terms of personnel, Wigan will be without the services of Tom Davies, Dom Manfredi and Joe Greenwood. They have made one change to their squad that got beat by St Helens last Friday with the ironically Salford-bound Dan Sarginson coming in for back-row forward Greenwood.
The Red Devils are indisputably the underdog tale and success story of 2019 and will travel to the home of the champions with no fears whatsoever and understandably so after pushing Wigan all the way in a narrow 18-12 defeat just two weeks ago. Similarly to the hosts, Salford are in outstanding form having won nine of their last ten games, they are playing some outstanding rugby and have peaked at the right time. In terms of personnel, Salford are virtually full strength with former Widnes Vikings winger Ed Chamberlain being the only noted casualty.
Wigan will be favourites. As a team they have much more experience of games of this magnitude and have the better players across the park. However, Salford demonstrated in their previous trip to Wigan that they have the defensive steel, attacking flair and mentality to go toe-to-toe with the Warriors. Wigan beat Castleford in the Semi-Final and Warrington in the Grand Final last year because their defence was simply too strong for their opponents; if Salford's pack hold their own like they did last time there is every chance a world class halfback in Jackson Hastings could find a way through and with the help of the likes of Niall Evalds and Joey Lussick, the Red Devils have undoubtedly got points in them.
Here are five key areas that could determine the outcome of the match:
Defence
Semi-Final rugby is typically low-risk, conservative and safety-first. There will not be too much in the way of off-the-cuff rugby for the majority of the match and attacking strategies will therefore be relatively similar. This means that whichever team defends better throughout the course of the match will go a long way towards winning the game. Consistent strength in the contact, line speed, discipline and defensive reads will all be put to the test throughout the 80. Defence wins games. Salford's attack has been top quality all season but their defence has improved significantly since the start of the year.
Forwards battle
In what should be an absolutely bruising encounter, the battle up the middle will be absolutely crucial. The battle for yards per set will be very important and whichever set of backs receive the inferior platform will have an uphill task. The game will be played largely up the middle so the forwards on each team will carry a lot of responsibility making the tough yards and restricting the go forward of the opposition. There is no shortage of quality forwards for both teams either. Josh Jones, Liam Farrell, Morgan Smithies, George Griffin and Oliver Partington are all in red-hot form.
WATCH THE NRL GRAND FINAL LIVE IN THE UK
Halfback battle
Typically in big games there isn't too much broken field or space so in order to create scoring opportunities, the halfbacks of both teams will be required to unlock holes in the defence with passing and kicking skills which will test the technical ability of both sides. The battle between George Williams and Jackson Hastings in particular could be paramount, by far the two most creative players on the pitch. In addition to the battle of creativity, the tactical kicking battle will also be vital. A good territorial kicking game can really take the pressure off a team. Furthermore, forcing repeat sets in particular will be a strategic method of both teams that could help swing the energy battle in their favour.
Set Completion
It is all but certain that the team that makes less handling errors will go a long way towards having more possession during the game. This could be absolutely crucial as the team with more possession in what will be a physically and mentally draining game won't have to defend as many sets and will have a big advantage in creating more try scoring opportunities.
Composure
All big games test the intelligence, awareness, decision-making and concentration of players. One mistake could prove the difference between making it to the grand final and a season being dead and buried. Mentally this could take a lot out of the players and will in particular test Salford, the team with the players that aren't as used to the sheer pressure of playing in such a big occasion. It will be a huge challenge for them and they will need to overcome the pressure in order to have a genuine chance of beating Wigan.
Five one-on-one battles to watch out for
Joe Burgess and Ken Sio
A battle between two athletic and deceptively quick wingers, Burgess and Sio will both carry a lot of responsibility making tough carries and attempting to play the ball quickly during exit sets and could come into contact during potentially crucial moments of the game where one of the two might catch a rare glimpse of a scoring opportunity. Burgess and Sio are both very good finishers and have the pace to score long range tries.
George Williams and Jackson Hastings
The battle between two of Super League's best playmakers, Williams and Hastings, should be entertaining and fascinating. Both can create something out of nothing and both are capable of tough defence too. Williams has a very good link with Joe Burgess and a quality short range kicking game whereas Hastings has the balance and guile to beat any defender and possesses the ball skills to create chances not many other halfbacks would produce.
Sam Powell and Joey Lussick
Two tough, durable and defensively strong hookers, the battle between the smaller middle men, Powell and Lussick, will be intriguing. Both have the technique and strength to wrestle their way over from close range out of dummy half and both are capable of completing big stints in defence. Two plucky hookers that can really punch above their weight.
Zak Hardaker and Niall Evalds
The battle between two of Super League's best British fullbacks; Hardaker and Evalds both have the pace to make big yards on kick returns and both have a long range try in their lockers. They both also have the fitness to provide a constant option in attack, moving from side to side. Two of the safest fullbacks in the game under the high ball, they will both have a monumental task on their hands organising their defences from the back on a night where defence will be so important.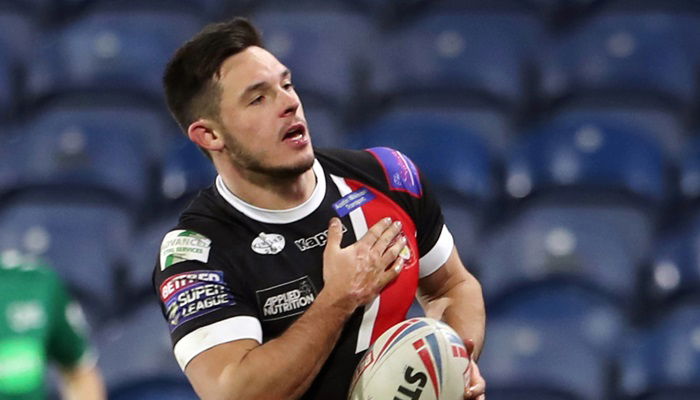 Josh Jones and Willie Isa
Two strong and aggressive second rowers that can both play the full 80 minutes, Jones and Isa are both very physically competitive figures and will put everything into every carry and tackle they make. This will be a crucial battle on the edge and Isa has a big task on his hands keeping arguably Super League's in-form second rower quiet.
Final words
I think Salford have been an absolute credit throughout 2019, making it to within 80 minutes of Old Trafford with a low budget and after being tipped by most for a relegation battle, but unfortunately I think this will ultimately be one step too far and despite what is sure to be an almighty effort, Wigan will just have slightly too much on the night. I'm anticipating a brutal, physical contest between two very strong teams. I think Wigan will ultimately make slightly less errors, slightly more metres per set and will manage the game slightly better.
Prediction: Wigan 17-10 Salford