On the back of England's 2-1 series win over New Zealand, Wayne Bennett has received a lot of plaudits regarding his tactical approach. Christened 'the super coach' by the Australian media, Bennett is praised for his ability to get the very best out of his playing roster at the business end of a season. It's no coincidence that the Broncos seem to hit top gear just as the NRL season runs into the play offs.
Having coached a variety of sides throughout his coaching tenure, it could be said that England are his biggest challenge. Often the Bridesmaids in a southern hemisphere dominated international scene, England has failed to challenge Australia for the top crown since 2006. It's been a long time since the RL fan base in England has been so supportive of their national team. This has not come without criticism of Bennett's tactics though, and more so his team selections.
Super Wayne seems unaffected by the voice of the fans wherever he has coached. Bold and unorthodox selections have been a part of Bennett's team selection at every club he has coached at. A prime example of this would be Darren Lockyer. A future immortal and often dubbed the GOAT (greatest of all time), Lockyer was a full-back until the early 2000's. Although the transition between full-back and stand-off does not seem such an unusual change, at the time this was deemed a risky move. Lockyer was the best in the world at full-back, so why move him to stand-off in an already successful Broncos team? Only Wayne could answer that. But what we saw from then on was Lockyer become the master at second receiver. In what could be described as his best season in 2006, Broncos won the premiership with Lockyer also taking out the Dally M award as five-eighth of the year. Lockyer is just one of many examples whereby Bennett has left fans and pundits prematurely shaking their heads prior to condoning the positional change.
If we dig deeper into the realms of "odd" positional selections by Bennett, it's worth taking a look at one of the more subtle decisions he's made. In 2006, Brisbane defeated a formidable Melbourne side in the grand final. The Broncos were deemed underdogs, facing a Melbourne side that contained superstars such as Inglis, Slater and Smith. In this game, Shaun Berrigan won the Clive Churchill medal playing at hooker. Berrigan was a novice at dummy half, having only moved into the pack during the regular season. In 2005, Berrigan was the Broncos top try scorer, playing centre in a successful campaign. A season ending injury to Michael Ennis in 2006 caused Bennett to reshuffle his spine. He wasn't without options though – Casey Maguire was an obvious choice at dummy-half. Instead Bennett saw a rough diamond in Berrigan, and this choice paid dividends. From there on, Berrigan won caps at hooker for Australia and Queensland respectively.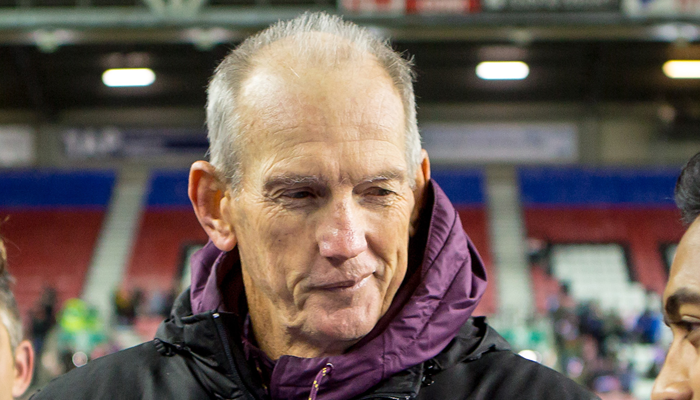 This brings us full circle, to Bennett having masterminded a test series victory over the Kiwis. It could have been fair to assume Ratchford would start at full-back and Lomax would play at stand-off. Both had excellent seasons in those positions. Instead, we saw Lomax play at full-back and a surprising selection for Tomkins at half-back. Nevertheless this was successful – Tomkins attacked the line well and continued his Grand Final winning form throughout the series. Lomax looked comfortable at full-back and offered England good balance and security. With Sam Burgess and Sean O'Loughlin out injured, it looked as though Bennett would look towards Elliott Whitehead to fill the vacancy at loose forward. The robust back rower picked up the role at Canberra earlier in the season and has never looked back.
Aside from Whitehead, England also had Adam Milner eagerly waiting in the shadows. Again, Bennett shocked the press by selecting St Helens youngster Luke Thompson. The hard running forward had played second row earlier in his career, but has played prop for the last few seasons and never taken a step backwards. Controversially, this selection could have made the England pack look one-dimensional. The selection of Thompson at loose forward proved fruitful, with England's pack looking aggressive and keen to make the hard yards. By picking a tough runner as oppose to a ball handler, England seemed to make better decisions in crucial areas. Thompson's natural size and work ethic allowed protection for Tomkins at half-back, in turn allowing the outside backs to run the ball freely. When looking at the overall picture of Bennett's team, he picked a side that would compliment each other.
This Test Series has shown that sometimes it just takes thinking outside the box to unlock a winning formula. The super coach may be unorthodox in his methods, but it's hard to see how his future team selections can be doubted.