Hull FC have unveiled their third jerseys for the 2024 Betfred Super League season.
The stunning blackened pearl and tangelo orange coloured jersey, which will be worn by the Black & Whites at the 2024 Magic Weekend and on other occasions throughout the year, is produced by the club's brand new kit and technical partner Castore®, after the Black & Whites signed a landmark multi-year partnership with the British premium sportswear group last month in one of the most significant commercial partnerships in the club's history .
The jersey is proudly fronted by new principal club partner Ecostrad – the UK's leading manufacturer of high-end electric heating solutions, with the orange trim across the jersey signifying the new partnership.
Ecostrad manufactures exceptional electric heating systems for a variety of domestic and commercial applications. Their products include WiFi-enabled ceramic core radiators, smart infrared heaters, energy-efficient designer radiators, modern towel rails and more.
Since its inception, Ecostrad has consistently struck a balance between innovation and cost-effectiveness. From 24/7 programming to motion sensor technology and open window detection, their products offer unparalleled control and efficiency. Pairable with renewable energy sources, they provide a carbon-free alternative to gas central heating.
Ecostrad's state-of-the-art distribution centre underscores their commitment to sustainability, further supported by their partnership with Ecologi to offset the carbon emissions of their entire workforce.
As well as the hints of the tangelo orange across the kit, the colour of Ecostrad's logo, the jersey also features a subtle hexagonal and V pattern across the front, which is sure to catch the eye when the Airlie Birds take to the field at next season's Magic Weekend.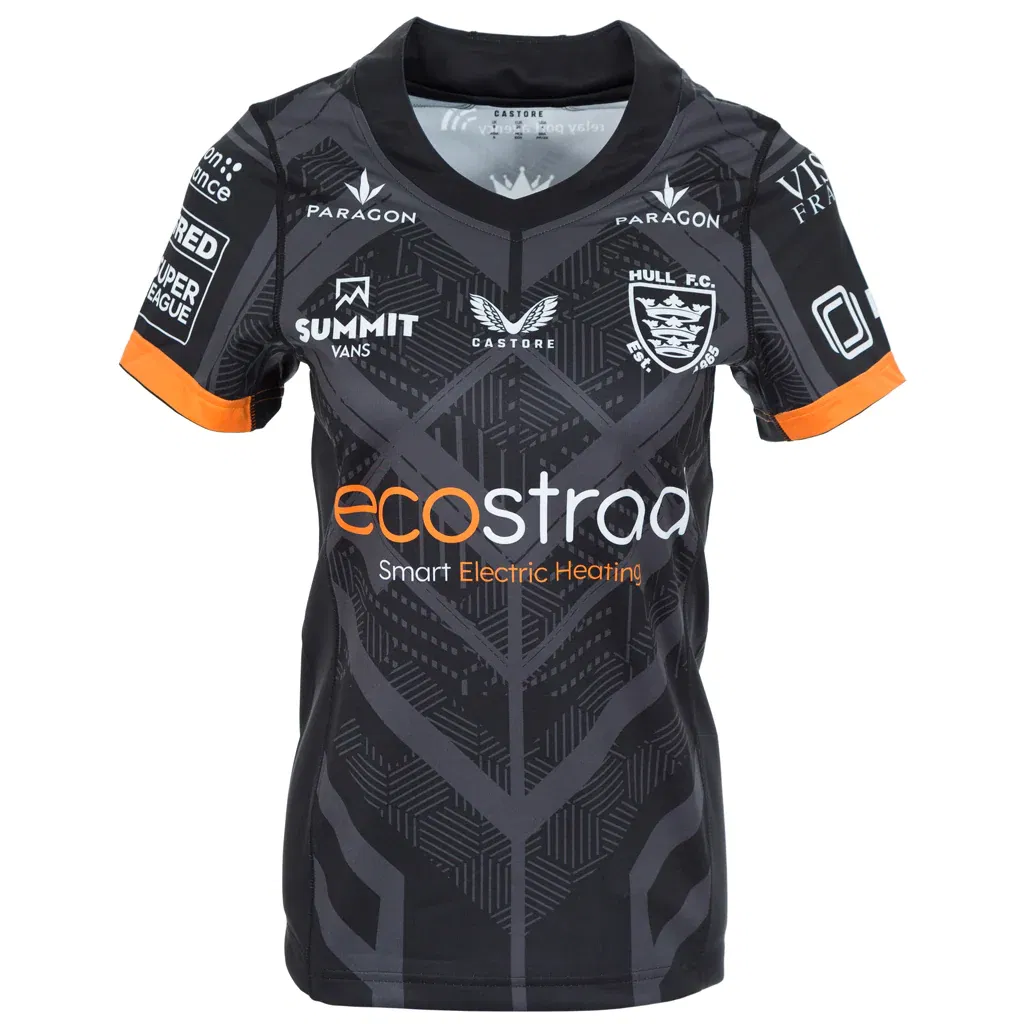 The shirt is available online now at hullfcshop.com, and from our retail stores tomorrow – supporters are reminded that new recruits Morgan Smith, Jack Ashworth and Liam Tindall will be in attendance at our St Stephen's retail store between 12.00pm and 1.00pm on Saturday for a signing session where they will be sporting the new jerseys.
As well as Ecostrad taking pride of place on the jersey, new associate partner Summit Vans also feature on the front of the shirt, while parent company of associate partner GIACOM, DWS Group, also feature on the sleeve.
Elsewhere on the kits, returning shirt partners Paragon Elevators, Vista Frames, Hedon Insurance, Relay Port Agency, Cladding King, Arcmaster, PBS Construction, Kinetic Laboratories, JLP Scaffolding, and the University of Hull all feature once again.
Shirts are priced £52.99 for adults, and £39.99 for kids and toddler, and available in various sizes, including ladies fit, while members are reminded that they receive an exclusive discount voucher in their 2024 membership pack, which allows them to receive £5 off a 2024 jersey of their choosing.