Lions to roar again
What great news it is that the British and Irish Lions are to return in 2019. The RLIF last week announced a Lions tour to Australia and New Zealand in two years, with the Kiwis and Kangaroos also both touring Europe.
One big question is who will be picked? It's expected that England will dominate the selections, but it's to be hoped that some of the Welsh, Scottish and Irish talent get a chance. After all, it is the British Lions. A rule making it compulsory to include at least a certain number of players from each nation would be ideal, and ensure it's not the 'English' Lions.
Cas continue to be classy
The Tigers are on fire. There aren't many other ways to put it. Daryl Powell's men are playing a unique brand of rugby that no one can seem to control, with St Helens being the latest victims.
The key to this Cas' machine working is the maverick Luke Gale. The 28-year-old scrum half pulls all the strings and is arguably the best player in the competition right now. Whoever partners him, whether it be Roberts, McShane or Holmes, links in effortlessly, while Zak Hardaker can be relied on to offer himself as an extra ball player and provide Eden and Minikin with endless scoring opportunities. Their free-flowing style is a breath of fresh air to witness and gives them the potential to dominate the league.
Lower leagues deserve more coverage
It's safe to say that out of the four Challenge Cup games broadcast live on TV this weekend, Thursday's clash between Featherstone and Halifax was one of the best. The Rovers ran out 24-12 winners, in a game filled with plenty of skill and quality that we wouldn't ordinarily be treated to.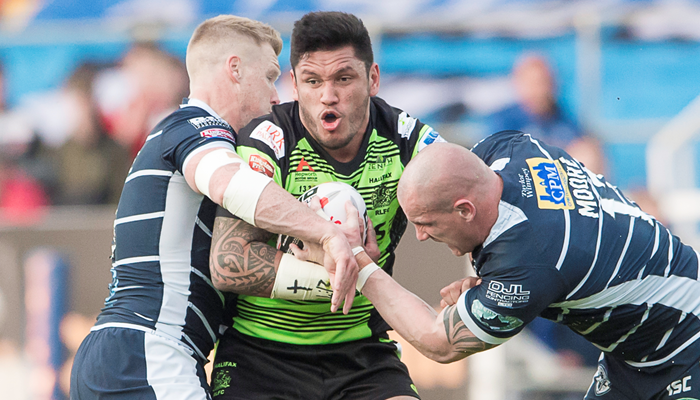 Thursday's match adds weight to the argument that lower league games deserve more coverage. Gone are the days where Thursday evenings on Sky Sports were home to Championship action, which uncovered plenty of undiscovered talent, such as Leigh fullback Gregg McNally. Maybe the RFL should take a leaf out of some of the League 1 club's books. Both the University of Gloucestershire All Golds and the North Wales Crusaders live streamed their games on YouTube recently, with both receiving plenty of good feedback.
Million Pound replay (Salford vs KR)
When Salford and Hull KR were drawn against each other in the Challenge Cup sixth round, it was always going to be an interesting contest. KR fans are still having nightmares about Gareth O'Brien's 50m drop goal, while the Devils are enjoying their most successful season to date.
It looked, however, as if a shock was on the cards on Friday when Rovers went in with a 14-6 lead at halftime, courtesy of Shaun Lunt's brace. But Ian Watson's men managed to pull it back with a scintillating second half display to get the win. It's safe to say that KR are way above Championship standard and I wouldn't be surprised to see them back in Super League in 2018.
Widnes academy flourishing
One of the memorable moments from the weekend has to be Widnes youngster Danny Walker standing up to Warrington captain Chris Hill. Hill gave the 17-year-old a cheeky elbow when he went to collect the ball for a penalty, but seemed pretty surprised when the young pup decided to bite back.
Walker is leading the way for the Vikings' young stars, with plenty given opportunities as a result of their injury crisis. Outside back Lloyd Roby became the latest graduate on Sunday, while Liam Walsh also impressed on only his second senior appearance. While Widnes fans may grumble about their team's league place now, they should be pretty hopeful about the future if their academy continues to bear fruit.