Plenty of food for thought after final test
I imagine many of us had mixed feelings after the final whistle on Sunday. It was obviously a huge achievement for England to win the Test Series, but their performance in game number three was pretty abysmal.
Defensively we were weak, with certain individuals not even able to execute basic tackle technique at times. Our attack then lacked creativity or direction and was strewn with errors. With a full strength squad it might have been a different outcome but that's not a good enough excuse. It's a bad end to what has been a very good tournament and shows us what areas still need to be improved. Squad depth still may be an issue, but there's plenty of quality talent coming through that should do a job in the coming years.
Makinson win ruffles feathers
Congratulations to Tommy Makinson! The Saints winger was completely deserved of his Golden Boot win after a sensational campaign for England. His performance in the second test was simply majestic, while he was a cut above any other player on the international scene. His victory has been met with plenty of critics, particularly from journalists, pundits and players down under.
✅ Golden Boot
✅ Series Win
✅ #OURLEAGUE Man of the Match

A week to remember for Tommy Makinson ? pic.twitter.com/Mbg8Qgp4RA

— England Rugby League (@England_RL) November 11, 2018
Their arguments, however, bewilder me as under the current criteria Makinson is a very worthy winner. The award is given to the best player in international fixtures and England have had longer and better campaigns than both Australia and New Zealand. Look at individual player performances and Makinson is easily the best from the four shortlisted players. If the Aussies are so bothered about the award then maybe they should be more diligent about playing international matches.
System needs to change
As chuffed as I am for Makinson, it's clear the system needs to change. The Golden Boot should be awarded to the best player in the world for the entire season of games, not just internationals. It doesn't so much take away the credibility of the award, but rather ignores the hard work put in over eight months or so to just favour performances in three or four games.
If we were looking at full seasons, names such as Latrell Mitchell, Nathan Cleary and Kalyn Ponga would all be up there, as still would Makinson and Dallin Watene-Zelezniak. It just makes it fairer all round. It would also kill off a lot of the unnecessary negative press the RLIF, England and Makinson himself have gotten over the past week or so.
Rowley out, McDermott in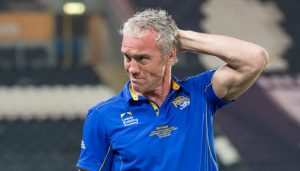 It comes as no surprise that given their failure to reach Super League, Toronto are taking drastic measures to ensure they don't miss out in 2019. Since their creation two years ago, Eric Perez has never been afraid to make big calls to get results and his latest one is no different.
The mutual release of Paul Rowley and recruitment of four-time Super League winning coach Brian McDermott is a massive statement of intent and could be just what the Wolfpack need. McDermott will instil a mental toughness that they lacked at times last season, which will give them a real advantage in close games. His reputation and credentials mean he should be a perfect fit and hopefully guide the Wolfpack one step further next season.
Magic on the move
So after months of debate and discussion, the Magic Weekend has officially moved to Anfield. After four hugely successful years at St James' Park in Newcastle, it has been switched to Liverpool and I simply can't understand it. It seems like a case of the RFL thinking way too much about expansion and not about the product itself.
Newcastle was the perfect host – right in the city centre, a superb stadium and good for expansion. The locals loved having us up there too, as it brought the city great revenue and publicity. I'm all for giving other venues a chance but I can't see Liverpool being anywhere up to the standard that Newcastle was – or Cardiff or Edinburgh for that matter.