Wigan Warriors' Bevan French continues to hog the limelight in terms of his future.
The Australian livewire has been a key part of the Warriors' incredible upturn in form in 2022 after a less than successful 2021, but there have been question marks over where his future lies for the majority of the season so far.
And, after the Daily Telegraph had revealed at the weekend that French is heading for a shock deal in the NRL with the Newcastle Knights, Newcastle Herald journalist and reporter Barry Toohey has added his own expertise on the issue.
After being asked by a Newcastle fan: "Playing fullback for a glamour club in the UK and coming back here to play NSW cup? Doesn't make much sense."
Toohey replied: "Playing mainly wing for Wigan n wants to return to NRL," with Toohey clearly believing that French is set on a return to Australia.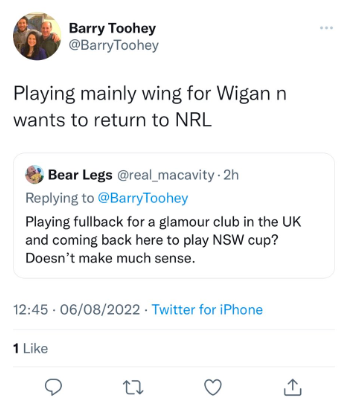 The Australian had previously revealed that he was 'pretty close' to getting a deal done live on Sky Sports a fortnight ago with a wry smile suggesting that the news is soon around the corner.
"I'm getting pretty close," French said on Sky Sports.
"But, I've been saying that for the least few weeks that I'm close.
"I guess fortunately I'm in a good side and we are hitting good form, so I keep getting close to a deal and then things get put back to square one."
From that, Sky Sports pundits Jon Wells and Brian Carney made their own conclusions, believing that French was about to sign a deal with the Warriors.
"Wigan will get first bite on the cherry – no pun intended," Wells said.
"And they might have to bite the bullet and go for it because he is that important to them."
Carney continued: "From what he was saying there, we can suggest that he may be staying at the DW stadium."
However, it now appears as though French is heading home to the Knights who themselves have been struggling in the NRL this season, despite a 14-10 win over Wests Tigers at the weekend.