1. Jack Walker – Leeds Rhinos
The 17-year-old has been brilliant since making his debut for Leeds. He's offensively better than Ashton Golding and defensively equal. In my opinion he should be Leeds full-back for years to come. He makes the team over Sam Tomkins as Tomkins hasn't been great since his return from injury, although he'll return to somewhat near his best soon enough. Escare doesn't make the team through injury.
2. Liam Marshall – Wigan Warriors
In his breakthrough season Marshall has scored 20 tries and made 26 clean-breaks. He's ahead of Ryan Hall and Tom Briscoe in my mind and easily makes the team. Unfortunately, when Dom Manfredi returns he may find himself on the fringes of the team, but that's testament to the quality of the Warriors at full strength.
3. Kallum Watkins – Leeds Rhinos
The England international centre has been under fire this season after not hitting his usual standards. However, in recent weeks he's shown why he's an international quality player and deserves his place in this team. Watkins has discovered a fair few strings to his bow such as kicking goals and leadership, all of which will be vital as the Rhinos lose more of their golden generation.
4. Oliver Gildart – Wigan Warriors
Gildart is the perfect winger's centre. He has the pace and ability of score and create tries with ease, and Wigan are far better when shifting the ball to the left edge towards him and Joe Burgess to cause havoc. Despite injury, Gildart has scored six tries and assisted four, which is fantastic in such a short space of time.
5. Joe Burgess – Wigan Warriors
'Budgie' has been another one of the Warriors in fine form despite injuries that affected the cohesion of the team. At times playing centre, he's been exceptional when times got difficult from April to middle of June, when the Wigan club couldn't buy an away win. Burgess has shown his international class in that period and has notched up 16 tries and 4 assists this season.
6. George Williams – Wigan Warriors
Pure class. The assist master of Super League has been in superb form for the Warriors in a season of poor and indifferent form for the overall team. He's got a quality perfectly timed kick that sets up Burgess and Liam Farrell almost every time when a game-winning play is needed. Of course Williams needs to improve his running game, but he's beginning to be that missing link for the international setup England have cried out for since Sean Long.
7. Joel Moon – Leeds Rhinos
Simply the reason Leeds have found their attacking prowess this season after a terrible 2016 campaign. Moon is the Rhinos leading try-scorer with 15 and he's also made 12 clean-breaks, using his mazy style running to confuse everyone on the field until he creates an opportunity for his team.
8. Mitch Garbutt – Leeds Rhinos
The Rhinos wrecking ball has shown this season why Brian McDermott brought him to the club at the back end of 2015. Last time out against Hull FC he was required to do three forwards work as Leeds fell victim to some very unfortunate luck with injuries. He was powerful and made over nine metres average gain, something he's done all season.
9. Matt Parcell – Leeds Rhinos
The best hooker in the Super League bar none. Parcell is the leading tackle-maker in the competition with 815 tackles and he's brought his all-round game to the Leeds club with 12 tries – making him the lead scoring forward in the competition and 11 assists in a solid first season in England.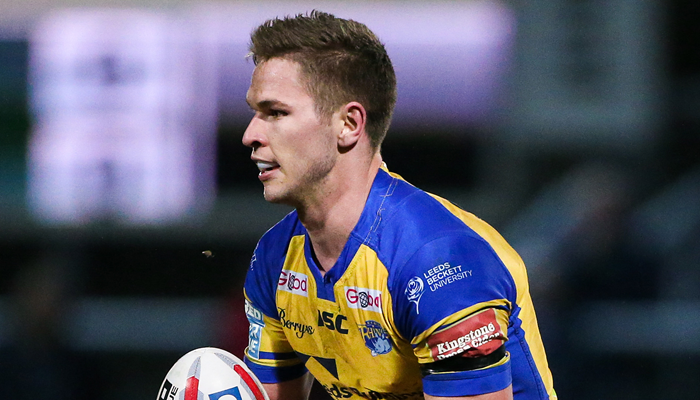 10. Adam Cuthbertson – Leeds Rhinos
Cuthbertson has found his 2015 form this season which has seen him score nine tries and make 95 offloads this season, after setting the record for offloads in a season, one I'm sure he'll try and break. He's made nine clean-breaks and 2733 metres as well this season, showing he's more than capable at producing when his team need him most.
11. Stevie Ward – Leeds Rhinos
Ward has been in great from this season, especially in recent weeks, scoring for tries in his last six games. He's shown his versatility and his work rate after being moved to the centres because of injury, and that's the best quality about Ward – he never takes a backwards step and will play anywhere to make sure the job gets done for his club. He just edged out Liam Farrell, but I wish I could have had both of them in.
12. John Bateman – Wigan Warriors
The returning Bateman just had to be in the team. Wigan are very poor without him and that's shown this season. After his man-of-the-match display against Cronulla Sharks in the World Club Series, Bateman got a terrible injury but has comeback in recent weeks to kick start a push for the top four.
13. Sean O'Loughlin – Wigan Warriors
Lockers has been great for Wigan in difficult times. The England captain made his 400th career appearance last week against Warrington, and in my opinion finds himself ranked amongst some Wigan legends when he hangs up his boots. Some Warriors fans fear what life will be like without Lockers and so they should as he's that influential to the success, particularly since 2010.