Wigan Warriors have had a turbulent day but some good news has been announced with the future of the clubs Head Coaching role cleared up once and for all. Wigan legends Adrian Lam and Shaun Edwards will take charge of the Warriors from 2019 onwards.
Adrian Lam will succeed Shaun Wane in the Head Coaching role at Wigan Warriors in 2019, and will make way as Head Coach for Shaun Edwards to return to the club , in 2020.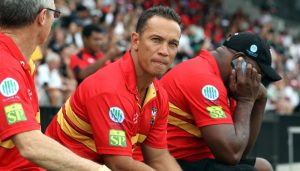 Adrian Lam made over 100 appearances in Cherry and White between 2001 and 2004, which included a drop goal in the 2002 Challenge Cup final win over rivals St. Helens. He's captained both Queensland in State of Origin and Papua New Guinea internationally and post retirement coached his country from 2007 to 2012.
Shaun Edwards is a name associated with the glory years of Wigan Warriors and one of the all time greats of Rugby League. Well over 400 appearances brought together over 250 tries, he also made 39 appearances for England and Great Britain. Edwards has spent his coaching career in Rugby Union but will link up with his hometown club once again after his contract with Wales Rugby Union concludes.
This decision will have fans of all generations content with both formidable figures in the clubs history.
"Shaun Edwards is a legendary figure in both codes of rugby as a supremely gifted player and as a highly successful Coach," Wigan Warriors Chairman, Ian Lenagan said. "He is an inspirational figure, a born leader and a winner at everything he has turned his attention to. He also has Wigan Rugby League Club in his blood. We're delighted to have been able to bring Shaun back to the Club which he represented with such distinction.
"Shaun will undoubtedly inject some fresh ideas and impetus into the game, drawing on his extensive experience in rugby union, and we're proud to have made such a progressive appointment. We're looking forward to how he builds on the very strong foundations that we have in place at Wigan.
"Wigan enjoys a global standing within our sport and beyond and, having Shaun at the helm is a shot in arm for the Club and also for the sport of Rugby League and the Super League competition."
On Adrian Lam's appointment as interim coach, Lenagan added: "We're extremely fortunate to have a man of Adrian's calibre to come into the Head Coach role on an interim basis for the 2019 season. Adrian won the hearts and minds of every Wigan fan during his time here as a player and he's coming to Wigan us as one of Australia's brightest and most respected coaches having coached the Papua New Guinea national team and with the Sydney Roosters. He's a great addition – one that myself, Kris Radlinski and Shaun Edwards are extremely enthused about.
"We all feel Adrian will have significant impact on the Wigan team before returning to Australia with the additional experience to be capable of taking up a Head Coach role there."
Executive Director, Kris Radlinski: "Shaun Edwards is one the sport's most respected coaches and personalities who will bring with him a wealth of experience to Wigan Warriors.
"His knowledge of Rugby League is still as sharp as it was when he was the leader of Wigan's finest-ever side as a player, and we think he'll bring a fresh, innovative approach to our organisation having spent 18 years in Rugby Union. We believe that we have the structures in place for Shaun to thrive as a Rugby League coach and we're delighted to have him back at the Club.
"Adrian Lam's reputation as one of Australia's brightest coaches is one that we as Wigan fans should also be very excited about. There are many parallels with when Michael Maguire came over as an Assistant Coach from the Melbourne Storm to lead the Club, so Adrian's year with Wigan promises to be an exciting one."
One thing that remains unclear is Lam's role moving forward but with this announcement, fans can be nothing but excited at the prospect of the next four seasons.