Widnes have completed the signing of Kenny Baker from North Wales Crusaders.
The loose forward has agreed a one-year contract from next season after spending four years with the Wrexham-based club.
Before that he was a key figure in the amateur game, where he played for Ince Rose Bridge, as well as representing Great Britain U19s and England Lionhearts.
Since moving to Crusaders, Baker has amassed 78 appearances, scoring 30 tries, and was named club captain in 2019.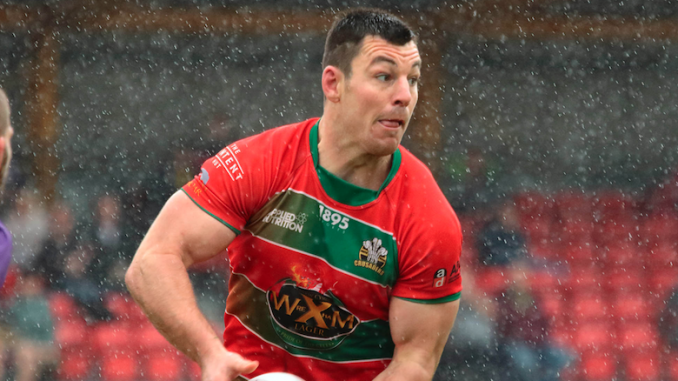 He becomes the seventh member of the Vikings' 2020 squad, joining fellow new recruits Shane Grady, Jake Spedding and Deon Cross, as well as Jack Owens, Danny Craven and Joe Lyons, who have all signed new contracts.
"It feels great to be joining such a famous club like Widnes," Baker said. "As soon as I found out they were interested I said 'that's where I want to be playing my rugby next year'.
"The main factor that persuaded me to come here was knowing that everyone at the club has a strong work ethic and wants to push on to try and get the club back to where it belongs, which I am grateful to be a part of.
"It's really exciting times for me. Personally, I love a challenge, and I am sure that the rest of the lads will want to get the club back to where it belongs. I would love to be a part of the team that eventually gets promoted back to Super League.
"I can't wait to step out onto that field and show people what I am capable of. I feel that I can offer a lot to the team, even if it is my first Championship club. I'm ready for the challenge and I will give everything to succeed for both myself and the club.
"I have seen how loyal the fans have been, particularly this year but in other years too. Widnes have a great fan base and I am looking forward to stepping out in the black and white in front of them.
"Some of the players already committed to the club have a lot of experience in the game, which can help people like myself when making the step up to this level. The Widnes lads will be hungry to succeed just like myself, so I think this is a great start to building a solid team for next year.
"The Widnes fans can expect to see a hard-working forward who is a massive team player with a will to win. I'm a big talker and I like to think I lead by example on the pitch."