When the Disciplinary Match Review Panel reveals its charges and sanctions from the weekend's games, there is always considerable interest.
Then, when the Minutes also go side by side, people are keen to read just why players have been banned or not.
Following the latest round of Betfred Super League fixtures, the Match Review Panel issued the following sanctions:
Korbin Sims (Hull KR) – Grade C Contact with Match Official – 3 Match Penalty Notice
Romain Navarette (Toulouse Olympique) – Grade C Head Butt – 2 Match Penalty Notice
Liam Watts (Castleford Tigers) – Grade B Dangerous Contact – 2 Match Penalty Notice
Dean Whare (Catalans Dragons) – Grade B Shoulder Charge – 1 Match Penalty Notice
Jack Ormondroyd (Salford Red Devils) – Grade A Dangerous Contact – 0 Match Penalty Notice
The following player was handed a caution:
Ethan Havard (Wigan Warriors) – Dangerous Throw
When scouring through the minutes, however, it is important to note one St Helens player get cited for something 'unnecessary' but doesn't get charged.
That man is young halfback Daniel Moss who was drafted in by Kristian Woolf due to rotation and fitness, but it is rather surprising that the youngster did not get charged for what he was cited.
The Match Review Panel stated that Moss gave: "Unnecessary contact however players does not cause flexion to the opponents head or neck."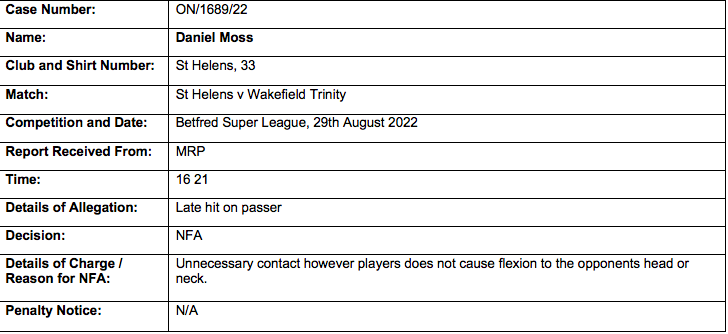 Despite the fact that he did not clause flexion to the opponent's head or neck, the 'unnecessary contact' description does make it difficult to understand why there was no Grade A charge.
That being said, it pales into insignificance when reading into the charge handed to Toulouse star Roman Navarrete.
He was charged with a Grade C Head Butt, but will only be banned for two games: "Law 15.1 (a) Strikes – Head Butt – makes light contact with the head Grade C."
That being said, it rules Navarrete out for the rest of the season.