Following the latest round of Betfred Super League fixtures, the Match Review Panel have issued the following sanctions.
Zane Tetevano (Leeds) – Grade D Strikes with Hand, Arm or Shoulder – Refer to Tribunal
Harry Newman (Leeds) – Grade C Aggressive Behaviour towards Match Official – 2 Match Penalty Notice
Bodene Thompson (Leeds) – Grade B Trips – 2 Match Penalty Notice
Elijah Taylor (Salford) – Grade B Strikes with Knee – 1 Match Penalty Notice
Miteli Vulikjapani (Hull FC)- Grace C Dangerous Contact – 2 Match Penalty Notice
Liam Watts (Castleford) – Grade A Dangerous Contact – 1 Match Penalty Notice
There was nothing noted in Castleford's game by referee Marcus Griffiths regarding Watts, with the Match Review Panel giving the Tigers forward the Grade A charge.
The minutes state: "Law 15.1 (i) Dangerous Contact – A defending player makes contact with an opponent after the ball has been released by an opponent in a vulnerable position which causes flexion to the head, neck or spinal column on an attacking player, which poses an unacceptable risk of injury to that player. Grade A."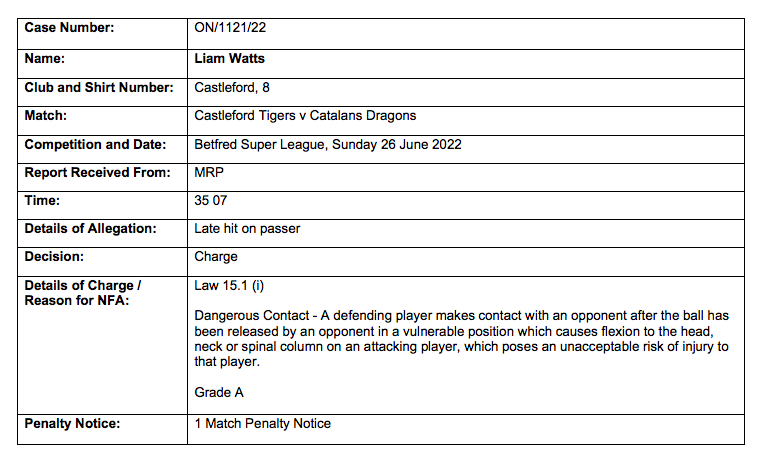 That ban means that Watts will miss Castleford's home game against Huddersfield Giants this Friday night as the Tigers look to cement their place in the play-offs.
However, St Helens' fixture with Leeds Rhinos on Thursday night was particularly feisty with a number of hefty challenges going in, not least Zane Tetevano's big hit on Saints' Konrad Hurrell as the latter kicked through the Leeds defence.
That has since been handed to a tribunal, but Matty Lees was penalised for the use of a shoulder charge during the game on a Rhinos attacker, but the Saints forward has not been charged nor cited.