Whenever the Disciplinary Match Review Panel gets to grips with the weekend's misdemeanours, there is great debate.
Now, Leeds Rhinos' Tom Holroyd has been handed a ten-match ban with former Wigan Warriors man Jake Shorrocks being given a five-game suspension following an incident last weekend.
Holroyd was playing for Bradford Bulls against Newcastle Thunder when the two men traded punches after what looked like an innocuous tackle.
Holroyd was charged with Grade F punching whilst Shorrocks was charged with Grade F striking, but Holroyd has been found guilty of that charge whilst Shorrocks' was downgraded to an E.
The Disciplinary Match Review, on Holroyd, stated: "Law 15.1 (a) Running In and Punching – Makes contact to the Head of the opponent Grade F."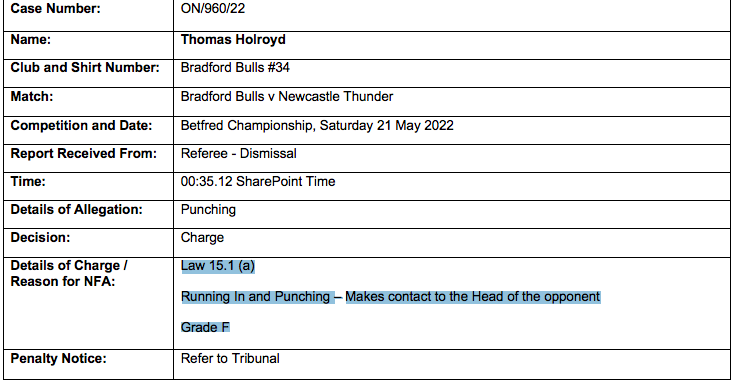 Following the latest round of Betfred Championship, Betfred League One, Betfred Women's Super League, Reserves, Academy and Scholarship fixtures, the Match Review Panel have issued the following sanctions:
Tom Holroyd (Bradford) – Grade F Punching – Refer to Tribunal
Jake Shorrocks (Newcastle) – Grade F Striking – Refer to Tribunal
Ciaran Walker (Workington) – Grade D Dangerous Contact – Refer to Tribunal
Ben Kaye (Batley) – Grade C Dangerous Throw – 2 Match Penalty Notice
Lennon Bursell (Hull FC Academy) – Grade B Tripping – 1 Match Penalty Notice
Kian Fisher (West Wales) – Grade A Dangerous Contact – 0 Match Penalty Notice
Glenn Riley (Workington) – Grade A Dangerous Contact – 0 Match Penalty Notice
Ellie Sykes (Castleford) – Grade B Dangerous Throw – 1 Match Penalty Notice
The following player was handed a caution:
Craig Mullen (Newcastle) – Other Contrary Behaviour
You can see the footage here:
Busy night for the RFL match review panel after Tom Holroyd and Jake Shorrocks were sent off for their part in this incident at Odsal on Saturday evening. pic.twitter.com/lS6D2S3FoI

— The Game Caller 🗣🎙📻 (@TheGameCaller) May 23, 2022