Following the latest round of Betfred Super League fixtures, the Match Review Panel have issued the following sanctions:
Kaide Ellis (Wigan) – Grade B High Tackle – 1 Match Penalty Notice
Liam Watts (Castleford) – Grade B Tripping – 2 Match Penalty Notice
The following player was handed a caution:
Liam Hood (Wakefield) – Other Contrary Behaviour
However, Liam Watts was initially cited by the referee for a high tackle on Hull KR's Lachlan Coote, only for the Disciplinary Match Review Panel to cite the charge instead for tripping.
The minutes of the panel stated: "Law 15.1 (a) Tripping – Reckless or Reactionary Trip Grade B."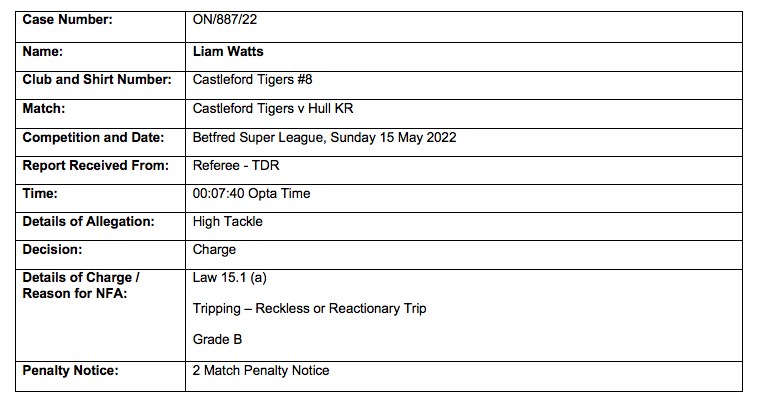 It must also be taken into account that Watts has received a ban already this season which explains the higher grading and two-match penalty notice.
Meanwhile, Wigan Warriors' Kaide Ellis has been given a one-match ban, with the Disciplinary Match Review Panel stating: "Law 15.1 (b) High Tackle – tried to tackle but reckless about outcome Grade B."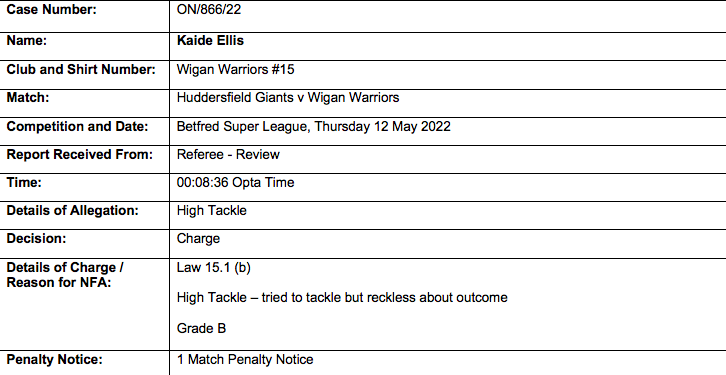 St Helens' James Bell was sent to the sinbin in Saints' win over Hull FC on Friday night for a spear tackle, with many believing he would be subsequently banned.
However, despite the detail of allegation stating: "Dangerous Tackle – As Hull FC are attacking the St Helen's #20 comes in to make a tackle and lifts the legs of an opponent and places him in a dangerous position," Bell was not charged due to the Match Review Panel's reasoning of: "Opponent is not lifted into a dangerous position."