Following the latest round of Betfred Super League fixtures, the Match Review Panel have issued the following sanctions:
Jez Litten (Hull KR) – Grade C Dangerous Throw – 2 Match Penalty Notice
Jimmy Keinhorst (Hull KR) – Grade B Trips – 1 Match Penalty Notice
Lee Gaskell (Wakefield Trinity) – Grade A Other Contrary Behaviour – 0 Match Penalty Notice
Lambert Belmas (Toulouse Olympique) – Grade A Other Contrary Behaviour – 0 Match Penalty Notice
Brad Fash (Hull FC) – Grade B Dangerous Contact – 2 Match Penalty Notice
Aidan Sezer (Leeds Rhinos) – Grade B High Tackle – 1 Match Penalty Notice
The following player was handed a caution:
Ligi Sao (Hull FC) – Other Contrary Behaviour
However, one incident which seemingly took the whole focus of this week's Super League fixtures so far has yielded no bans for either player.
Richie Myler and Chris Hill were involved in an incident in Wednesday night's rip-roaring fixture between the Leeds Rhinos and Huddersfield Giants.
It involved Hill holding Myler in the tackle whilst the latter lifted his legs, resulting in a sinbin for Hill as Leeds went up the other end and scored the match-winning try.
However, despite both being cited for that incident, neither Myler nor Hill have been charged.
On Myler, the Disciplinary Match Review Panel minutes state on a 'Other Contrary Behaviour citation: "Player throws his legs upwards seemingly to release the grip of the opponent."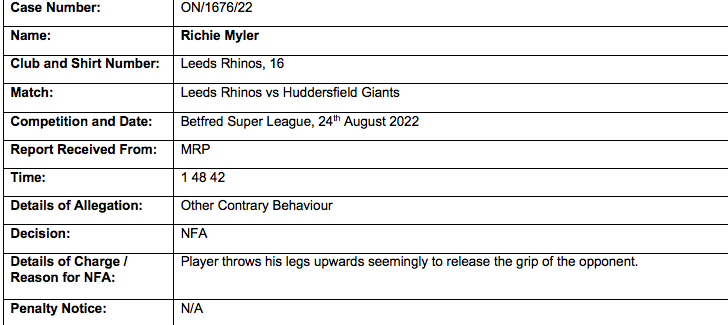 On Hill, meanwhile, the minutes reveal, after Hill was cited for a 'Dangerous Throw': "Player does not lift opponent into a dangerous position."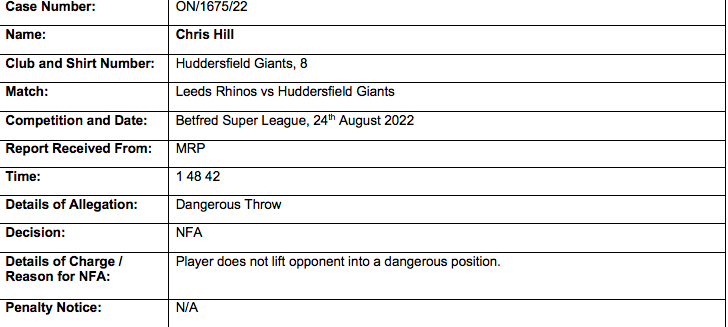 Meanwhile, Leeds boss Rohan Smith has defended Myler and believes there wouldn't have been uproar had the sinbin not been awarded.
"I've seen the incident, it's one of those ones that happens lots of times in the game," Smith said.
"Players are fighting at the play the ball to get the best play they can and sometimes it can get messy.
"Had it been just a penalty with no yellow card, I'm sure it would not have been talked about as much."