It's been a strange time for everyone with the effects of the Covid-19 pandemic being felt in every corner of the globe. Slowly but surely, things have started to revert to some sort of normality and sports fans who like to watch the games or bet at casinos online on the various markets involved have let out a sigh of relief. 
So many games and events were cancelled or postponed last year people began to really miss their favourite sports or indeed social gatherings. For many, this can be a very important part of their lives.
Rugby League fans, along with everyone else, felt a bit lost without the excitement of the games to look forward to. It's amazing how sports can give people something to talk about, possibly even argue about! 
While Australia managed to cope their best by imposing very strict lockdowns throughout the year, some game dates were rescheduled and amazingly that is a trend that continues to this day. Yet, some big tournaments and games have indeed taken place and are coming up that have ensured rugby league fans have remained happy.
The State of Origin
This is a series of games held yearly in Australia between the rugby sides of the states of New South Wales and Queensland. Normally spread through June and July, three games take place to decide who is the better of the two teams. Last year, the spread of coronavirus meant the games were delayed until November upon which an unfancied Queensland side would surprise previous winners New South Wales and win the series 2-1.
Big crowds watched each game and indeed this seems to be a very tribal affair. Huge bragging rights are at stake for the year and fans like to make bets as to who will come out on top, be it with friends or at online betting sites. Rugby League is massively popular to bet on and although this year's State of Origin was again affected by Covid-19, it went ahead back at its usual time in the calendar, with just venue changes taking place to make the holding of the games easier. 
The NRL Grand Final
Sticking with Australia, the final of the NRL series will be held at the start of October. It is not yet determined who will be playing in the game as the regular season is ongoing. The current champions are the Melbourne Storm, who are indeed favourites with a lot of betting sites to retain their crown again this year, so don't be afraid to get involved if you think they will win. This game is huge in the country and along with the AFL final is commonly referred to as the Superbowl of Australia, drawing huge coverage from the media and indeed massive crowds attending the game.  Players are paid handsomely in this league. There is a growing feeling however that NRL clubs are beginning to interfere a little in the international side of rugby when they shouldn't be.
Super League Grand Final
This is the showpiece event for British rugby and takes place on the 9th of October in Manchester. Last years final was regarded as one of the greatest in modern times, but unfortunately due to the coronavirus pandemic, no fans were allowed to attend. It was a tight, intriguing game between local rivals St. Helens and the Wigan Warriors with defending champions St. Helens coming out on top.
Fans are eagerly awaiting to see if they can manage to win for the third season in a row. As of the time of writing, the rollout of vaccinations in England appears to be going successfully and there shouldn't be any issues of holding the final in Old Trafford this year. Large crowds are expected after missing out last year. Fans simply cannot wait for this fantastic occasion.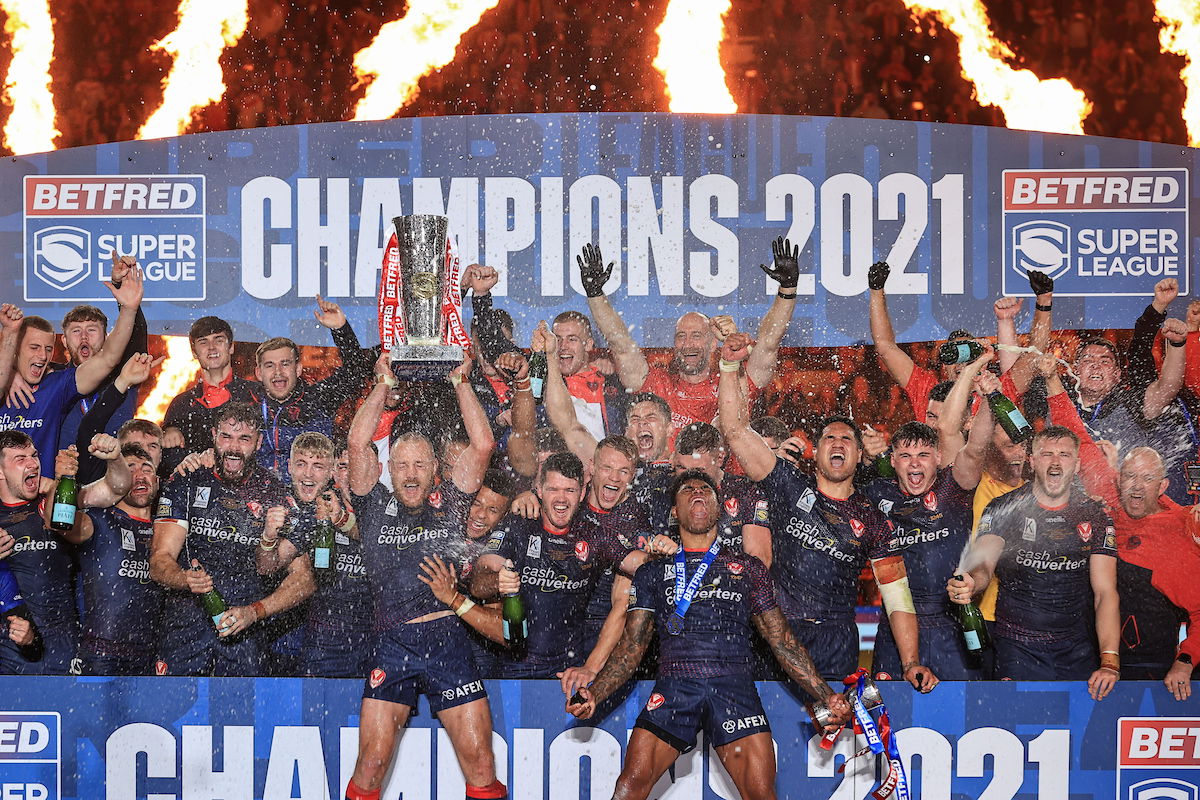 The Rugby League World Cup
This is a huge event which is due to be hosted in England towards the end of the year. From the end of October through to the end of November, teams will compete to be crowned world champions. 
Although now there seems to be uncertainty surrounding the tournament as the likes of Australia and New Zealand have decided to pull out, debates continue to rage as to the pros and cons of letting the event go ahead. Some believe the Southern Hemisphere organisations feel as if they have too much power in the game and stress that the competition should take place as planned.
Attempts to reschedule it for next year have been met with unease as those countries may decide to pull out again then, throwing the competition into even more turmoil. After the excitement generated by the hosting of the Euro 2020 games, England is keen to promote itself even more on the world stage. 
There is a prime opportunity here as no major events are scheduled for this time of the year that they would have to compete with. An upcoming football World Cup next winter would only take some of the attention away from rugby league if it was rescheduled until then. 
Summary
It's games and tournaments like this that rugby league fans look forward to. Be it on tv or actually at the grounds in person, people don't realise how integral sport is to their lives. It has the power to cheer people up or make them sad. It is a topic that can be discussed with friends or strangers. Rugby league rivalries can be the source of good banter between people from different cities or states. Hull in England for example, has two teams, which can test family bonds even.
Using your knowledge or love for the game to make some extra money by betting is not uncommon. With the growth of rugby league, more and more markets have become available to bet on at most reputable betting sites. If you find that's not working out, you could always try your luck away from sports with a huge selection of games waiting to be played at a live casino. But as you can see from above, rugby league has a schedule that should never leave you looking for action. Fans of the sport are indeed spoiled this year.