Since the news of the season-ending ACL injury for Matty Dawson-Jones, with no sign of Fetuli Talanoa making a return yet and no dispensation for Lee Radford to go and sign a new winger, there has been some speculation about what Hull FC can do next?
However, they may not be as short of options as people may think, despite the unknown nature of what is happening with Talanoa!
Hakim Miloudi stepped in at the last minute to play against Castleford Tigers, and Bureta Faraimo is obviously Hull's first choice winger, but what are the other options for the Black & Whites until they start getting more players back on the pitch?
Radford does have some options within his squad who can step in on the wing if needed, but he has recently been shorn of another one.
Jack Sanderson has been on dual registration at Doncaster and, having played first team in pre-season, he could have been seen as one potential replacement. However, the young outside back has been struck by the injury curse, having dislocated his shoulder playing for Doncaster, damaging several tendons etc.
His Grandfather said that he is due to sit out up to five months due to the injury and the subsequent surgery needed as a result of it. He is currently being supported by the club and is back at their training centre, while working on his rehab.
Another player who could step in, would be Jack Logan. Known mainly as a centre, Logan has also been on the wing for the Airlie Birds, perhaps most notably as a try scorer in the Magic Weekend win over city rivals Hull KR last year.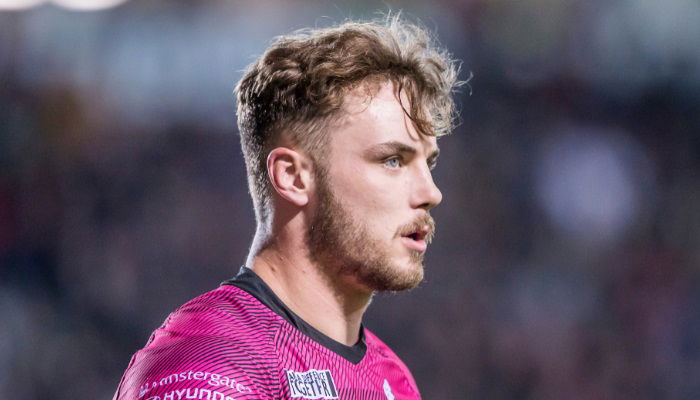 Another starter for Lee Radford previously has been teenager Cameron Scott, normally placed at centre. He could be a possibility for playing on the wing, or to play at centre and allow Radford to move Josh Griffin to the wing if necessary.
Trialist Ratu Naulago could also go on the wing, he is not seen as a starter by Radford, despite some impressive showings in pre-season. The Hull boss is known to want the Fijian flyer to play some games in the reserves first, before throwing him in at Super League level.
The other ace up the sleeve for the coach is the imminent return of half-back Albert Kelly, likely to be against Wigan later this month, which would of course give scope to play Jake Connor at centre and move Griffin to the wing.
It also remains to be seen, with the benefit of a weekend off this week, who else the Airlie Birds could get back on the pitch in time for their next game at the home of the champions on the 24th of this month.