Catalans back rower Matt Whitley is looking forward to having fans back in the stands when the Dragons play their first home game in a few weeks' time.
While the UK government are pondering the prospect of welcoming crowds back from October, French authorities have been allowing supporters back in grounds since July 11, with maximum attendances of 5,000 or 50% stadium capacity – whichever is smaller.
Catalans are due to play their first home fixture in early September and will be the first Super League club to play in front of a live crowd, which Whitley is hoping will give them an advantage.
"We've got the five away games in England, then we can return to France and by September we'll hopefully have some fans behind us to give us a real big boost," he told Serious About RL. "We're quite lucky we can have the fans as early as then.
"(Until then) it will be a strange one, it'll be like a training session. We'll have to build our own atmosphere because there's not going to be any fans screaming, that's what we're focusing on.
"The fans are obviously a massive part and without them there wouldn't be a game but we can't let that affect us and use it as an excuse like, 'We didn't quite get the win here because we didn't have the fans behind us'.
"We've got to put that to one side because everyone's on the same playing field, we know what's happening now so we've got to get on with it."
The 24-year-old remained in France with his young family during the Covid-19 lockdown, where government rules were particularly strict. He admits it was a mentally taxing experience, but one he tried to enjoy because of the novelty.
"We had a period of about nine weeks where we couldn't leave our houses and the only time we did leave was to do food shopping and essential trips like that," Whitley added. "It was tough because I've got a one-year-old and she was getting a bit bored in the house being stuck inside.
"But it's just something we had to do and we've been a lot luckier than other families have.
"It's not a time we're ever going to get again in our careers; we're not going to get three months off going into the summer.
"All day, every day I got to spend with my daughter so that was nice because I got to see her grow up more than I would if I was at training every day."
As much as he's enjoyed the break, the ex-Widnes forward is champing at the bit to get back on the field.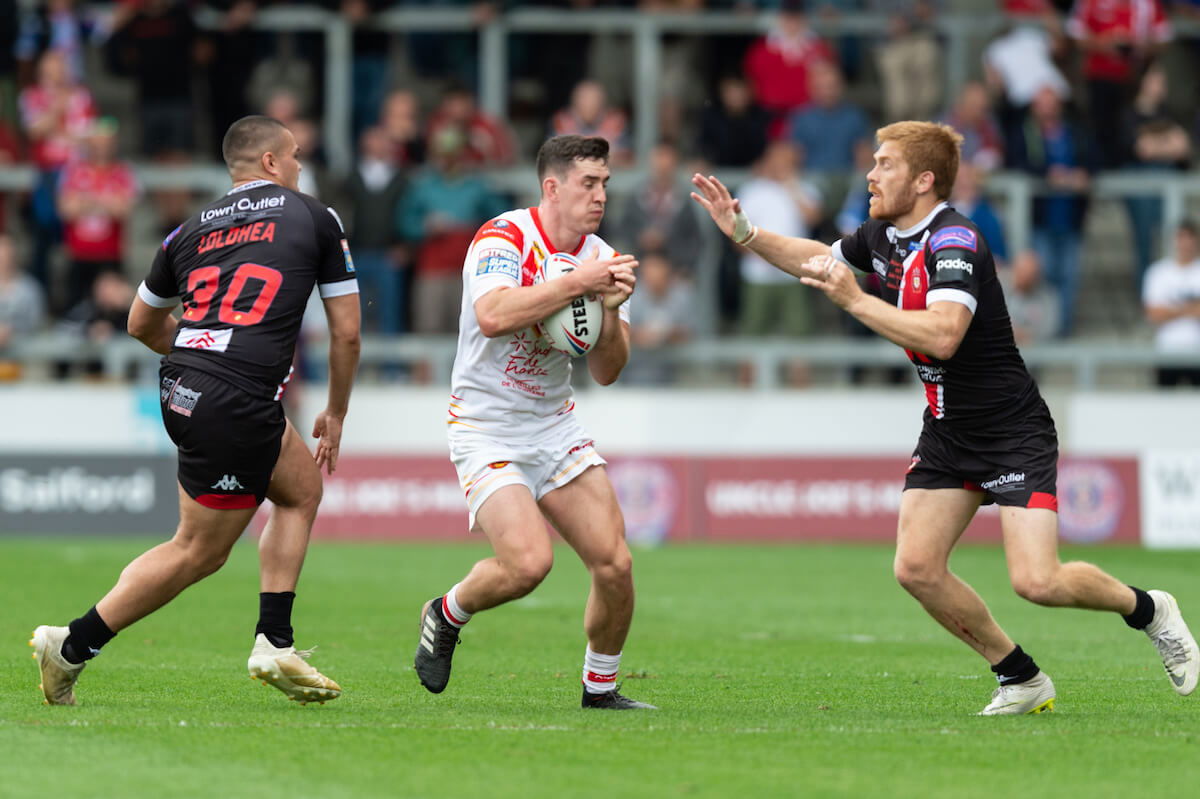 The fixture release last week gave him and his teammates a date to work towards and while there have been suggestions that the intense schedule, which will see clubs play eight games in six weeks from October, may hinder players physically, Whitley insists there's little point in complaining.
He continued: "To be honest I don't think any of us are bothered who we're playing, when we're playing or where we're playing. We just want to be back playing.
"We've had these three or four months where nobody knew what was happening, so to know we're playing these dates in these venues or countries, we can crack on now.
"It's a bit late now anyway no matter what anyone thinks. The fixtures are there and we've just got to get on with it, so there's no point whinging about it now.
"We're going to have a lot of games in a short space of time but we'll put ourselves through it, recover well and hopefully get the best out of ourselves."