I think the general consensus is that the recent World Cup in Australia was a massive step forward for our national Rugby League team, but the progress must not stop here, this is a starting point to start righting a lot of wrongs. Here are a few thoughts about the England set up going forwards.
Positives
It's hard to predict what the RFL are thinking but from the outside looking in, like him or not, Wayne Bennett has a great spirit in the squad. It looks like the best atmosphere in an International set up for as long as I can remember. The players seem to be willing to run through a brick wall for him and play wherever they are asked. The team look fitter than any England team in recent memory when you think in the final it was our boys coming home with a wet sale and the Aussies hanging on by literally a fingertip when Josh Dugan impossibly brought down Kallum Watkins. In past years it was the Australians finishing the stronger team.
Negatives
The team selection has had a few people scratching their heads, Bennett does seem to be slightly obsessed with the NRL. Chris Heighington being my case in point, I'm not going down the eligibility route today that is a conversation for another day. I don't believe Heighington deserves his spot ahead of certain young hungry English men like Matty Ashurst for instance, or who's to say even the likes of Danny Kirmond couldn't do a better job? When the outstanding Sean O'Loughlin pulled out of the final injured, why on earth did Bennett plump for Heighington over Mike Mcmeeken who was outstanding for Castleford all season? Another I see as a fairly NRL bias decision is the selection of Tom Burgess, his ball control is woeful and came up with three errors alone in the final, all in good attacking positions I might add. I would've liked Scott Taylor to get a shot to show what he can do on the International stage.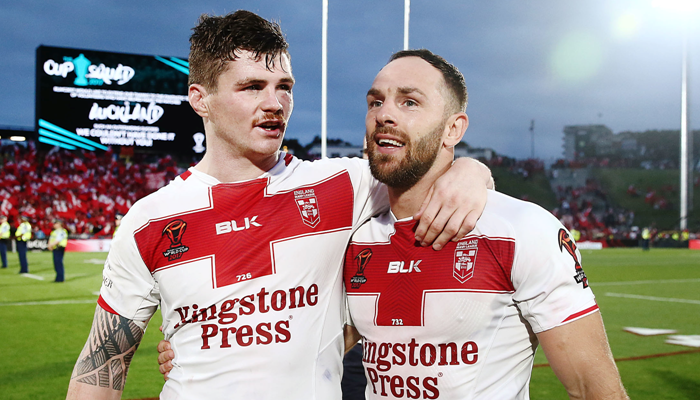 I'm sure most will agree that John Bateman deserves his place in the team on merit, but surely as a backrower and not a centre? I understand the idea behind it, his defensive qualities are outstanding and he never takes a backwards step but in my opinion that is negative thinking from Bennett and Surely Mark Percival was the go-to man. Percival is a brilliant player and not one I've ever thought to be weak defensively, also in the tight nail-biting final maybe he could've been the man to do that something special and break the game open. Picking Bateman in the centre not only made us weak in that position but also took out one of our major attacking threats in Ryan Hall, surely you want a man such as Percival at the side of Hall to release him as I'm sure he would've done numerous times given the opportunity.
I was obviously disappointed not to see Zak Hardaker on the plane as I believe he could have been the difference for us when it mattered, like everyone else though, I know that Zak only has himself to blame as he yet again he pressed the self destruct button.
Moving forward
It's almost a toss of a coin to see whether Wayne Bennett is in charge come October. If he doesn't stay on I see Brian McDermott getting a shot in the head man's role. Although Daryl Powell is an outstanding coach and has worked wonders at Castleford, something just tells me the RFL will plump for the Leeds boss McDermott. The team could have a bit of a different look to it with the probable International retirement of O'Loughlin, who will likely pass the captaincy on to Sam Burgess. One man I see coming back in to the reckoning is Sam Tomkins, he's had a few injury setbacks and lack of form has been an issue but, I for one think on his day he is still absolutely world class and all supporters of rival clubs should in my opinion be very wary of Sam next season. A few other players possibly making a play for the squad are Stevie Ward, Liam Sutcliffe, Dom Manfredi, Liam Farrell, Tommy Makinson, Danny Richardson, Tom Johnstone, Greg Eden, Liam Watts, Jamie Shaul, Jake Connor, Jack Hughes, Greg Minikin and Michael Shenton.
Who should be the next England coach? Who would you like to see in the next international squad? Comment below with your thoughts.