West Wales Raiders forward Michael Holden will be given a two-match ban for making contact with the referee.
The incident featured in the 41st minute of West Wales' 96-0 home demolition to Swinton Lions.
He was charged with a Grade C 'Deliberate or reckless physical contact with the match official' which will yield a two-match ban.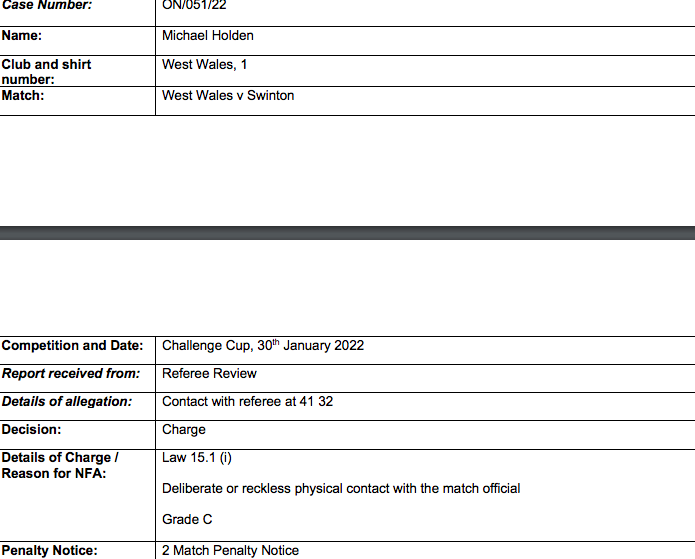 It's the latest notice by the Rugby Football League that they are set to crack down on incidents during games in order to protect both the officials and players to a greater extent.
That's especially true for late hits on the ball-player, with the governing body determined to stamp it out.
The rest of the incidents were as follows:
Jake Wilson – Thornhill Trojans – Grade F Other Contrary Behaviour – Refer to Tribunal
Jake Wilson – Thornhill Trojans – Grade F Other Contrary Behaviour – Refer to Tribunal
Jake Wilson – Thornhill Trojans – Grade D Intentionally Stands On – Refer to Tribunal
Dan Parker – Keighley Cougars – Grade D Other Contrary Behaviour – Refer to Tribunal
Kyle Kesik – Keighley Cougars – Grade C Strikes – Knees – 2 Match Penalty Notice
Jo Taira – Rochdale Hornets – Grade B High Tackle – 1 Match Penalty Notice
Hayden Freeman – Midlands Huricanes – Grade A Dangerous Contact – 0 Match Penalty Notice
Nathan Wildie – Newcastle Thunder – Grade B Dangerous Contact – 2 Match Penalty Notice
Evan Simons – Workington Town – Grade C Dangerous Contact – 2 Match Penalty Notice
Michael Holden – West Wales Raiders – Grade C Contact with Referee – 2 Match Penalty Notice
Dan Fleming – Bradford Bulls – Grade B High Tackle – 1 Match Penalty Notice
Michael Knowles – Dewsbury Rams – Grade C Headbutt – 2 Match Penalty Notice
Joel Gibson – Thornhill Trojans – Grade B Strikes with elbow – 1 Match Penalty Notice
Sam Ratcliffe – Thornhill Trojans – Grade C High Tackle – 2 Match Penalty Notice
Travis Corion – Doncaster – Grade A High Tackle – 0 Match Penalty Notice
Sam Brookes – Barrow Raiders – Grade C Dangerous Contact – 3 Match Penalty Notice
Callum Phillips – Whitehaven – Grade A Dangerous Contact – 0 Match Penalty Notice
Andrew Bulman – Whitehaven – Grade B Foul language to Referee – 1 Match Penalty Notice
Cautions
Luke Fowden – Rochdale Hornets – Dangerous Contact
Will Blakemore – London Broncos – Other Contrary Behaviour
Jordan Thompson – York City Knights – Dangerous Contact