Jetlag and general travel fatigue can cause a surprising downturn in form for even the most accomplished athletes, and any teams within which they may play. However, the Toronto Wolfpack, though travelling five time zones every other week, proved an exception to this rule after becoming the first North American team to enter the British rugby league system. To say that the club's inaugural (2017) campaign in League One was a success would be a huge understatement. 'The Pack' began their new life with a bang, utterly devouring London Skolars 76-0, in what would be the first of five consecutive away wins. After closer (but still very comfortable) wins over Whitehaven and Keighley, Toronto dealt some genuine punishment upon Doncaster and North Wales Crusaders, demolishing them (respectively) by scorelines of 82-6 and 80-0. On 15 July, Paul Rowley's men completed a 100% season by effortlessly brushing aside Hemel Stags at Lamport Stadium in Toronto. Where the Challenge Cup is concerned, Toronto were not expected to get anywhere near the final, but they even put up a courageous fight in their 29-22 defeat at Salford Red Devils, as reported on BBC Sport. An improvement upon that is widely expected for next season.
Craig Hall – Captain and MVP
A gargantuan final total of 916 league points scored represented the new bar towards which lesser teams of the third tier must now aspire. It was a phenomenal team effort that seismically changed the climate of lower level rugby league, but certain players still stand out as key personnel in Toronto's quest to maintain their dominance over the chasing pack. If there is only one sour point of captain Craig Hall's 2017 season to date, it is his failure to hit 400 points and make an even more emphatic statement of intent. As it turned out, he fell marginally short with 396 – although that is still an extremely impressive total. Regardless of whether or not he gives that slight point of frustration much thought, Hall is still able to look back with pride at an excellent goal conversion rate, never once failing to score at least 50% of his conversions. When one considers the potential for wind interference at less substantial stadia, it is yet another record of which the Hull-born Yorkshireman can be proud. Indeed, his goal rates were the principal component of Toronto's high-scoring performances throughout the 2017 season. His form is likely to continue throughout Toronto's remaining Super 8 games, all of which will be played at home due to their standing as league winners.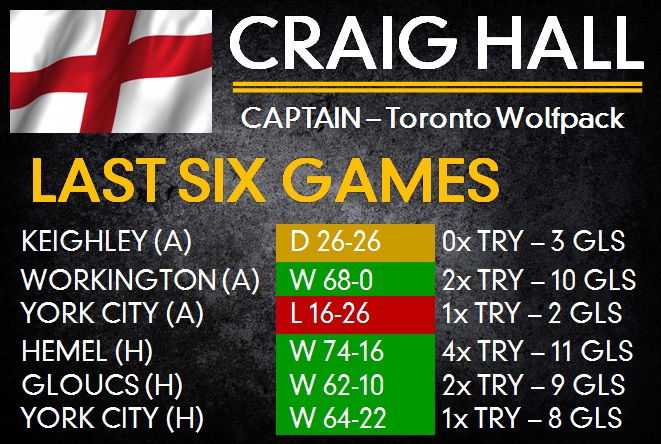 A Company of Wolves
Without Hall, the centre of the pitch would become highly dysfunctional, but so too would the wide areas, without the dynamic influence of Jonathan Pownall and Liam Kay. The latter has the distinction of being the only player in the entire squad to have scored a quintet of tries in one match, doing so against York City Knights on 1 July in a 64-22 home win. Four weeks after that rout, the Knights hosted Toronto and pulled off a shock 26-16 revenge win. This was an unexpected setback, as was the 26-all draw with Keighley that followed an easy 68-0 win at Workington. However, with only home matches now awaiting The Pack, it looks like the Super 8 title will be making its increasingly-inevitable journey across the Atlantic in no time at all. Indeed, with such devastating players now a presence on both sides of the Atlantic, the odds of Canada or the USA winning future editions of the Rugby League World Cup will shorten. As of 17 August 2017, the USA are priced by some betting sites as 500/1 outsiders to win this year's World Cup, but where the Super 8 title is concerned, Toronto's only realistic rival is Whitehaven. The Cumbrian club finished second in League 1, and the two sides meet at Lamport Stadium on 2 September. Toronto beat Whitehaven 24-10 on their sole Coach Road visit to date, which will give The Pack a psychological boost ahead of what should be the decisive match of the Super 8 campaign.
https://www.youtube.com/watch?v=20EjifrMzVY
Assuming that Toronto Wolfpack attains promotion to the RFL Championship, the challenges will get noticeably tougher. Rochdale Hornets were the side promoted from the third tier last year, and although they have managed to establish themselves in the second tier, there is still a huge gulf between the Hornets and divisional heavyweights such as Hull KR and London Broncos. Toronto's appetite for destruction will, however, be sufficiently powerful to at least see them challenge in the top half of the RFL Championship. Strong leadership generally begets success, and though the club is still a new entity on the British scene, the Toronto Wolfpack has that in abundance, on and off the field.