And now we look at another set of play-makers who help orchestrate attacks week in week out in the scrum-halves.
Will these five stars thrive or will an unlikely or even unknown newcomer come out and surprise all?!
5) Jarrod Sammut
First up is Wigan's surprise addition in Australian Jarrod Sammut. Having departed London Broncos, Sammut now looks to end his career on a high note as he aims to help Wigan defend their fifth Super League title in 2019.
The 31-year-old thrived last season in the Championship, having scored 21 tries and 114 goals through his audiacious side-stepping, accurate kicking and excellent support play, Sammut's attack was simply sensational and has been rewarded thus with leap up to the best of the best with Wigan.
A lot of faith has been instilled on him, though with a strong squad around him, Sammut should fare well at Wigan and could introduce new dimensions of attacking rugby at the club in 2019!
4) Marc Sneyd
Next up is double Lance Todd Trophy Winner in Hull FC's Marc Sneyd.
A lot of focus is being put on Sneyd considering the competition at half-back for Hull is heating up but all the more reason to zone in on him.
He has faced criticism over his passing game but has displayed a fantastic kicking game that has split apart most opposition and should repeat such skill in 2019 in the hopes of resurecting the Airlie Birds following the collapse.
3) Josh Drinkwater
Now one who really took many by surprise as Australian Josh Drinkwater is selected.
After a rather disappointing spell at Leigh, the 26-year-old returned to the Super League in fine style as he reversed Catalan's flagging fortunes and by taking them from mediocrity to success following his recent Wembley win.
Having possessing all the fine traits expected of a scrum-half, Drinkwater's objective is now to turn Hull Kingston Rovers back into a side to contest Play-off action, and maybe more!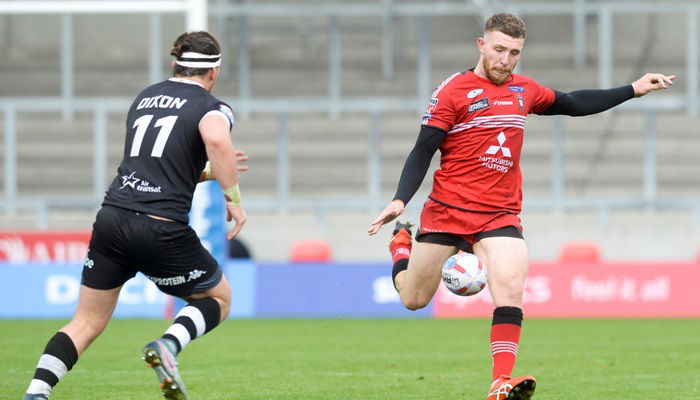 2) Jackson Hastings
Runner-up is Salford's 'little devil' in Jackson Hastings. The 23-year-old arrived from the NRL and led the way as Salford had a much easier run through the Qualifiers on this occasion.
He demonstrated his ability to easily prize open the opposition last season as well as able to rotate between half-back and loose-forward, impressing so much that various other clubs desired his services.
Though he chose to remain with Salford, Hastings could even be a contender for personal silverware next season with the Manchester side as he too faces the mission of turning things around.
1) Danny Richardson
Finally is St Helens' hottest prospect in Danny Richardson.
Having topped the Super League's goals and points tally, Richardson steered Saints towards another League Leaders Shield award, producing a marvellous combination with Jonny Lomax and James Roby in the process.
The 22-year-old may have missed out on international action as well as Grand Final and Wembley appearance but he enjoyed an unbelievable 2018 regardless and the focus will be on for him to continue such a feat with the Saints.