We've made our way through the backs but now it's time to move to the big men that dominate the middle of the park.
5. Grant Millington
Since 2012, Millington has been forcing his way through Super League defences and this season it is no different, in a side that have been hit hard.
Castleford have been forced to field weaker sides and it can be hard at times to keep morale up but Millington always puts his hand up and leads the way for the youth on the field.
He's amassed almost 1500 metres and made almost 400 tackles in his short spells on the field.
With no fear and plenty of power, Millington would be a great signing for any club, even at the age of 31.
4. Chris Hill
Wigan-born Hill has always been a hard hitting forward, and continues to be one of the top forwards in the English game, proven by his selection for the national team.
At age 30, he still plays with the eagerness of a 20 year old, making him one of the feared figures in terms of forwards.
Hill has put together a strong season with almost 2000 metres to his name at an average of around 7.5 metres per carry.
Warrington are still looking to push on and will be looking for the platform to be set by their reliable forward, to help them win crucial matches.
3. Scott Taylor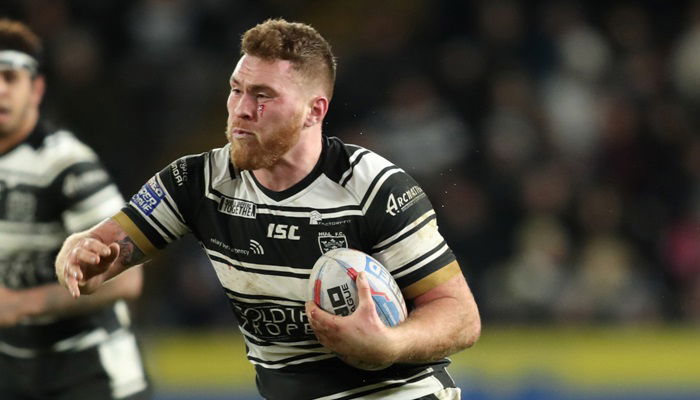 Scott Taylor returned to the city of Hull after a 3 year stint in Wigan, and has raised his game to new levels.
At 6ft 3, he's one of the more explosive forwards in the league and with a well timed run is almost impossible to stop.
Putting together over 1600 metres on an average of over 8 metres a carry, he has again proven why he is one of the top forwards in the game and he shows no signs of slowing down.
Hull will be grateful to have him back in their ranks and i'm sure a strong finish is on the way for both player and club.
2. Tony Clubb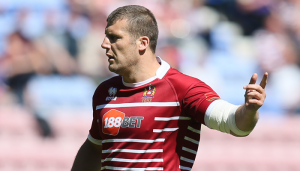 I look forward to the copious amounts of people telling me i'm wrong with this particular pick, but it can't be denied that the Wigan forward is in the form of his life.
Yesterday marked the forward's 31st birthday and he will be running hard to make it a happy birthday when his side travels to Hull.
With over 1000 metres at over 8 metres a carry, and the small matter of 5 tries to his name, the Englishman has become the key to Wigan's strong finishes to games this season, and in the process has become a fan favourite with the Wigan crowd.
Wigan will continue to rely on his opening and closing stints to lead the way to victory.
Considerable Mention – Ryan Sutton
Shaun Wane has always played the forwards game, it has become the trademark of the coaches tactics, which makes it no surprise that young props coming through at the Wigan club are as good as any in the league.
Sutton is right on the heels of some of the best props in the league at age 22, which is why a lucrative move to Canberra also came as no surprise.
I won't lie in saying he probably would've made the top five had it not been for an injury that puts the young prop on the sidelines for the next 8-12 weeks, meaning the end of his stint at Wigan might not be as fruitful as he would've hoped.
Ryan will return to field before the end of the season and will do all he can to end his time at the club with silverware.
1. Luke Thompson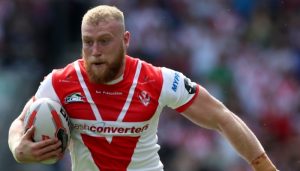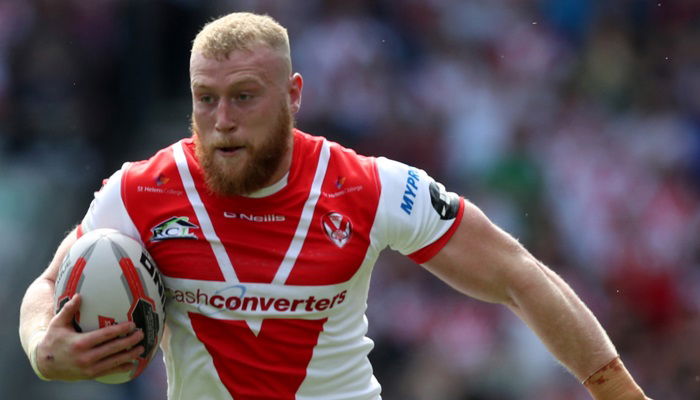 Thompson has been by far and away the most consistent and most explosive prop in the league, this season.
Much like Sutton, Thompson has been a star for his hometown club but in Thompson's case, he's not just on the heels of the best, he's well ahead of them.
With over 2000 metres at an average of over 7 metres per carry, St. Helens have been handed a platform through the 23 year old.
His hard running, and no prisoners attitude means that he is another St. Helens player to hit the top spot in this series, and if he continues this form, he must be in contention for a Steve Prescott Man of Steel nomination.