Top 5 is back, and with St. Helens poised to lift the League Leaders Shield, after their last minute victory over Catalans Dragons, it's time to re-cap the best sides ever to lift the shield.
This list is based on a mixture of statistics like win ratio and my opinion on the play style of the side.
Sam Tomkins recently made comments that opened up a debate about the LLS and whether winners are truly remembered, so here are 5 sides that will be well remembered long into the future.
5. Wigan Warriors 2010
Wigan are once again seen as real contenders for every trophy, every season, but rewind 10 years and it wasn't the case.
The Warriors were the name of Rugby League through the 80's and 90's but the mid-00's became a real struggle for the side in Cherry and White and relegation knocked all too insistently for Wigan fans in the 2006 season, after missing the playoffs the previous season.
In 2010, Wigan made the bold signing of coach Michael Maguire, who brought a brand new style of attacking and defensive rugby across to Super League, and the rest is history.
Maguire, along with assistant Shaun Wane, rejuvenated a lacklustre Wigan side and lead them all the way to the top of the table after an empty few years for the club by their own standards, this side also went on to win the Grand Final against highly rated rivals St. Helens, that included the likes of Kieran Cunningham and James Graham.
Wigan's 2010 side had an average competition points per game ratio of 1.630, leaving them around 9th statistically in points gained during the regular season, but it was the style of rugby that helps them make this list with the changes made, now used by most, if not all, Super League clubs.
4. Bradford Bulls 1999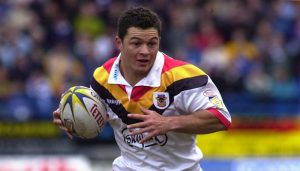 Lost to the world of top flight rugby for some time now, the Bulls were once a side to be feared by the greatest in the country.
It's the final Rugby League season before the millennium and one team were going to be remembered as the last great team of the 20th century. Step forward a determined, skilful and unwavering Bradford side, ready to stamp their mark on Super League, just like they did in 1997.
Bradford dominated a fourteen team division where finishing top was still very much on everybody's priority and they didn't just win it, they won it with style and finished five points clear of any challengers. The prize for such dominance wasn't the same as two seasons ago but this was a special side that very much set up the success of the early 00's for the Bulls, and the glory years of players like Stuart Fielden, Paul Deacon and Jamie Peacock amongst many others.
Bradford went on to lose a well fought Grand Final against St. Helens 8-6, and were the first team to fall victim to finishing in the top spot but miss out on the grand prize.
Bradford of 1999 came up with 1.7 competition points per game, which leaves them in the top 5 in the all time list of LLS winners and rightly they make their way into our top 5 list.
3. Leeds Rhinos 2004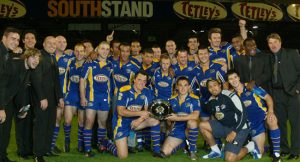 Leeds Rhinos are the name associated with Grand Finals and Super League trophies, but where did it all begin? Right here! Leeds' 2004 side, including young players such as Kevin Sinfield, Rob Burrow and Danny McGuire. Sound familiar?
Leeds had always been close and had a fantastic chance of getting the momentum moving slightly earlier, but a loss to Wigan in the 1998 Grand Final put the champagne on ice for Leeds fans but once the first came, they just kept on coming.
There are lots of Leeds sides that could be argued into this top 5 list but, in my opinion, the style and footprint that became Leeds Rhinos how we know them, was created and perfected in this wonderful season that brought a delightful double to Headingley stadium.
Legends from 1 to 17, it's absolutely no coincidence this dominance came under head coach Tony Smith and are statistically the 2nd greatest team ever to win the shield with 1.786 competition points per game.
In an article published recently by Serious About Rugby League, we look at the current state of Leeds and what happened to put them into situation, I won't comment further on that article but what Leeds do need is an ember of the fire this Leeds side had.
2. St. Helens 2006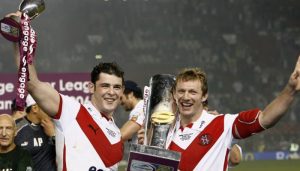 Only a handful of teams in any sport have won the treble, the possibility of winning three trophies in the same season seems so much easier than it is in reality… Just ask this season's St. Helens side.
The players that wore the 'red vee' in 2006 were probably amongst that group that think it's possible but not quite sure of how realistic it is but unlike so many before them, they were able to follow through and come home with three trophies to their name.
Paul Wellens and Sean Long are pictured and it's fitting this is the picture I found with these two talismanic figures well and truly leading St. Helens to this special group that have three major trophies in one season to their name.
St. Helens never seem to falter, with competitive sides playing every season since 1996, where they won the first ever Super League trophy, right up to modern day where they seem poised to claim the League Leaders Shield yet another time.
This side statically are 4th in the list of winners of the shield with 1.714 competition points per game, but the dominance they showed during a successful Challenge Cup campaign gives them number two status in our list. This is before you consider they went on to win the Super League in the Grand Final and the following season won the World Club Challenge. Truly a special side.
Considerable Mentions
There are, as you might have guessed, twenty winners of the League Leaders Shield, meaning there are 15 champion teams that will not make this list.
Castleford Tigers won their first ever League Leaders Shield last season and did so in some style, turning chances into points as well as any team in the history of the competition. There dominance puts them statically 7th in competition points per game which left them just outside this list.
Leeds Rhinos, much like St. Helens, are one of those special sides to have won a treble. In 2015 Leeds came out on top, just, to claim all three trophies but it might interest some people to know that statically speaking, averaging out competition points per game, they are dead last out of all the winners of the shield with 1.367 per game. Many would argue that to be because of the fierce competition, I don't that to be the case, I think they were the best of a not-so fantastic group in comparison to this top 5, which is why they just miss out.
Huddersfield are another name that have won it but don't make the list, their 2013 season was special given the competition, with Warrington and Wigan both outstanding sides (that later competed the Grand Final). Another side that just miss out, proving how hard deciding this list was.
1. Wigan Warriors 1998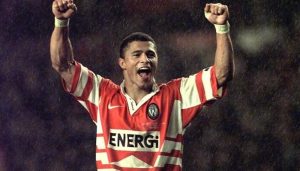 Original, and still the best, or so I would argue.
Wigan had gone from complete dominance in the winter competition during the 90's to lack of silverware in the Super League era, that was until the 1998 season where Wigan returned to the party in emphatic fashion.
Robinson, Radlinski, Farrell, Connolly, Cassidy, O'Connor, the list is endless. Which would explain the dominance of this side, both in the pack and in the backs, winning games with grit but the ability to turn a switch and become the most skilful of sides.
Unlike some of the sides in this list, where the season kick started a new era for their clubs, this was very much a side that resembled the dominant years for Wigan Rugby League Football Club that followed into the early 00's before the dip in consistency came.
The side truly tipped it's hat to the greats of Wigan's history whilst writing their names along side them, with a sensational style of play. But sometimes such great styles can have repercussions in terms of results, but not for this great team, that only lost two games all season.
Not only are these my favourite side to watch and re-watch old footage of, they also have the best competition points per game ratio with 1.826 points per game. Truly a champion team that take top spot once again, in this list of great sides.