In this brand new series, I will be going through who I believe are the 5 best players in each position, on the basis of this season alone, form and the potential for the rest of the season.
We are going to start at number 1 on the team sheet, full-back.
5. Jack Walker
Young Rhino, Jack Walker, has lit up the Headingley stadium since his Super League debut last term and continues to look a real prospect for both club and country.
His knowledge and tactical sense make him look like a veteran, whilst his quick feet and ability on the ball reflects his youth.
There are times where Walker can be caught out but they are few and far between, and for someone with less than a couple of dozen games under his belt, the mistakes are sure to become even less frequent.
4. Jamie Shaul
Hull through and through, Shaul has been making waves in the Super League for a number of years and this season he's continued his fine form that helped Hull to back-to-back Challenge Cup success.
Shaul, like his teammates, has had to endure a tricky early season with lots of injuries swarming the Hull dressing room but it hasn't stop him being a shining light in the darkest hours.
His agility and speed make him one of the best attacking options in the top flight and there is no doubt when he has a sniff of the line, nobody is quick enough to stop him.
Maybe it could be argued he should be higher but with Hull, at times, struggling to utilise him at his best, and with the high number of quality no. 1's this season, he's my fourth choice.
3. Stefan Ratchford
I'm sure many would be questioning my choice here, but what can't be questioned is the influence Ratchford has on the Warrington side.
At many times this season, Ratchford has been the game breaker and the most influential player for the wire and that's why he slots in at number three.
Unlike our previous two full-backs, Ratchford's speed isn't what sets him apart, his directional play and skills with ball in hand make him appear like a seasoned 5/8. Defensively solid and positional play that appears so natural, you can't look away.
Warrington could be on the verge of thier first ever Super League title, but this man will have to continue to hit top form, towards the back end of the year.
2. Sam Tomkins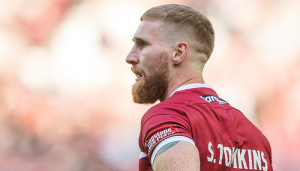 I can already picture the blood boiling as you saw this name appear.
Tomkins is one of the top players to ever have played in the Super League, with the most natural talent I've probably ever seen on a pitch.
Since his return to Wigan, he has become a brand new entity, unlike the quick, evasive Sam we were accustom too. His game changed to make him a smarter, more variable player than we ever thought he could be.
Although his recent performances have been heavily under-fire, on reflection of the year as a whole, he has led the Wigan outfit with superb defensive, security under the high ball and excellent attacking play out of the back.
Wigan are currently sat 2nd and if Sam can avoid the limelight off the field, and settle back into work on it, I can't see that changing.
Considerable Mention – Michael Shenton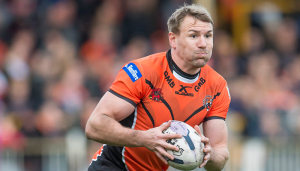 Every day, as we go through every position, I will make a considerable mention to someone I believe either just missed out on the top 5 or produce in special circumstances and deserve a unique mention.
Michael Shenton is today's considerable mention after performances for Castleford that show his quality as a utility player.
Shenton was moved to full-back after a tough start to the season for Castleford, and although it is not a regular position for the Englishman, he has gone and produced when needed and credit must go to him and the Castleford side for getting themselves back into the top 4.
Shenton will probably not be used in the no. 1 position again, this season, but his contribution should be remembered by all the Tigers faithful.
1. Ben Barba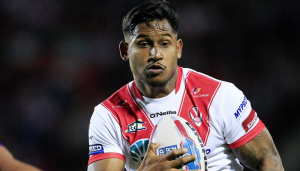 WHAT A SURPRISE!
I'm sure none of you could've guessed this was coming.
Ben Barba has been the stand out player in a stand out St. Helens team, that has the potential to be the best we've ever seen.
Circumstances off the field, led to his surprise arrival from Cronulla last season, and the former Dally M Medal winner has not looked back with dazzling performances leading him to be held in the same regards as Wellens, Cunningham and Long.
There is very little this man doesn't have in his locker, speed, agility, positional play, ball skills, the list goes on and on and on.
If injury-free for the season, Barba will surely be named Steve Prescott Man of Steel come October, but it is trophies that are remembered and with this man at the helm, you can't look past this Saints side joining the immortal list of treble winners.