Rugby league is an entertaining, brutal and intense game that requires physical fitness, mental strength, tactical awareness, toughness, power, speed, aggression and so much more. In this article I'm going to present the top 20 performing Super league players of the 2019 campaign.
20. Morgan Knowles, St Helens
One of the unsung heroes of runaway leaders St Helens, Morgan Knowles is one of the most underrated but valuable players in the competition. Powerful, aggressive and durable, Knowles gets through a mountain of work in both attack and defence, averaging 34 tackles and 9 carries per game during the regular season. A strong and fit loose forward, Knowles wins the collision more often than not, meaning his hard work produces great reward for his team in terms of the energy battle during games. The 22-year-old Cumbiran is really starting to come of age, his performances have matured during 2019 and he can't be far off a Great Britain call-up. He has the engine and physicality to cope at international level and other parts of his game such as ball handling skills and discipline have significantly improved.
19. Jake Connor, Hull FC
When at his best, the mercurial maverick was one of the competition's finest players bar none. Unfortunately, Connor never quite found a run of consistency during 2019 which is why he only appears at 19th on this shortlist, but nevertheless he delivered some of the most outstanding individual displays of the season and deserves his place on the list. A skilful and unpredictable talent, the England international made 15 assists during 2019. World class when at his best, Connor needs to shake off the utility tag next season and find his dominant position.
18. David Fifita, Wakefield Trinity
Arguably the most destructive prop forward in the competition, Fifita was in the top 5 of the Man of Steel leaderboard up until his untimely injury at the Magic Weekend which ultimately ruined the second half of his season. The leader and talisman of Wakefield Trinity, Fifita won two or three games for his team during the opening half of the campaign almost single-handedly with his aggression, power and never-say-die attitude. The Tongan international made an impressive 141 tackle busts and 2221 metres in 22 games during 2019.
17. Liam Farrell, Wigan Warriors
One of the most durable and efficient back-rowers in the competition, Farrell sparked Wigan's revival when he returned from a 3 month lay-off due to a pectoral injury. The mobile second-rower averaged 125 metres and 36 tackles per game during the 2019 regular season, firmly establishing himself as one of the competition's most hardworking and effective forwards. The fact Farrell made the Super League Dream Team despite only making thirteen appearances sums up just how highly rated he is. An experienced player with good ball skills and the ability and fitness to consistently run good lines throughout the full 80 minutes of a game, Farrell is one of the best forwards in Super League.
WATCH THE NRL GRAND FINAL LIVE IN THE UK
16. Oliver Gildart, Wigan Warriors
A fast and agile centre with breath-taking finishing ability, Gildart's end product throughout 2019 has been efficient, scoring 12 tries and making 11 assists so far. The talented homegrown Wigan three-quarter has always been lethal in broken field throughout his career but areas of his game such as defence and work-rate have developed a lot this season. During the regular campaign, the 23-year old's tackle success rate was an impressive 91%, whilst averaging 14 carries per game. Effective in both attack and defence, Gildart is developing into the complete centre and still has his best years ahead of him.
15. Joey Lussick, Salford Red Devils
The majority of plaudits for Salford's incredible season have gone to Jackson Hastings and Niall Evalds and understandably so, but overseas hooker Joey Lussick has been a real secret weapon for the Red Devils throughout 2019. A brave, intelligent and deceptively strong hooker, Lussick scored an impressive 12 tries out of dummy half during the regular season. The Australian hooker has also provided accurate distribution throughout the season which has heavily contributed towards Salford having one of the most fluent and efficient attacks in the competition. But Lussick is more than just an attacking hooker, he made a total of 913 tackles during the regular season and boasts a tremendous tackle success rate of 93%. Due to his great friend Hastings departing the Red Devils at the end of the season, Lussick could be viewed as Salford's main man next year. It will be an interesting challenge for the 23-year-old to take on the role of the team's talisman but he certainly has the courage and ability.
14. James Roby, St Helens
The ever-dependable veteran James Roby has averaged 39 tackles this season and is still among the team's strike weapons. Roby has been rested frequently by Holbrook this season as the 37-time England and Great Britain international edges towards his mid-thirties, but nevertheless remains one of the best hookers in the competition. During his eighteen appearances of 2019, Roby's distribution, defensive work rate and composure under pressure has been consistently brilliant. He played a huge part in St Helens' mesmerising 40-10 semi-final win over local rivals Wigan Warriors.
13. Josh Jones, Salford Red Devils
One of Super League's best and most consistent forwards, Josh Jones has enjoyed an outstanding season, averaging 121 metres, 25 tackles and 16 carries per game during a campaign in which he made 28 appearances. The powerful back-rower has also made more tackle busts than anyone else in Super League and is 3rd in the competition for offloads. Not only does Jones boast some unbelievable stats, the Hull-bound 26-year-old can make big plays at crucial times, especially during the back end of games due to his surprisingly tremendous engine and tough mentality.
12. Kevin Naiqama, St Helens
The best performing centre in Super League this season, Naiqama has enjoyed an outstanding debut season with St Helens, scoring 17 tries and making 85 tackle busts. Both powerful and skilful, Naiqama has the evasive skills and confidence in his own ability to take on and beat his opposite number, while making good decisions in attack and defence. His winger Tommy Makinson was the top try-scorer of 2019 and that could partly be down to the opposition being wary of Naiqama, giving Makinson that little bit more space.
11. Niall Evalds, Salford Red Devils
At the beginning of 2019 I backed Halifax-born Niall Evalds to have a big season as I have always rated him highly. Boy has he delivered. A full-back blessed with blistering speed, impressive support play and accurate positional play, Evalds ended the regular season with a tremendous 22 tries and 13 assists. He is also well known for his last-ditch defensive plays and composure under the high ball, developing into a fearless, dependable no.1 with several dimensions to his game.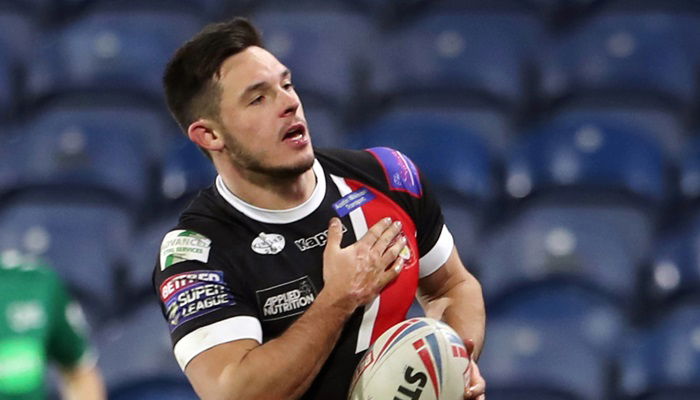 10. George Williams, Wigan Warriors
A quality and somewhat underappreciated component of the defending champions, Wigan's George Williams leaves Super League for the Canberra Raiders at the end of 2019 as one of England's top playmakers. His try involvement rate has been exceptional this season, scoring 14 tries and making 21 assists. Williams is a stand-off blessed with devastating footwork and clever link up play and he has been one of Wigan's most important players within their season revival. Not only skilful, he is also remarkably hardworking, ending the 2019 regular season in 10th for carries as well as making an impressive 488 tackles. He still divides opinion and his place in the Great Britain starting team is still not secured, but there is no doubting Williams has been one of Super League's top players this season.
9. Luke Thompson, St Helens
Consistently outstanding and ever-improving, Luke Thompson has enjoyed another superb season and St Helens have some task on their hands keeping him away from the NRL. A physically dominant athlete, Thompson has consistently laid the likes of Jonny Lomax, Theo Fages and Lachlan Coote a terrific platform throughout 2019, making big yards, winning collisions and playing the ball quickly on a regular basis. Thompson, along with his partner in crime Walmsley are two of the biggest reasons why Saints have been so dominant this season. His defence has also been outstanding, boasting a tackle success rate of 94%.
8. Zak Hardaker, Wigan Warriors
Never far from off-field controversy, this year was dubbed by many as Hardaker's last chance. There are still question marks over whether he can be trusted to behave regarding a Great Britain call-up, but there is little doubt the former Man of Steel has delivered on the pitch this season. His performances have consistently progressed to the point where he has been one of the competition's form players during the crucial business end of the season. An outstanding runner of the ball, Hardaker made an incredible 147 tackle busts during and averaged 114 metres per game in the regular campaign. His end product has also been impressive, scoring 11 tries and making 12 assists. Wigan's best player this season by a distance.
7. Tommy Makinson, St Helens
Probably the easiest pick for the 2019 Super League dream team, Makinson is the best winger in the competition by a country mile. A consistently hard-working player with an incredible engine, Makinson made more metres than any other player with 3803, averaging a jaw-dropping total of 152 metres per game. Not only a workhorse, Makinson is also Super League's top try-scorer with a total of 23, having produced some of the best finishes of the competition's history, not only this season but throughout his career. The 2018 Golden Boot winner has showed consistently he is one of the best wingers in the world and will undoubtedly start for Great Britain at the end of the season.
6. Liam Watts, Castleford Tigers
In what was a difficult season at times for a Castleford team plagued by injuries and disruptions, Liam Watts was a consistently outstanding performer and is a shoe-in for Great Britain. A powerful and aggressive forward with an incredible engine, Watts finished 2019 in the top 10 for metres, carries, tackles and established himself as the top offloader in the competition. Having improved his discipline and temperament since his Hull days, Watts has enjoyed an outstanding individual campaign.
5. Lachlan Coote, St Helens
A real fan's favourite with the St Helens faithful, Lachlan Coote has enjoyed a stellar year. The former North Queensland-Cowboys Premiership-winning full-back has established himself as one of the best all-round players in the competition throughout 2019. Having scored 14 tries and made 22 assists, Coote is a devastating attacking no.1 and possesses good passing accuracy, clever support play and tremendous pace from a standing start. However, it's his kicking game and game-management that really sets him apart from the other full-backs in Super League. Coote has applied the kicking skills during games to turn matches in St Helens' favour and can control a game better than many half-backs.
4.  Blake Austin, Warrington Wolves
Arguably the best running half-back in Super League, Austin has the power, physicality and evasion skills to make a break out of nothing and has scored some of the best tries of the 2019 campaign. Due to his good rugby brain and great awareness, he is able to apply his pace and power better than most players and is therefore one of the most effective runners in the competition, despite probably not being one of the quickest. The talented former Canberra playmaker scored an impressive 18 tries in 26 appearances during 2019, establishing himself as one of the competition's most dangerous strike weapons. It was a crushing blow for Warrington he never quite recovered from the injury he sustained during the 30-10 defeat at Catalan back in early August.
3. Daryl Clark, Warrington Wolves
Clark is a player that devastatingly good you just can't find enough superlatives for him. An outstanding hooker in both attack and defence, the 2014 Man of Steel is a lightning quick and powerful dummy half runner that can hit ferociously hard in defence. Boasting an average gain of 9.53m per carry, Clark came 2nd in Super League for dummy half runs and also finished 2019 with a tackle success rate of 92%. The England hooker received the Lance Todd Trophy for his outstanding performance in Warrington's shock Wembley win over St Helens.
2. Jonny Lomax, St Helens
The best player in the best team. St Helens finished the season on top of the Super League ladder by some 16 points ahead of nearest challengers Wigan, and Jonny Lomax has been the standout figure in what is an incredibly consistent and talented team. The popular stand-off scored 16 tries and made 21 assists during 2019 and made an impressive 90 tackle busts, establishing himself as both a creative and running half-back. But the stats just don't tell the full story. Lomax's distribution, pass accuracy and pass selection has been consistently outstanding all season, orchestrating the majority of St Helens' lethal attacking plays to devastating effect. Criminally unlucky to miss out on the Man of Steel shortlist.
1. Jackson Hastings, Salford Red Devils
It could only be one man for this spot. Jackson Hastings has been the best player in Super League this season. The former NRL superstar has made a monumental contribution towards Salford's outstanding season. Top of the charts for assists and carries made, Hastings is a skilful, durable and mentally tough player with both the physical attributes and technical attributes to rip apart any defence in the competition. He is blessed with enormous individual ability but has proven throughout this season he is a true team player with his unselfish style of play, reflected by the fact he has made a sensational 36 assists. A player with the agility and strength to make a break out of nothing, along with the ability to either pass to the supporting runner or beat the full-back himself, Hastings is a genuine match winner.