Tom Holmes has denied a rift between Aidan Sezer and Ian Watson whilst the trio were at the Huddersfield Giants.
Earlier on today, Sezer had said goodbye to the John Smith's Stadium, to the fans and to his teammates whilst Holmes had commented "Good luck pal…can't please everyone as they say."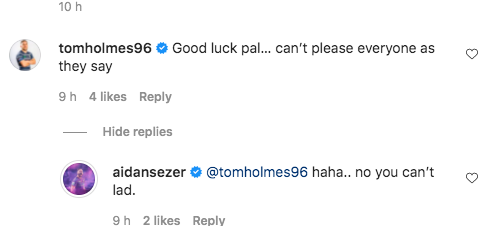 Now, though Holmes has revealed to Serious About Rugby League that it was just a joke between mates.
"Someone once played some bad music and I said 'you can't please everyone lad'," Holmes said.
"He found it very funny so I used to say it all the time in any situation just a private joke.
"I just used to say 'can't please everyone can ya mush' to just about anything random that happened.
Holmes left Huddersfield to join Featherstone Rovers permanently ahead of the 2021 Championship season, whilst Sezer will be a Leeds Rhinos player in 2022 after moving on a two-year deal.
The Giants, meanwhile, now have Will Pryce, Theo Fages, Tui Lolohea and Jack Cogger as options in the halves with Watson firmly putting his stamp on the squad.