Current Castleford boss Daryl Powell is often thought of as some kind of saviour down at the Jungle.
When the ex-Featherstone boss took over midway through 2013, the club was languishing near the bottom of the table. Wind the clock forward to the end of 2017 and the Tigers had been Challenge Cup finalists, Grand Finalists and a consistent play-off hunting side.
Unfortunately, since then, Castleford have endured torrid injury lists, coupled with the Tigers' worst finish under Powell in 2020. And, despite starting 2021 better – with six wins from seven – their 38-14 loss to Powell's future employers at Warrington really didn't go down well with the Castleford faithful. In fact, it led some supporters calling for Powell to leave. But just how divided are Jungle fans?
One fan called for change if the Tigers crash out of the Challenge Cup against Warrington in less than a fortnight's time.
Time for change if we go out of cup

— COYF (@DMicklefield) May 22, 2021
Another fan called for incoming boss Lee Radford to be given the reins before the end of the season.
Bring radford in this season

— jonny haigh (@jonny120305) May 22, 2021
Another echoed those sentiments.
Stop this farce. Dump Powell now. Clear either his focus is elsewhere or the players arent playing for him or even listening.

— KM (@Mulvaney1Kevin) May 22, 2021
Another used profanities to get his point across.
Sorry Powell but pack yer bags and piss off on yer wire jollies

Radders needs to start NOW

— Graham Macfarlane 🏴󠁧󠁢󠁳󠁣󠁴󠁿☘🇵🇸☘🇵🇸 (@maliabhoy) May 22, 2021
Yet another Castleford fan thought the same.
Embarrassing. Is there any pride in this set of players? Time for Powell to go now, the waters have been muddied and it shows on the pitch. Fresh start please

— Andrew Terry (@tezza316) May 22, 2021
Another believed that "something's not right" and called for change.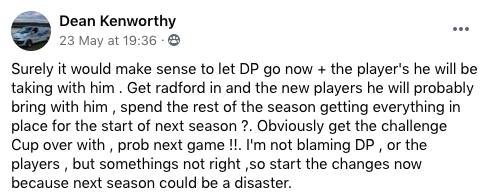 However, one person dismissed the financial implications of a Powell early exit.

That opinion was backed up by another Facebook user.

Another highlighted that Powell has got the Tigers to a Challenge Cup semi-final.

One Facebook user dismissed the idea due to all the implications of Powell leaving right now.