About a year ago Wigan Warriors and Hull FC made Super League history by playing the first ever Super League game outside of Europe. Yesterday the same two combatants made Super League history again, with the Black & Whites claiming the first ever Golden Point victory in a regular weekly Super League game!
All the headlines were meant to be about the return of Gareth Ellis, playing his first Super League game since he hung his boots up after a 2017 semi final defeat against his former club Leeds Rhinos. But the fates had a different headline in mind, with a dramatic finish which had hearts beating at the speed of a runaway express train.
I was actually unable to make it to Wigan yesterday due to working commitments, but was fortunate enough to keep up to date with events at the DW Stadium through certain social media platforms, and I can tell you that my heart was certainly pounding as the news kept filtering through, with every dramatic twist turning the match this way and that.
As a Hull FC supporter I was of course absolutely elated to banish our 13-match losing streak to the history books, and to do it in the backyard of the champions made it that bit more special. But it has to be said that the new Golden Point rule in a regular weekly game, has somewhat divided opinion. But this is something that has been running in the world's premier competition the NRL for many years, and shows no sign of being dispensed with at any time soon. I asked Australian RL journalist Trev Smith, what do fans Down Under think of the Golden Point scenario there? He told me: "They seem to love it, but hate that it becomes a shoot out and referees put the whistles away.
He continued: "I've always said it should be Golden Try, but if you score a field goal or a drop goal, play on until the end of the time.
"People love it when their team wins, hate it when they lose. Wayne Bennett is the sorest loser when his teams lose in GP, but carries on cheering when they win."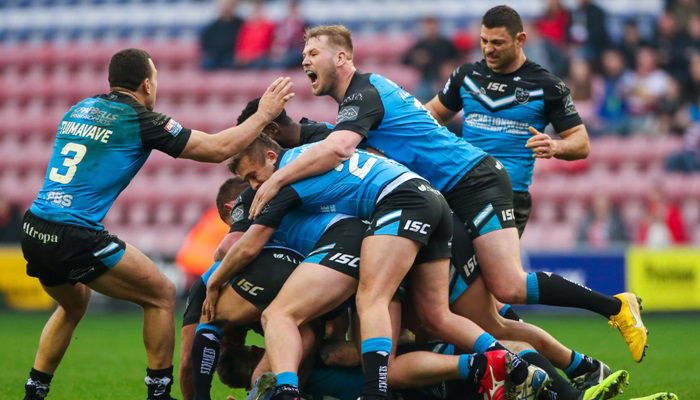 Other people have commented, particularly on social media, that a draw after 80 minutes should stay that way, there shouldn't be Golden Point. Others have said yes carry on until you get a winner, but the losing team should at least get one point for their efforts to secure a draw at the end of 80 minutes, while the winning team get a point on 80 minutes, then an extra point for getting a winning score in extra time.
But we also have to remember that Golden Point isn't exactly new here! We've seen teams knocked out the Challenge Cup and the Play Offs, or even relegated because of Golden Point. There is definitely something that the fans enjoy about the sudden death experience of it. Certainly as I received the news of Oliver Gildart's second try yesterday to bring the scores level at 22-all, after a gut-busting performance from my team, I felt almost crestfallen. Then after Zak Hardaker missed the chance to win the game with the final kick, the nerves started really jangling, and myself and my wife both started hoping and praying that we would get one more chance to win a game which, by all accounts, we had dominated. I even said to her "Step forward Mr Marc Sneyd?"
That was in my house in East Yorkshire, I can only guess what it must have been like for those actually in the DW Stadium to witness it. But as soon as it went to Golden Point, it felt exciting. There was real tension and hope, all at the same time. It produced the sort of feeling that makes rugby league the outstanding sport that it is.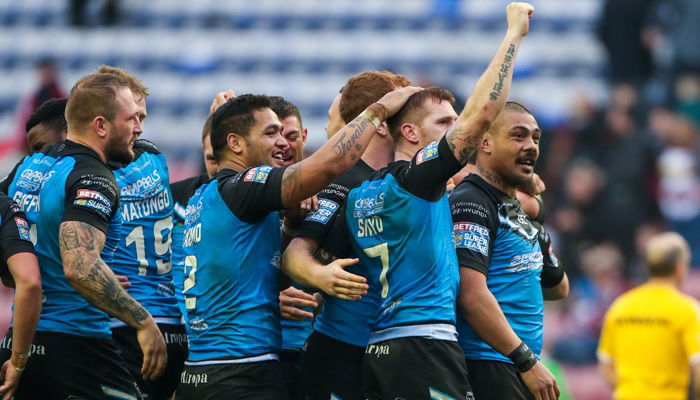 Yes obviously, as a victorious Hull FC supporter right now, I'm looking at Golden Point from a very positive angle at the moment. But I was also looking at it from a positive angle when we first went into Golden Point, as I knew even if we lost then, my team had given it everything they've got. They were leaving it all out on the pitch and I knew I couldn't ask anymore of them than that, I was proud of them. The fact we then went on to grab a vital win, which could be a massive turning point because of the context and manner of it, was just a huge cherry on top of the cake (forgive the pun) and, in my humble opinion, can only be a good thing for the sport.
I'm sure the debate will rage on, but it seems to me that Golden Point is here to stay, and I applaud it. I'm sure there will be times that we will suffer the pain of defeat as a result of Golden Point, but I am a big fan of it. The cut throat nature of it brings a new exciting addition to the regular weekly games, as well as having already provided real, massively enjoyable drama in knock-out games!