David Fifita shocked Wakefield Trinity and Super League to its core when he announced he would be leaving the West Yorkshire club at the end of the 2022 season.
Having spent seven years at Belle Vue, it truly is the end of an era for Wakefield, with the likes of Tinirau Arona, Jacob Miller and Bill Tupou also either departing or retiring.
With Fifita gone, that upfront grunt will be sorely missed, but the destination of the prop has been a much-debated topic.
Now, though, it has been seemingly revealed by one of Fifita's friends that he will be going home to Australia.
On Fifita's farewell post on his Instagram, one of his friends screenshotted his story with the caption: "I'm not sure what our time in England will look like without them but we are all going to miss them very much," with the friend tagging David and his wife.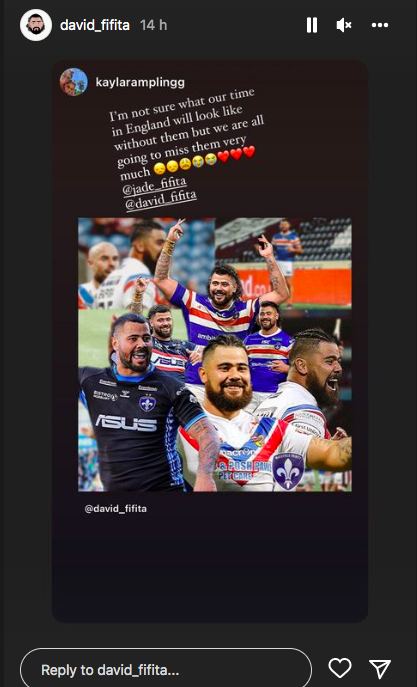 Fifita revealed on his social media two days ago.
Fifita posted on Instagram: "IG BOPPERS FAREWELL🤙🏽
When: Thursday 25th August
Where: be well support stadium (Belle vue)
This is the end of an era! What a ride it has been!! Looking forward to what lies ahead…. Sincerely yours Big Bopper."
Where Fifita's next club is remains to be seen, but it won't be in the UK.
It is going to be a big recruitment drive for Wakefield heading into the 2023 sason with Willie Poching looking to freshen up his squad.
Whether that will include Hull FC loanee Jamie Shaul remains to be seen.
Shaul admits that he is loving life at Belle Vue, although he doesn't know where his future lies beyond the 2022 season.
"I am loving it. I'm getting on well with Willie and the coaches well and they are a really good set of boys .
"I feel valued there which is nice.
"I am just trying to play well for Wakefield and play my part in helping them stay in Super League.
"Then I will sort my future out after that."