Welcome back to From The Terraces, the weekly column where I choose a hot topic within the rugby league community, and discuss my opinions. This week I discuss my thoughts on who I think are in trouble of facing relegation this season.
As we're just about halfway through the regular season, it seems a good time to assess the campaign so far and discuss which sides are currently in danger of relegation.
Widnes Vikings (12th) – P:12 W:2 D:1 L:9 G:177-341 PTS:5
For me, Widnes are the biggest candidates for relegation this season. They're struggling big time, and I just can't see where their next win will come from. If it came down to them and Hull KR in the Million Pound Game, I would have to side with KR. It's strange, as at this stage last season they were in a totally different position, having gone unbeaten in the league for a good while until they started to dip. They finished the 2016 season poorly, losing five of their seven Super 8s games. Having had such an unbelievable start to the season, they barely just scraped in the top eight, by four points.
It took them until their seventh league game this season to get their first win, and it was against fellow strugglers, Leigh Centurions. That win couldn't spur them on, as they went on to lose another three in a row, before getting their only other win of the season, remarkably, against St Helens. It's been a real struggle for Denis Betts and his job is now in question, as there seems to be no light at the end of the Widnes tunnel. With games against Hull and Warrington to come next for the Vikings, you can't see any improvement soon. It's looking like a bleak season for them, one that will conclude in The Qualifiers.
Leigh Centurions (11th) – P:12 W:3 D:0 L:9 G:202-271 PTS:6
Leigh are the one side who I thought would struggle this year, and at the start of the campaign I predicted that they wouldn't win more than five games in the regular season. The way they started the season, I thought I was in for a rude awakening. They were hammered in their season opener away at Castleford, which wasn't too shocking. However, the week later they played their first home game and narrowly lost to Leeds, in a game that they would've been gutted not to win. After that, they would win three of their next four games, beating St Helens, Huddersfield and Warrington.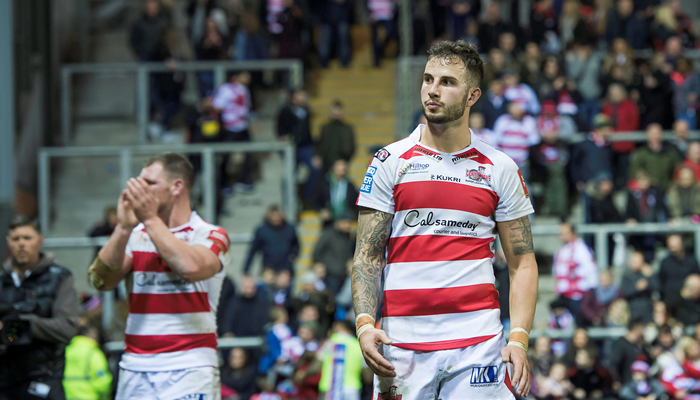 Suddenly, Leigh were making waves in the league, and against the big sides too. However, since that win against Warrington they've lost seven in a row, which included a Challenge Cup game with Hull KR. It's been a tough few weeks for Leigh as they have struggled to hit the form they did at the start of the season, the way they're going it's not going to get any easier. They seem destined to finish in the bottom four and end up in The Qualifiers, which won't be easy to get through.
Huddersfield Giants (10th) – P:12 W:3 D:2 L:7 G:215-317 PTS:8
In 2016, Huddersfield finished bottom of Super League and were in for a tough route into keeping their spot, through The Qualifiers. That proved to be true, as they just about survived the Million Pound Game after beating Hull KR on the final week. It was a real eye-opener for the Giants, and I fancied them to improve this season. The way they started the season I thought that to be the case, as they won two of their first three league games. However, since then, it's gone downhill, having gone nine games without a win, which included an embarrassing defeat at home to Swinton Lions in the Challenge Cup.
They have been unlucky in a couple of the games, getting a draw away at Wigan and St Helens, where on another day they'd get the win. Other than that, they've been so poor this season, with unrest in the camp and in the stands. They got a great win last week away at their fiercest rivals, Leeds Rhinos, which really came out of the blue. They have tough fixtures with Castleford and Catalans coming up, which I don't see them getting anything from. They seem sure to finish in the bottom four for the second year running, and once again, fighting for their Super League future.
This concludes the 15th edition of From The Terraces. Please feel free to let me know your thoughts on who will be facing relegation this season, in the comments below.